15 Best LGBTQ+ Horror Movies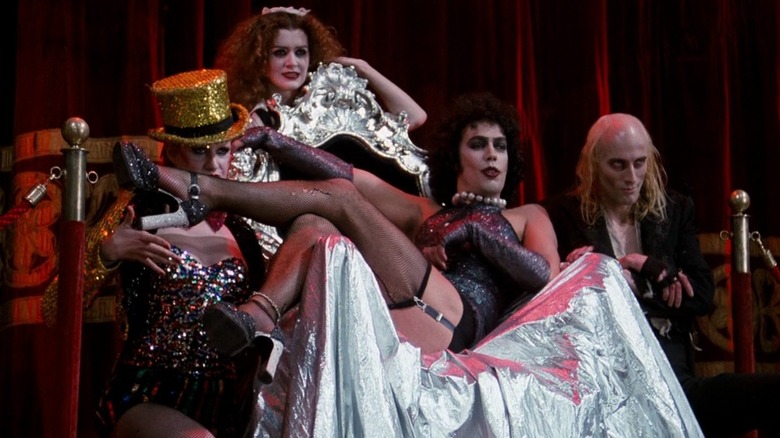 Twentieth Century Fox
Horror is queer. It's the othering. It's the marginalized cast as monsters in their own story. It's society pushing those who are slightly different further to the fringes. If cinematic history has taught us anything, it's that queer people are rarely the heroes onscreen. They are either the first characters to die or portrayed as mentally ill antagonists. However, for every film like "High Tension" in which an LGBTQ+ lead suffers from a psychotic break, we have films like "Freaky," "Spiral," and "Bit" that treat their queer characters with a tremendous amount of insight, depth, and empathy.
With Shudder's upcoming "Queer for Fear: A History of Queer Horror", a four-part documentary from producer Bryan Fuller, it's a good time to retrace the LGBTQ+ roots and ongoing heritage in horror filmmaking. From the early days of English director James Whale in the 1930s and '40s to the tantalizing eroticism of the '70s, plenty of queer-led stories have been made and mass-produced — despite the uphill battle for social equality and rights. A queer rebellion has always been happening, even if proper representation is scant.
Below (and in no particular order), we celebrate the 15 best LGBTQ+ horror films of all time.
Cat People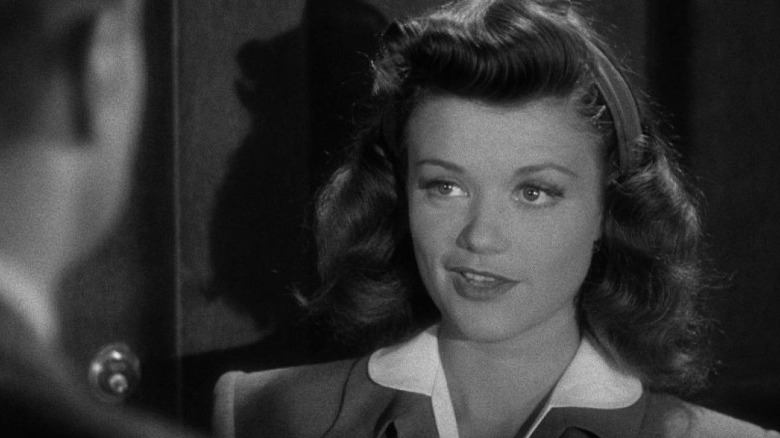 RKO Radio Pictures
Jacques Tourneur's 1942 film, "Cat People," is iconic. Not only does it contain one of the most chilling jump scares of all time, but its queer-coded narrative speaks directly to the repression of the LGBTQ+ community. From 1934 to 1968, the Hays Code (officially known as the "Motion Picture Production Code") set strict guidelines for cinematic content, running the gamut from graphic violence to overtly queer depictions.
As a result, films were forced to bury LGBTQ+ themes as subtext. Released in 1942 and produced by Val Lewton, "Cat People," depicts a young Serbian immigrant named Irena (Simone Simon) as a monster. When we first meet her, she's seen sketching a portrait of a black panther at the local zoo. Marine engineer Oliver Reed (Kent Smith) strikes up a conversation and invites her over for tea. During their initial conversation, Irena relates a horrifying story about her home village and how many townsfolk were enslaved by the Mameluks and turned to witchcraft and devil worship.
Irena struggles with suppressing her identity as a cat person throughout the film. She even agrees to see a psychiatrist for her condition. She eventually learns to accept who she is and transforms one last time. Her final rampage results in the murder of her doctor as well as her demise. Irena embodies the push and pull, internally and externally, that nearly every queer person faces in their journey to self-actualization.
The Haunting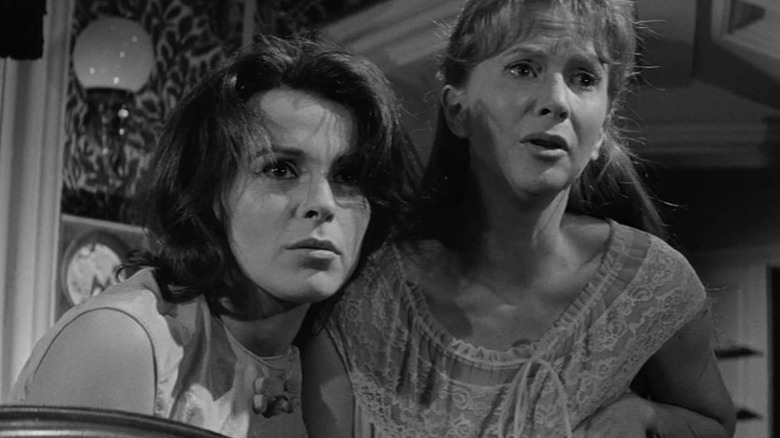 MGM
Julie Harris delivers a wildly unhinged performance as Eleanor Lance in the 1963 ghost story, "The Haunting." Based on Shirley Jackson's gothic novel, "The Haunting of Hill House," the film is a masterclass in mood, building tension, and scares, relying solely on tricks of the mind and what may (or may not) be lurking in the shadows. Director Robert Wise guides the audience through a spooky tale about Dr. John Markway (Richard Johnson) and his paranormal investigation of Hill House, a looming 90-year-old mansion with a history of unexplained deaths and tragedy. He has invited a group of strangers together to assist him in his project, and what they experience is best described as unholy.
Among the guests present is Theodora, or Theo for short, played by Claire Bloom. Bloom's character in particular exemplifies the standard queer-coded character of the time. She possesses psychic gifts, which come in quite handy when dealing with apparitions. She also has an uncanny ability to read or sense what is on Nel's mind. As such, their connection is immediately sparked in their first meeting. As Eleanor descends into madness, Theo seems to be the only one who can comfort or understand her. Their shared experiences, both as LGBTQ+ individuals and with the paranormal, forever bind them together — even beneath the shroud of catastrophe.
Rift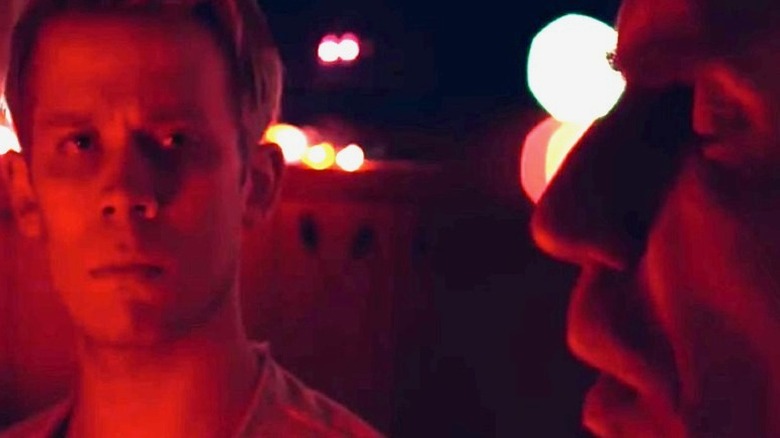 Breaking Glass Pictures
A classic case of an unreliable narrator, writer-director Erlingur Thoroddsen's 2017 film "Rift" follows the expected patterns of psychological horror. An emotional untangling of the past opens the floodgates of a story about heartbreak and letting go. When Gunnar (Björn Stefánsson) receives a troubling phone call from his ex-boyfriend Einar (Sigurður Þór Óskarsson), he drops everything to head out to a secluded homestead to check up on him. There, he finds his former lover mangled by the break-up and falling into a downward spiral of alcohol misuse and random hooks up.
But things are not as they seem. "Rift" banks hard on the viewer committing to the story only to have the exterior slowly deteriorate as more and more is revealed. Several stylistic and narrative elements in the film feel reminiscent of the 1973 thriller, "Don't Look Now." "Rift," however, carves out its own uniquely harrowing path into the darkest corners of human nature. More than anything, the film is a sharp, gutting metaphor about heartbreak that'll leave you devastated in the end.
Thelma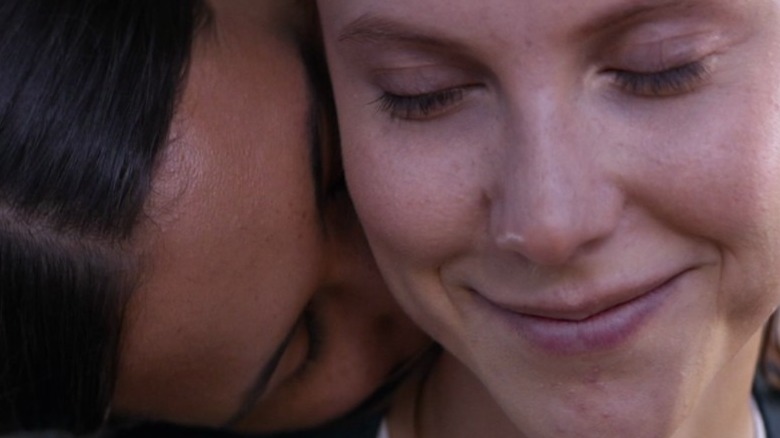 SF Studios
In the 2017 supernatural thriller "Thelma," director Joachim Trier utilizes body-horror elements as a way to draw a parallel with a young queer woman reconciling her identity and sexuality with her family's long-held Christian beliefs. Thelma, played by Eili Harboe, heads off to college in Oslo. Almost immediately, she begins experiencing seizures without real cause or reason. Health professionals believe they could be linked to mounting pressures in her studies, but a sinister force seems to be at play.
When she strikes up a potential romance with another student, Anja (Kaya Wilkins), Thelma's health and mental state quickly spiral out of control. It gets so bad that she phones her parents and begs to move back home. At the behest of her overbearing father, Thelma seeks repentance in prayer. Slowly, things appear to be getting back to normal, but a revelation about her childhood unleashes her uncontrollable psychokinetic powers. "Thelma" depicts a young queer woman's blossoming identity and disentanglement from religious trauma, leaving questions about faith, purpose, and true love.
Daughters of Darkness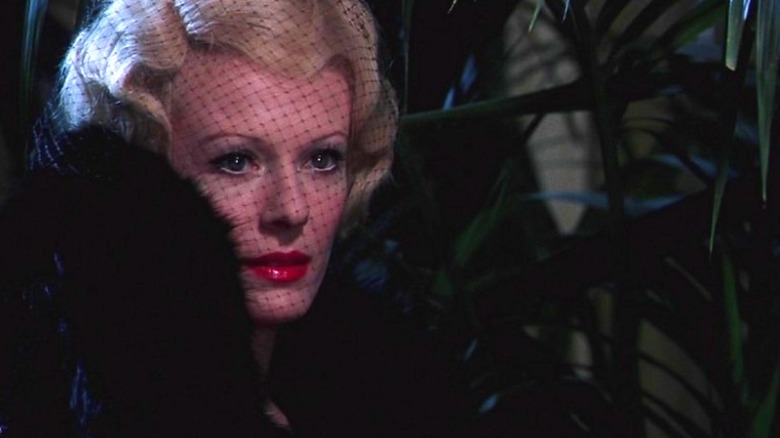 Maron Films
Released in 1971, Harry Kümel's "Daughters of Darkness" follows the ethereal, god-like Countess Elizabeth Báthory (Delphine Seyrig) and her equally-enchanting partner-in-crime, Ilona (Andrea Rau), in their international blood feast. When newlyweds Valerie (Danielle Ouimet) and Stefan (John Karlen) arrive at an extravagant hotel in Ostend, Belgium, the Countess hypnotizes them, trapping the couple in her inescapable web of sex and seduction.
The Countess has a particular appetite. Initially, she seduces Stefan with a story about her supposed ancestor who once tortured virgins and drained their blood 一 much to Valerie's horror. But her scheme is an intricate one. Possessing fluid sexuality, she ensnares, corrupts, and then pounces. Later, she lures Valerie into her room for a midnight romp, and by morning light, Valerie possesses a thirst for blood, too. Meanwhile, Ilona has been tasked to trap Stefan once and for all, but a scuffle in the shower leads to an untimely demise.
"Daughters of Darkness" is salacious fun, an elegant and stylish affair about the limitless nature of sex and identity. With Seyrig's inspired, sensual performance, the film possesses an irresistibly hypnotic quality from its tantalizing opening scene to its fiery climax.
Stranger by the Lake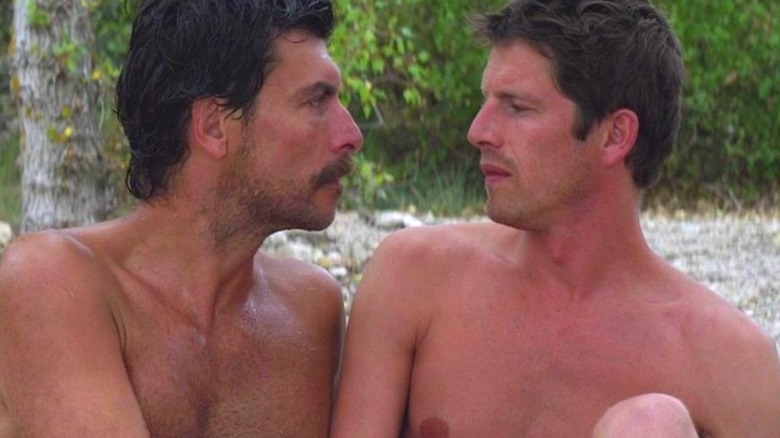 Les films du losange
Writer-director Alain Guiraudie plops the viewer right in the middle of a sex-fueled oasis in the 2013 erotic thriller, "Stranger by the Lake." The film delicately balances genres, relying on a dialogue-driven narrative as well as explicit depictions of sex to tell a story about loneliness and desperation. While cruising the shores of a nude beach, Franck (Pierre Deladonchamps) befriends an older gentleman named Henri (Patrick d'Assumçao), who often only watches from afar. Their conversations meander from mundane topics like the weather to deeper reflections on suffering and longing.
Late one evening, Franck witnesses Michel (Christophe Paou) drown another man in the lake but is so transfixed by him that he doesn't report the incident. Franck continues his pursuit of Michel and soon becomes enmeshed in an intense love affair. His life could be at stake, and anyone else in his shoes would have heeded the many obvious red flags. However, his desire to be needed and loved far surpass logic. "Stranger by the Lake," which features actual sex scenes performed by body doubles, is cinematic storytelling at its most ripe and potent.
Jennifer's Body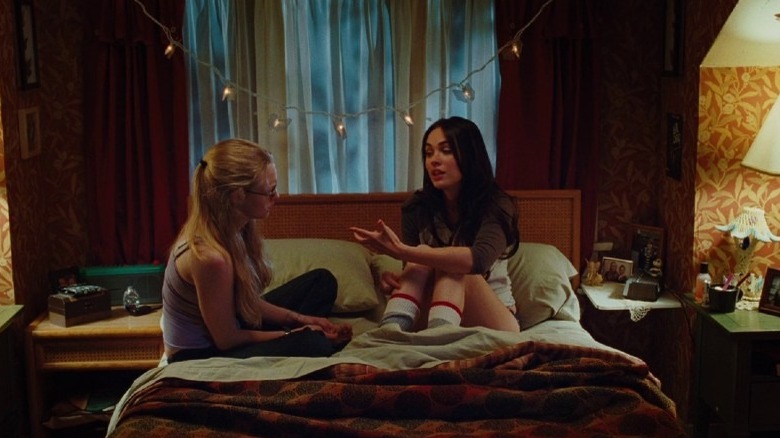 Twentieth Century Fox
Upon its 2009 release, "Jennifer's Body" was a critical failure. One critic even labeled Megan Fox's performance as "dead-eyed and impassive." Fortunately, a cultural reassessment a decade later has allowed its deeper, richer themes about identity amidst a flurry of raging teenage hormones and social pressures to bubble to the surface. The film, directed by Karyn Kusama, mines this adolescent hellscape through a genre-fusion of body-horror and the demonic.
When a fire breaks out during a Low Shoulder concert, Jennifer (Megan Fox) hitches a ride with the indie rock band (which includes Adam Brody in thick black eye-liner) and meets a gnarly fate. In the night, a newly-transformed Jennifer breaks into her best friend Needy's (Amanda Seyfried) house and rips into a rotisserie chicken, nearly tearing into her friend's neck as well. A succubus, Jennifer feeds on the lives of her classmates, and when she's full, her complexion shines like a silver dollar in the sunlight. Bodies pile up, including Needy's boyfriend Chip (Johnny Simmons), and it's a race against time before Needy is the next victim.
Aside from Jennifer's biological alterations standing as a metaphor for queerness, her relationship with Needy is unquestionably queer-coded. From sharing furtive glances to Needy's desperate attempts to save her friend, their souls are inseparable. It's a quiet, off-the-radar kind of love story.
The Rocky Horror Picture Show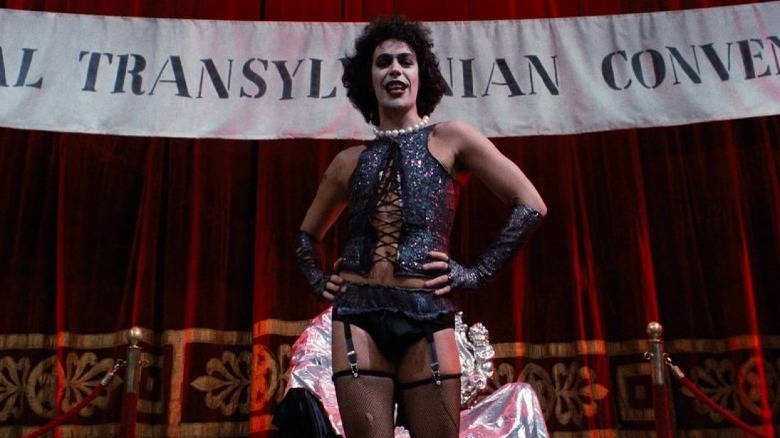 Twentieth Century Fox
Tim Curry is an emblem of sexual liberation for an entire generation of queer people. In the 1975 feature film, "The Rocky Horror Picture Show," directed by Jim Sharman, Curry plays self-described "sweet transvestite" Dr. Frank-N-Furter, who has surrounded himself with a host of eccentric characters in a spooky Gothic mansion. When newlyweds Brad (Barry Bostwick) and Janet (Susan Sarandon) arrive on their doorstep during a torrential thunderstorm, Frank-N-Furter entices the wary, wet travelers into a wonderfully deranged, musical wonderland.
The film, co-written by film Richard O'Brien (who plays henchman Riff-Raff), broke barriers in how it approached the taboo topics of sex and queerness. Sex scenes involving Frank-N-Furter and Brad, and also Frank-N-Furter and Janet, are of particular note as well as vignettes of provocative hip-thrusting, the ideal man Rocky Horror (Peter Hinwood) in a metallic speedo, and other erotic imagery.
"The Rocky Horror Picture Show," featuring songs written by O'Brien, is the pinnacle of queer cinema. It's naughty, off-beat, and bold. Few other films have ever gotten close to capturing its spirit of sexual freedom and sheer magic that endures decades later.
The Perfection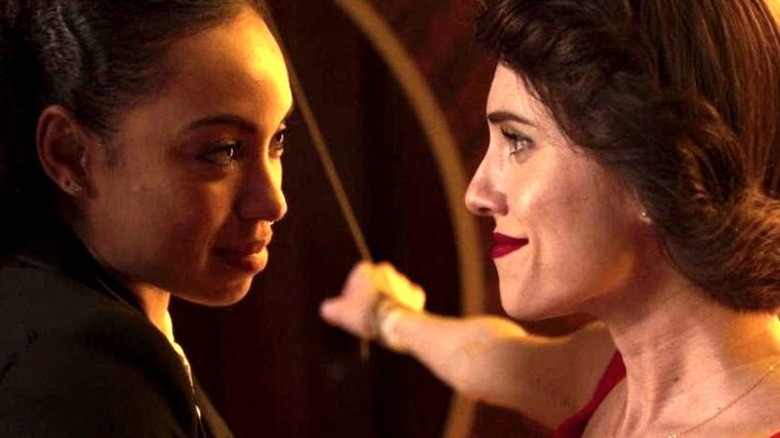 Netflix
"The Perfection" was a surprise hit in 2019. Directed by Richard Shepard and co-written with Eric Charmelo and Nicole Snyder, the psychological thriller upends expectations with its jarring narrative switch-ups and refreshing genre-melding energy. Allison Williams and Logan Browning star as Charlotte and Lizzie, a charming young couple who share common career ambitions as classical cellists. They first meet during a showcase in Shanghai, where a new student is being chosen to attend the prestigious music school, Bachoff. It's soon revealed that Lizzie replaced Charlotte when her mother grew ill and was forced to leave the academy.
Charlotte and Lizzie become quite close, going out for drinks later that evening and hooking up. The next morning, the two embark on a trip through rural China, a decision that ends up being far more than either performer bargained for. Shepard plays upon perceptions, peeling back layers to reveal darker themes about the pressures of womanhood, queerness, and being a person of color in a business fueled by competition. Themes of trauma, assault, and sexual awakening twist together into a thorny, overgrown rose bush of a narrative. By the finale, you may not be sure what you just witnessed.
Dracula's Daughter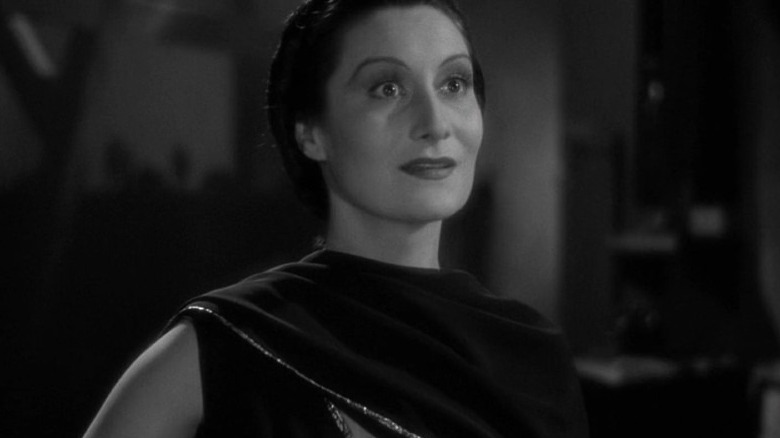 Universal Pictures
Directed by Lambert Hillyer, the 1936 feature film, "Dracula's Daughter," serves as a sequel to Tod Browning's 1931 adaptation of "Dracula."  Picking up the story moments after the conclusion of the first film, Dracula has been staked through the heart by his arch-nemesis, Edward Van Sloan's Von Helsing (inexplicably changed from the original spelling, "Van Helsing"). Upon hearing of his death, Dracula's daughter, Countess Marya Zaleska (Gloria Holden), returns and believes that to escape her vampirism, all she needs to do is burn her father's body.
Her attempts to do so fail, and she turns to a psychiatrist named Dr. Jeffrey Garth (Otto Kruger) to cure her. Throughout the film, the Countess combats a deep hunger for blood, frequently finding victims by pretending to be a painter searching for models. Her psychological turmoil directly matches the LGBTQ+ community's struggles for acceptance, especially since being queer was once considered a mental illness. "Your strength lies within yourself," Dr. Garth reminds her.
Paired with other films of the era, including "Cat People" and "The Seventh Victim," "Dracula's Daughter" frames a frequent feeling of futility with an effectively haunting horror story.
Dr. Jekyll & Sister Hyde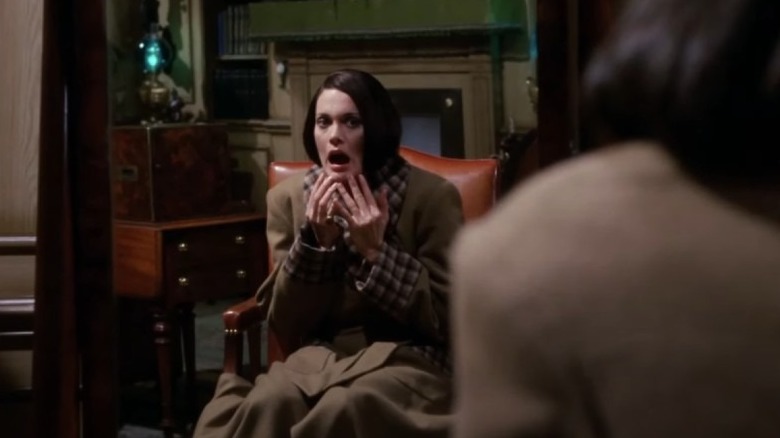 American International Pictures
Perhaps the most unusual entry on this list, 1971's "Dr. Jekyll & Sister Hyde" takes Robert Louis Stevenson's classic 1886 novella, "Strange Case of Dr. Jekyll and Mr. Hyde," and flips it on its head. Initially, Dr. Jekyll (Ralph Bates) is attempting to create a vaccine to cure all diseases, but an off-hand remark from Professor Robertson (Gerald Sim) forces him to change directions. Jekyll abandons his research in favor of creating an elixir for eternal life which he surmises will require estrogen (since women typically live longer than men).
Dr. Jekyll accidentally invents a potion that transforms him into a woman named Hyde (Martine Beswick). But there's a catch: The transformation requires a steady supply of hormones, so Jekyll goes on a murderous rampage through the streets of London. A Hammer Films production, "Dr. Jekyll & Sister Hyde" explores transgender identity through Jekyll's ongoing struggle with Hyde and her growing dominance inside him.
As critic and Horror Queers Podcast host Joe Lipsett remarks, the film can be interpreted through three very different lenses. The last of which is through a very progressive framework — especially for the period (the film was released two years after the 1969 Stonewall Riots). I agree with his summation that, as a character, Hyde possesses an "adventurous, daring, and boundary-pushing" spirit. Decades later, "Dr. Jekyll & Sister Hyde" captures the often complicated nature of gender identity as fluid, ever-changing, and not limited to a singular concept.
Knife+Heart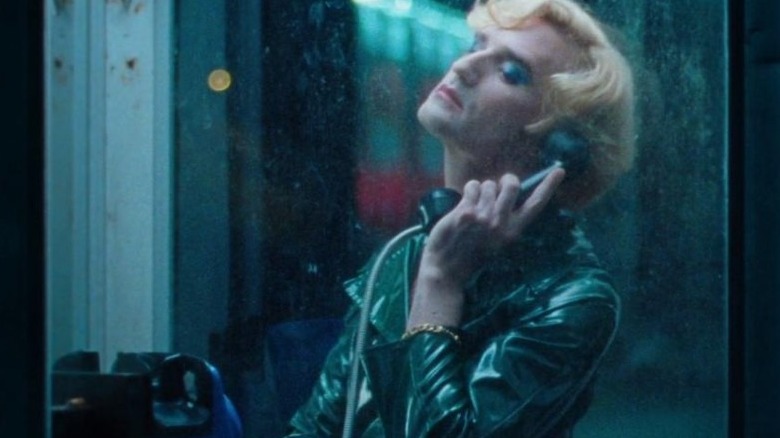 Memento Films
Appreciating giallo films largely requires a willingness to suspend an expectation of realism and accept a heightened sense of style. Even sequences of violence and gore contain a dreamlike quality not found in other horror subgenres. The format saw its heyday in the late '60s and early '70s, even as prominent filmmakers Dario Argento, Mario Bava, and Lucio Fulci (among many others) continued pumping out features in the ensuing decades. With 2018's "Knife+Heart," writer-director Yann Gonzalez proves the genre still has plenty of stories to tell.
In "Knife+Heart," actors shooting a gay pornographic film are stalked by a masked killer. Producer-director Anne Parèze, played by Vanessa Paradis, exploits one of the first murders. Production moves forward, but not without plenty more bodies piling up. The killer, whose tragic backstory involves a hate crime, circles like a vulture, slowly picking off more and more actors and crew members. Later on, Anne gets the bright idea to set a trap for the killer by hosting a fake shoot to film additional footage for the film.
"Knife+Heart" stands on its own as a heart-stopping, gorgeously shot giallo film while also serving as a love letter to the genre. Themes of gay oppression, bigotry, and sexual liberation fuse together to supply plenty of narrative bite to go along with the film's visual allure.
The Dark Old House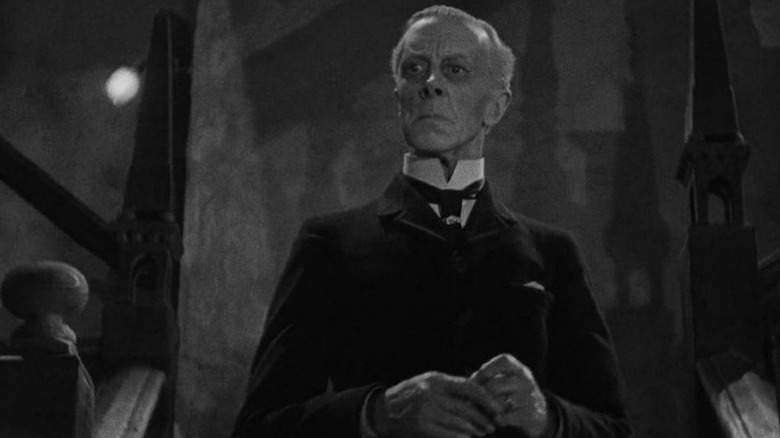 Universal Pictures
The 1932 film "The Dark Old House" is a foundational piece of queer cinema. Directed by James Whale, who was openly gay his entire career, this starkly lit campfire tale arrived during pre-code Hollywood. Its release came two years before the Hays Code, and the film was not subject to its strict limitations on storytelling. Whale's film, based upon J.B. Priestley's 1927 novel "Benighted," wears its queerness as a badge of honor.
When a group of travelers becomes stranded in a torrential thunderstorm, they shack up in a Gothic mansion — the homestead of the Femm Family. Siblings Rebecca (Eva Moore) and Horace (Ernest Thesiger) Femm are an odd pair, both possessing a very nervous, aloof energy. From hand gestures to line delivery, their performances are appropriately camp, signaling to the audience with a wink and a smile. The bedridden patriarch of the family, Sir Roderick, is played by a woman (Elspeth Dudgeon credited as "John Dudgeon"), but the character is never handled as a joke. 
When the eldest Femm child, Saul (Brember Wills), is let out of his room by Morgan (Boris Karloff), the mute, drunken brother, mayhem ensues. The shadowy home emerges as a character all its thanks to Whale's excellent directing. Never hinging on trauma, the queerness in Whale's world simply exists. Nearly a hundred years later, it remains a gold standard for the cinematic treatment of LGBTQ+ characters.
The Vampire Lovers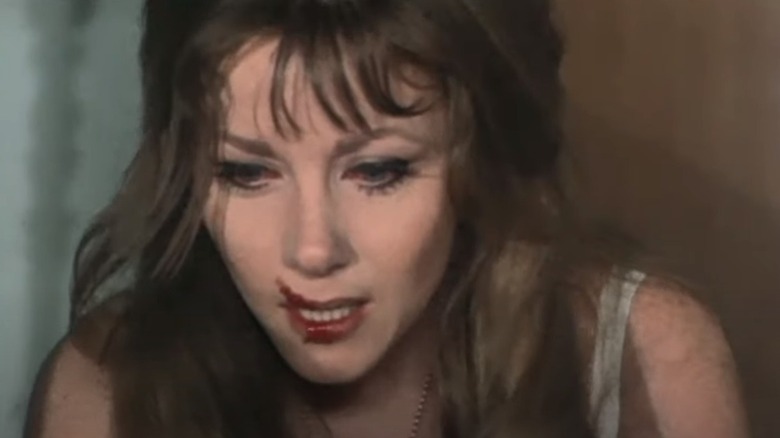 American International Pictures
Roy Ward Baker's 1970 film, "The Vampire Lovers," takes inspiration from author Sheridan Le Fanu's 1872 novella "Carmilla." Its bold visual style directly complements its complex lesbian themes. The Karnsteins, a family of vampires from the 16th century, regains its grip on present-day Styria, Austria, through the work of surviving member Marcilla (Ingrid Pitt). Her bloodlust is only matched by her sensual energies that lead her not only to claim the lives of several local women but also to become unapologetically promiscuous in the process.
After killing Laura (Pippa Steele), the niece of an Austrian general (Peter Cushing), Marcilla ventures to another lavish estate where she keeps the company of Emma Morton (Madeline Smith), the daughter of a wealthy Englishman. Their relationship waxes severe and hot. It's something straight out of a romance novel. Soon, Emma begins exhibiting the same symptoms that ailed Laura just before her death. She suffers from anemia and dreadful nightmares. The local doctor (Ferdy Mayne) and the general (Peter Cushing) quickly catch on to Marcilla's schemes and turn to Baron Hartog (Douglas Wilmer), who has slain nearly all of the other Karnstien family members.
"The Vampire Lovers" is a delightfully risqué feature. Along with religious implications, the parallels between the villainization of vampires and how the queer community has been ostracized throughout history are rooted deep within the narrative. Although the audience is fully aware Marcilla's inevitable fate, it is still devastating.
The Uninvited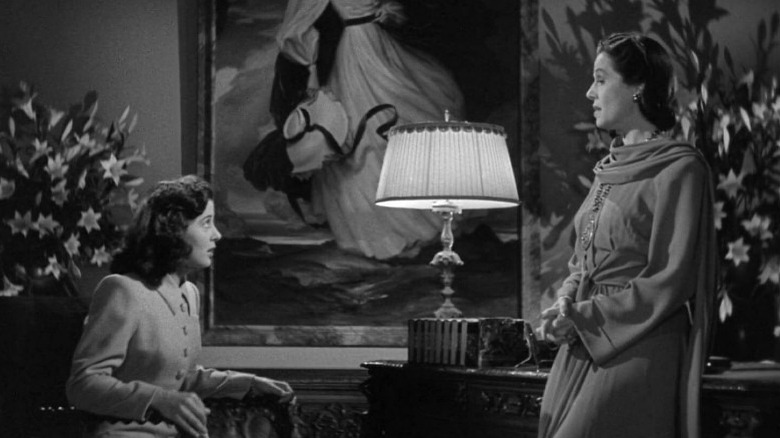 Paramount Pictures
Lewis Allen's 1944 film "The Uninvited" is a curious creature. The queer overtones are not necessarily a driving force in the film. Rather, revelations about past events indicate a potential lesbian romance and suicide. Siblings Pamela (Ruth Hussey) and Roderick Fitzgerald (Ray Milland) have their eyes on a seaside estate called Windward Home and offer up 1,200 pounds to its owner, Commander Beech (Donald Crisp). Their purchase comes with a warning, as previous tenants have remarked on unexplained disturbances on the grounds.
But Roderick and Pamela are unconcerned with such foolish notions. They immediately move into the home, bringing along their dog, Bobbie, and housekeeper, Lizzie (Barbara Everest). Stella Meredith (Gail Russell), who once lived in the house as a child, expresses deep concern about the estate having new owners. It's later revealed that her mother, Mary, met her fate when she tumbled over the nearby cliffs. Through a series of conversations with Commander Beech and an ill-advised seance, Pamela and Roderick learn the truth of the home's mysterious past.
Naturally, the film required queer coding, so many of the lesbian themes are simply heavily implied. For example, Miss Holloway (Cornelia Otis Skinner) runs a nearby sanatorium, and it's hinted that her close friendship with Mary was something more. "The Uninvited" requires a keener reading than other films on this list, but its importance to queer cinema (namely topics of generational trauma and suppression of identity) is indisputable.