TV, Interrupted: Why The Knick's Cancelation Cuts Deeper Than Most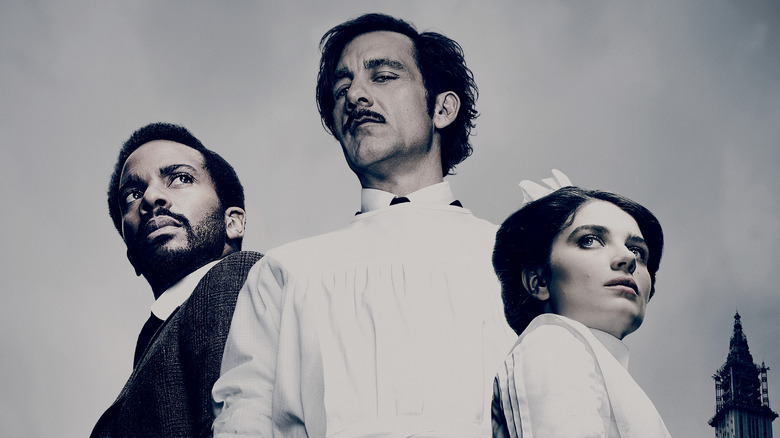 Warner Bros. Television
(Welcome to TV, Interrupted, a series where the /Film team remembers, eulogizes, and makes a case for the revival of TV shows we loved that were canceled far too soon.)
It's hard for me to pinpoint exactly what gets me excited about a project, film or television, and what makes me want to explore more in the world being built in front of me. My tastes are all over the mark, and don't even get me started on the tropes and sub-genres I either love or hate. The fact remains: I'm picky, and I don't understand it in the least.
So, admittedly, I wasn't totally gunning to give "The Knick" a try. At surface level, it's a period medical drama, and that combination just doesn't particularly light my fire. Like I said, my taste is inexplicable, even to me. But after seeing ads for it absolutely everywhere in New York, I was implored by friends to just watch the pilot — you know that one friend who is always like, seriously, just watch the pilot — and for once, I was glad to take a chance on a show I otherwise may have not seen any merit in watching.
"The Knick" is unlike any period drama, any medical drama, or really any other show or movie out there. Following the lives of medical professionals at Manhattan's famous Knickerbocker Hospital in the early 1900s, Steven Soderbergh's take on both medical and period-centric stories is fascinating, dreamily aesthetic, and deserved more time on our screens, especially knowing what Soderbergh had in store for the series before its untimely cancelation. And this, folks, is why we can't have nice things — and "The Knick" was as nice as they come.
Why The Knick was great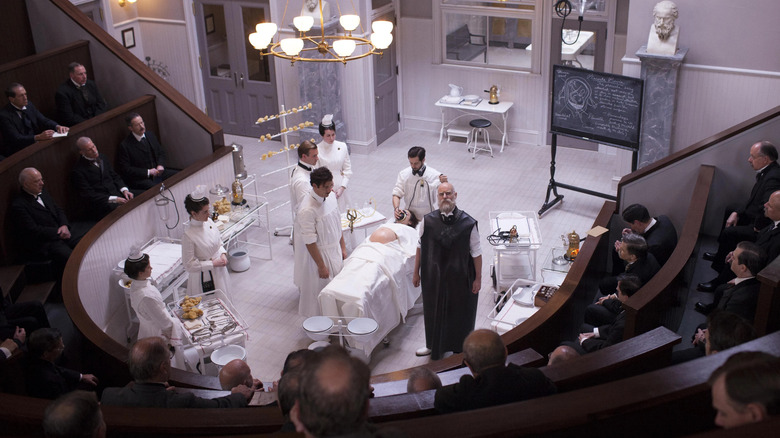 Warner Bros. Television
I could go long here; There's a lot to love about "The Knick" and its unconventional presence among the vast offerings of prestige television. The Cinemax show was wholly different from the channel's usual fare, and its unique style was unmistakable. I know that's part of what drew me in. But "The Knick" did a lot of things well, especially for a niche period medical drama.
"The Knick" follows Dr. John Thackery (Clive Owen), who becomes the head of surgery at the Knickerbocker Hospital in Manhattan after his former boss dies. Thackery and his surgery staff struggle with the limitations of medicine and surgical procedures while simultaneously researching and trying to advance those constraints and make breakthroughs for the community at large. While doing this, he must keep his quickly spiraling cocaine habit in check and help satisfy wealthy donors to the Knick's causes. As Thack grapples with the many responsibilities of his obligations and ambitions, he is forced to reckon with an incoming medical prodigy, Black American surgeon Dr. Algernon Edwards (André Holland), who will stop at nothing in his fight to earn respect from the all-white surgical staff of his peers.
The series took us out of the stuffiness of period dramas and focused on the grime, which is where period dramas become interesting (see, for example, "There Will Be Blood"). Considering "The Knick" is, at its heart, a medical drama, it makes sense for it to be a little messy — but the show kicks things up a notch with its unflinching lens on medical discovery and how bloody that pursuit can be (literally). In fact, the show probably isn't for you if you're squeamish. After all, a lot of important plot-related things happen in the surgical theater, when someone is elbow deep in another person's body, so it's actually kind of crucial for you to have a strong stomach for this one. But it's not gratuitous, it's warranted — and it's a pretty accurate look at how things would have been if you were on the edge of medical discovery at the turn of the century in all its gory glory.
Coupled with its penchant for blood, "The Knick" is draped with impeccably stylized direction and camera work that really hones in on and uses its locations and story to its advantage. Thack's drug sequences have a lovely and inviting haze to them: a dreamlike quality that helps the audience understand his addiction and contextualize it into his efforts to find success.
Plus, the series was overflowing with top-notch acting and a deep chemistry within the cast that made all the varied relationships on screen — from friendships to romance to contempt and more — feel very lived-in and natural. You really get invested in these people and how different their world was, but yet similar to our own; that's the thing about period dramas, right? That's why people still love "Little Women" in 2022. The universal human themes never change, and those concepts coupled with specificity and deeply realized emotional life can make for a strong story. Add some stylistic flair and you've got yourself something worth watching.
While rooting itself in the universal, "The Knick" was packaged in an excitingly different way — hence the network executives being quick to pull it from the root before it could expand and grow. Also I won't lie to you: Clive Owen is really hot in it.
Why The Knick was canceled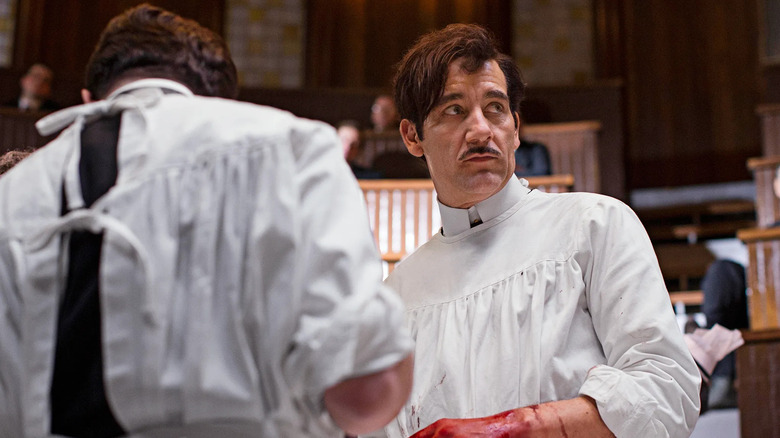 Warner Bros. Television
"The Knick" rode on a high for two wonderful seasons, the first beginning in August 2014 and the series conclusion airing in December 2015. Though it was supposed to return for a third season after a bout of development and shooting, it was abruptly canceled in March 2017.
"Despite our pride in and affection for the series, as well as our respect for and gratitude towards Steven Soderbergh and his team, we have decided to return Cinemax to its original primetime series fare of high-octane action dramas, many of which will be internationally co-produced," Cinemax's program director, Kary Antholis, explained in a statement at the time.
According to Soderbergh himself, the cancelation was a combination of several different business factors, and not necessarily concerned with story or the development of the series itself. He explained of the decision to Rolling Stone in February of last year:
"A couple of things, none of which were within our control. The show did not do for Cinemax what it was intended to do, which was to help rebrand and draw new eyeballs to the channel. It didn't do badly, but it was clear at the end of the second season that it wasn't doing what we wanted it to do for that channel. So now it moves back to HBO [for consideration], and Michael Lombardo is gone, and they've already got their spend figured out, and it isn't a small number to produce this show. So it just showed up at the wrong time at the wrong place. [Lombardo's replacement] Casey Bloys had other priorities, very large priorities. We didn't have the juice to make it happen. It wasn't anybody's fault. As much as we were the benefit of circumstances in getting it made, we then had it happen in reverse, where all the timing and situations worked against us."
For a show as brilliant as "The Knick," hearing that it was a victim of being in "the wrong place at the wrong time" makes the cancelation hit harder than it would if it just hadn't done well and not enough people recognized its brilliance. The series had so much more potential and life left to it, and because of this cancelation, we'll always wonder what could have been.
Unfinished business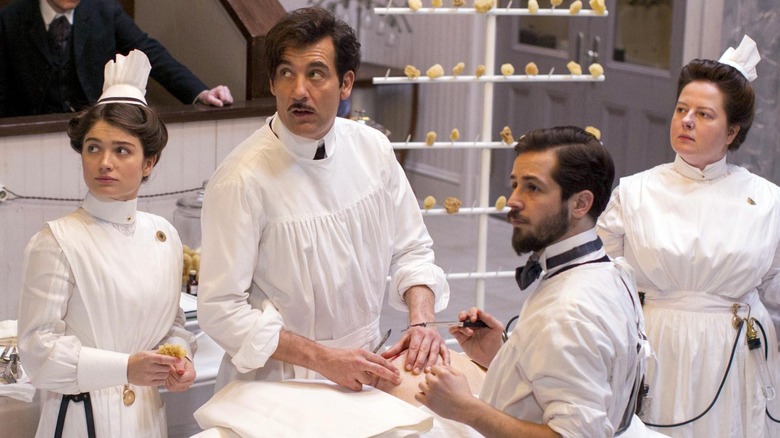 Warner Bros. Television
Speaking of the life this show still had inside it, we should talk about Soderbergh's original plan for the series. The prolific filmmaker — who is known for the "Oceans" film series, as well as "Erin Brockovich" and "Magic Mike" — had informed Cinemax in the beginning of development for the series how he envisioned it ending. Yes, that includes (spoiler alert) the death of lead character Dr. John Thackery. He explained to The Playlist in December 2015:
"I told them that I'm going to do the first two years and then we are going to break out the story for seasons 3 and 4 and try and find a filmmaker or filmmakers to do this the way that I did. This is how we want to do this so that every two years, whoever comes on, has the freedom to create their universe. They don't have to shoot it the way I shoot it. They don't have to score it the way I score it. They don't have to cast who I've cast. They have maximum freedom to come in and just go, 'I want to wipe the slate clean.'"
There is a lot to be said for creatives who are willing to knock down their stories with wrecking balls to make way for someone else's incarnation. Soderbergh leaves us with a period at the end of the sentence that is the story of the first two seasons of "The Knick" — which means the possibilities that were on the horizon before cancelation were endless. There were incredible characters to consider following, like André Holland's Dr. Algernon Edwards and Juliet Rylance's Cornelia Robertson, should Soderbergh's successor have wanted to keep things familiar while branching out. 
There's also the option of going in a completely different direction, possibly focusing on a patient at the Knick and using that as an entry point into a story. What about bringing in another new doctor, similar to the introduction of Dr. Edwards in season 1, and cultivating that storyline in a different way? All I'm saying is, there were options, and we as an audience were robbed of the many possibilities that hid inside the walls of the Knick.
Will The Knick ever return?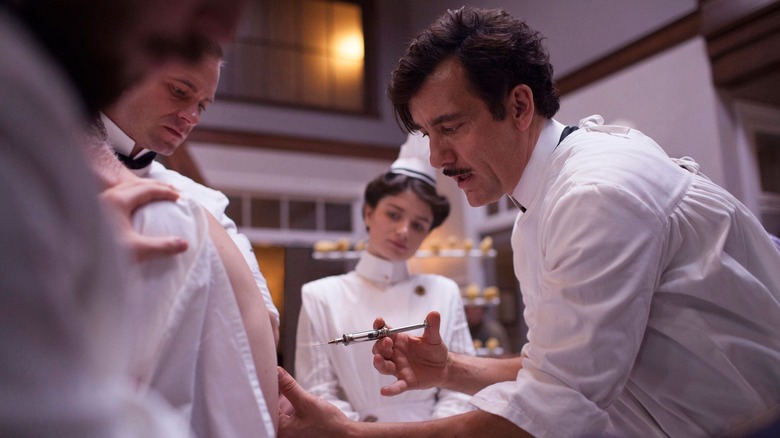 Warner Bros. Television
For a long while, the answer to this question was a resounding "no." However, things changed a little bit last year. Cue the excitement! In the same interview with Rolling Stone in February 2021, Soderbergh revealed that creative minds we know and love have been working on bringing the Knickerbocker Hospital back from the dead:
"I think when the show ended and it was clear that it wasn't going to continue, it got subsumed by the never-ending tsunami of new content that shows up on these platforms almost every day. But then in the interim, even though they didn't continue with the show in the way that we'd originally imagined, [creators Jack Amiel and Michael Begler] and Barry Jenkins and André [Holland] have been developing a new iteration of the show that skips forwards in time, and that's looking very promising."
The filmmaker also noted that while he's all for what Jenkins and Holland are doing with the property, he won't be part of it — which is definitely a bummer, but entirely by design.
"I can say that I read an excellent pilot, and that HBO has it. I hope that goes forward. I'm being very respectful in the sense that this is their show," Soderbergh added. "I'm kind of in the background and trying to be consiglieri when that's appropriate, but it's really their show. It was their idea, they've been developing it. They send me things to read, but I'm just here to cheerlead."
Ultimately, this is Soderbergh's original idea put into practice — just with a little more time, as well as a few more trials and tribulations, in the mix than we previously expected. Despite this comment, though, there has yet to be any newsworthy developments on the project since Soderbergh's revelation. Let's just hope they don't give up hope on the little hospital that could. I sure as hell haven't.