Steven Soderbergh's 'The Knick' Canceled By Cinemax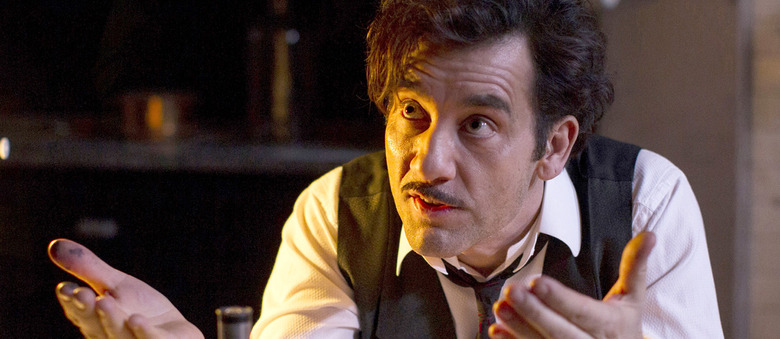 The doctor is out, and The Knick is no more.
The Steven Soderbergh-helmed period medical drama has officially been canceled by Cinemax after two critically acclaimed seasons. The news comes more than a year after the Season 2 finale, which seemed pretty — erm — final for one particular main character.
Spoilers ahead, of course, as we linger on this show's demise.
It seems like the death of Clive Owen's Dr. John Thackery' in the season 2 finale of The Knick spelled doom for the Cinemax show. But we didn't get that message of the show's cancellation until 15 months after Thackery kicked it, and executive producer and director Soderbergh had hinted that the show could have a future beyond the lead character's death. Soderbergh even went so far as to hope for four more seasons of the series, telling Variety:
"We always imagined every two years we would annihilate what came before and start over."
But it was not meant to be, and the show was discharged. Kary Antholis, president, HBO Miniseries and Cinemax Programming, told TV Line in a statement:
"After a critically acclaimed two-season run of The Knick on Cinemax, we will not be going forward with additional episodes of the series. Despite our pride in and affection for the series, as well as our respect for and gratitude towards Steven Soderbergh and his team, we have decided to return Cinemax to its original primetime series fare of high-octane action dramas, many of which will be internationally co-produced."
The move toward action fare and away from prestige dramas is an interesting approach for the cable channel, which has been struggling to nail down its brand since it became synonymous in the '90s with its late-night soft-core porn block, earning itself the nickname "Skinemax." The channel tried to rebrand itself with prestige original programming — it carried The Knick as well moody horror and crime shows like Outcast and Banshee. But perhaps the channel's move to "high-octane action dramas" is an attempt to unite its seedier fare with more accessible shows.
It's a real shame for The Knick to be canceled — I know members of the /Film crew are huge fans of the show — but at least Soderbergh isn't at a loss for options on television. He currently executive produces and directs Amazon's Red Oaks as well as Starz's The Girlfriend Experience.
The Knick marked Owen's first series-regular role and had a small but ardent following in addition to the critical love. It was one of Soderbergh's first forays into television after taking a break from directing movies, and he had directed all 20 episodes of the show. Creators Jack Amiel and Michael Begler executive produced alongside Soderbergh, Owen, Gregory Jacobs and Michael Sugar.
Cinemax's original series slate still includes Quarry and Robert Kirkman's Outcast.