Black Crab: Release Date, Cast, And More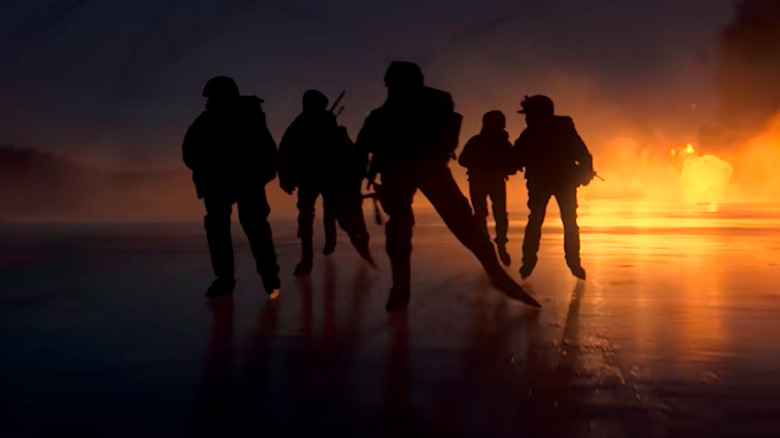 Netflix
(Welcome to ...And More, our no-frills, zero B.S. guide to when and where you can watch upcoming movies and shows, and everything else you could possibly stand to know.)
Stories about post-apocalyptic worlds have always been popular. The human race likes to think about all the ways our planet might be brought to a total collapse, as well as all the ways we might begin to build back from that kind of wreckage. Cormac McCarthy famously wrote about the aftermath of a terrible, unspecified global catastrophe in his Pulitzer Prize winning book "The Road," horror films love to explore the downfall of man through zombie stories, and one of this year's Oscar contenders for Best Picture, "Don't Look Up," deals with the ramifications of climate change if societies continue to turn a blind eye to the facts. The point is that we love thinking about disaster from the comfort of our couches.  
On the heels of the Winter Olympics and at the start of the devastating war in Ukraine, yet another movie about a post-apocalyptic war torn world is set to be released this month on Netflix, continuing our love affair with dystopian stories. The Swedish thriller "Black Crab" tells the story of Caroline Edh (Noomi Rapace) who finds herself part of a military team tasked with traveling across a frozen archipelago to deliver a special package said to have the ability to end the ongoing war. 
Black Crab release date and where to watch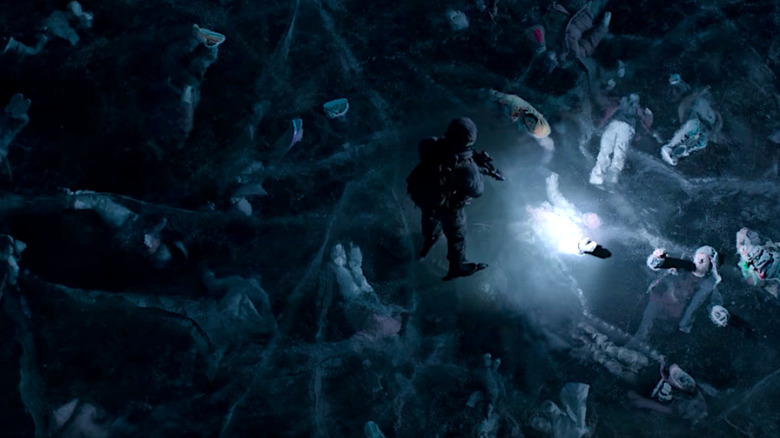 Netflix
Viewers who are excited about this intense looking new thriller don't have much longer to wait. "Black Crab" is set to stream worldwide via Netflix on March 18, 2022. It will be released alongside another tense but decidedly very different thriller, "Windfall" starring Lily Collins ("Emily in Paris"), Jason Segel, and Jesse Plemons ("The Power of the Dog). With a whole host of exciting new thrillers set to release this month on one of the biggest streaming platforms, it's clear that Netflix is looking to capitalize on people's attraction to thriller/survival stories. "Black Crab" looks to be one of the most intense of the bunch with its frigid, tundra-like landscape and bleak atmosphere, and it will be interesting to see what kind of suspense this film has in store.
What is Black Crab?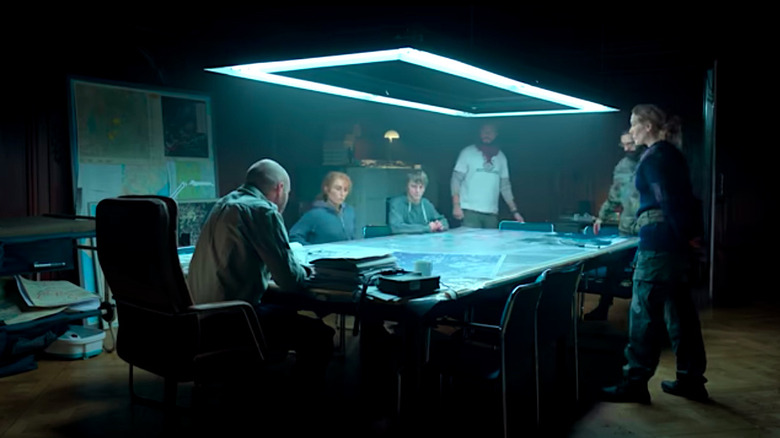 Netflix
Caroline Edh (Noomi Rapace) is a speed skater turned soldier in "Black Crab." She, along with five other people, is assigned to transport a mysterious package across a frozen archipelago before it's too late. The contents of the package are unknown to the soldiers (I'm getting "Cast Away" mixed with "Death Stranding" vibes with this one), leaving us to wonder whether this team of soldiers is unknowingly sent to deliver saintliness or sin. 
The trailer for "Black Crab" is bleak. Frozen tundra shots are aplenty, setting a mood that feels eerily dark and chilled. Edh and her companions are often seen navigating the ice on ice skates, and at times, a thoroughly bundled Edh shoots her gun from behind the trees, which feels reminiscent of what a possible sequel to Joe Wright's 2011 thriller "Hanna" might have looked like if Hanna was all grown up. To give Edh incentive to complete the mission (one that she herself describes as a "suicide mission"), it's revealed that her daughter — who she's presumably separated from — has been found, and Edh is promised a reunion if she can successfully complete the given task. It's a story that's bound to keep us riveted to our seats, and I'm sure that I will wish I was good at ice skating no less than seven times when I watch it. 
The Black Crab cast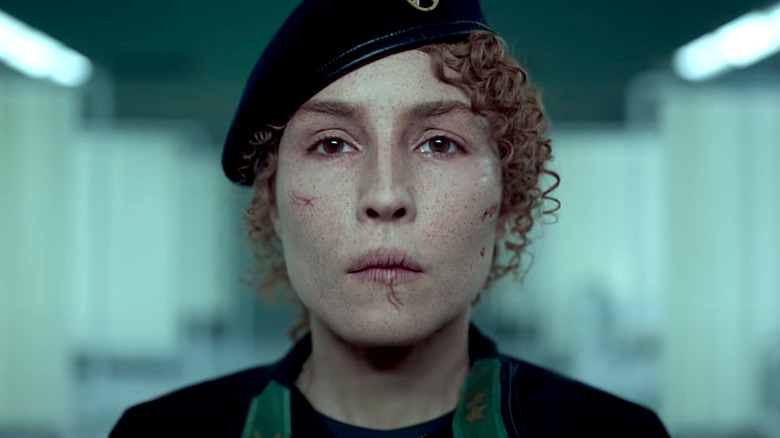 Netflix
Caroline, the main character of "Black Crab," is played by Noomi Rapace, who is probably most well known for her role as Lisbeth Salander in the Swedish adaptations of Stieg Larsson's "Millennium" series. In the trailer, Rapace appears assured yet distant with the kind of personality you would expect from someone trying to survive both a war and an ecologically ravaged climate, and it's hard not to think about her past performances in other major films. Her work in the "Millennium" series, as well as "Prometheus," prove that she definitely has what it takes to portray a character set with the task of exploring the unknown no matter the consequences, and I for one am really excited to see her take on this role. Other cast members include Jakob Oftebro, a Norwegian actor who is best known for his role in the Academy Award nominated film "Kontiki." He will be joined by David Dencik, Erik Enge, Ardalan Esmaili, Aliette Opheim, and Dar Salim.  
Black Crab directors, writers, and more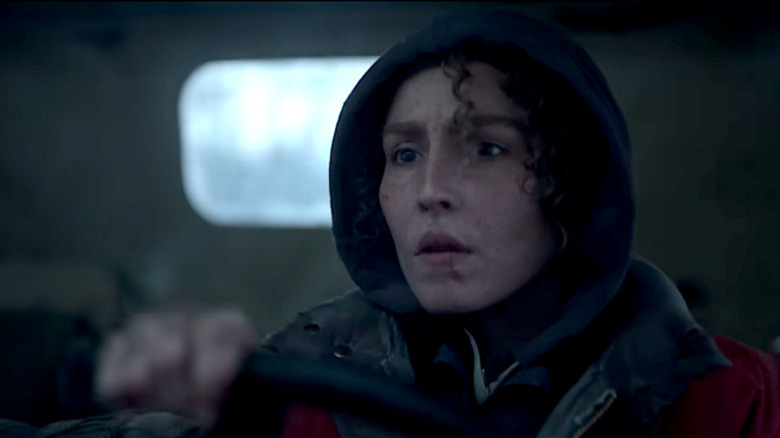 Netflix
"Black Crab" is the feature film debut of Adam Berg. He is known predominantly for his work in advertising and commercials, one of which, "The Carousel," won the highly reputable Film Grand Prix award at the Cannes film festival in 2009. Berg both co-wrote (alongside Pelle Rådström) and directed "Black Crab," which is based on the book by Jerker Virdborg, and it will be interesting to see how he translates his skills in advertising to a feature length film. Mattias Montero and Malin Idevall are producing the film, and Rapace and Berg are listed alongside the other executive producers for this project. 
Black Crab trailer and synopsis
"Black Crab" is a post-apocalyptic thriller set on an icy archipelago where a team of six soldiers must complete the dangerous task of crossing the ice in order to deliver a mysterious package — a package said to have the ability to end the current war — to the other side.