Focus Features 20th Anniversary Giveaway: Win A Limited Edition Mailer Including 20 DVDs And Special Merch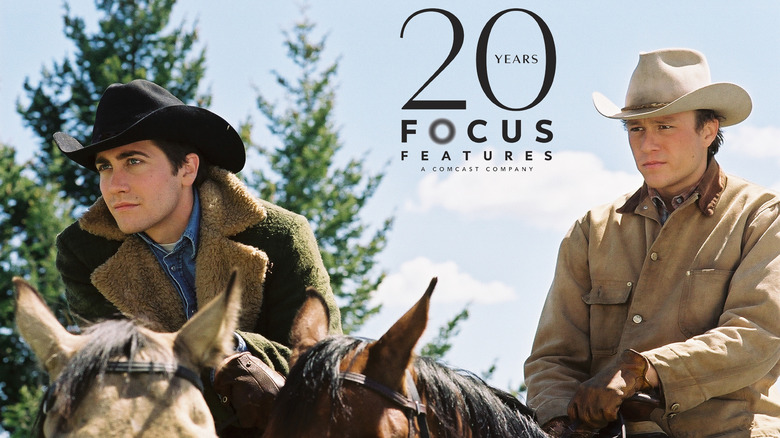 Focus Features
It's a big cinema anniversary, everyone — Focus Features will be celebrating its 20th anniversary this year! To celebrate the occasion, the studio is putting together a limited edition mailer for one lucky winner, and we've got the scoop on how you can win it.
Focus Features made its way onto the Hollywood scene in 2002 during a divisional merger of USA Films, Universal Focus, Good Machine, and part of StudioCanal. Over the years, their filmography has been acclaimed, with movies like "The Pianist," "Lost In Translation," "Eternal Sunshine of the Spotless Mind," and "Brokeback Mountain" as part of their roster. Last year, they released several talked-about pictures, like Oscar contender "Licorice Pizza" — which is nominated for three awards including Best Picture — crime thriller "The Card Counter," and horror film "Last Night in Soho." Focus Features also released the British coming-of-age drama "Belfast" last year, which is also part of the Oscar conversation with seven nominations including Best Picture — so needless to say, this studio is headed into their 20th year strong. 
That said, we need a giveaway to celebrate, don't we? Yeah, that's what I thought you'd say. 
How to win
In honor of the studio's 20th anniversary, we're giving away a limited edition Focus Features mailer to one lucky winner — and that winner could be you if you follow these instructions, so listen up. 
The rules of the contest are simple: just follow the /Film Twitter and retweet the below tweet! The winner will be randomly selected from the bunch and rewarded with the limited edition mailer which includes Away luggage, 20 DVDs composed of the studio's titles throughout the years, and "Lost in Translation" merch from Linga Franca. 
We're celebrating @FocusFeatures 20th anniversary with a HUGE giveaway for 1 lucky winner! Follow @slashfilm and RT for a chance to win @Away luggage, 20 DVDs of the studio's titles, and #LostInTranslation merch from @linguafrancanyc! (Only open to U.S. residents) pic.twitter.com/cwGA3Ffywq

— /Film (@slashfilm) March 11, 2022
Check out some images of the prizes below, but one word of caution: the Blu-Ray images here are just samples and will likely not match the exact titles you will receive but we can confirm that whichever films do arrive in the mailer will be top-notch. Best of luck!
This isn't the only opportunity to celebrate all things Focus Features. The studio will be celebrating its 20th anniversary with a few other events, including a collaboration with AMC Theatres, "Focus 20," in which seven titles from the Focus Features library will be screened at its theaters over seven days beginning April 29. Those movies include "Downton Abbey," "Brokeback Mountain," "Burn After Reading," "Darkest Hour," "Atonement," "Eternal Sunshine of the Spotless Mind," and "Harriet." Focus will also have a dedicated hub on Peacock, where the streaming platform will collect all the studio's historically acquired speciality films in one place.