The Morning Watch: How Spider-Man: No Way Home Should Have Ended, Scoring West Side Story & More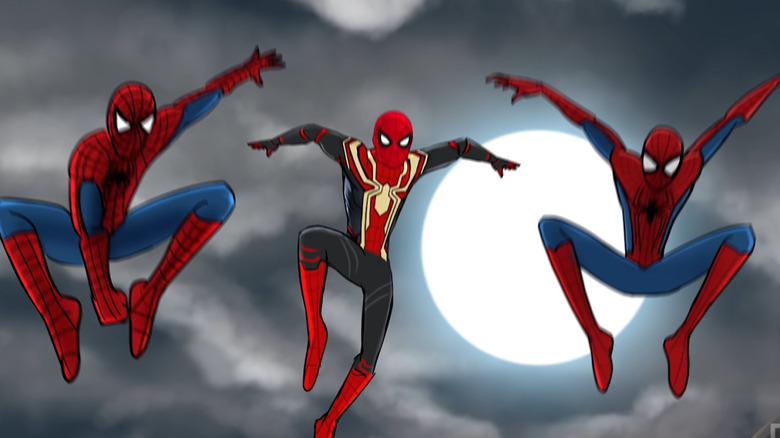 YouTube
(The Morning Watch is a recurring feature that highlights a handful of noteworthy videos from around the web. They could be video essays, fan-made productions, featurettes, short films, hilarious sketches, or just anything that has to do with our favorite movies and TV shows.)
In this edition, the ending of "Spider-Man: No Way Home" gets redone in a new edition of "How It Should Have Ended" that pokes fun at Doctor Strange's terrible spells. Plus, take a behind-the-scenes look at the lively scoring session for the music of Steven Spielberg's "West Side Story." And finally, see if Colin Farrell can handle the heat in a new episode of "Hot Ones," just in time for his debut as Penguin in "The Batman."
Watch how Spider-Man: No Way Home should have ended
First up, "How It Should Have Ended" finally tackles the rather contrived plot of "Spider-Man: No Way Home" and how dumb Doctor Strange's spell to make people forget about Peter Parker really is. Since the end to Tom Holland's "Spider-Man" trilogy is full of fan service, the video matches it by delivering everything else you'd have wanted out of the film. For instance, if three Spider-Men (Spider-Mans? Spider-People?) wasn't enough for you, the video has Miles Morales show up too! And, of course, what is a How It Should Have Ended video without an appearance from the Super Friends at the Super Cafe? Sadly, despite offering to help multiple times, no one listens to Superman's idea of letting him reverse time by flying around the Earth really fast in the opposite direction of its orbit to prevent any of this from happening.
Even the scoring session for West Side Story looks super fun
Next, Steven Spielberg's "West Side Story" is one of the best movies of last year, a vibrant movie full of life and music, shot to perfection by Janusz Kamiński. Unsurprisingly, even the scoring session for the film's soundtrack looks fun.
The behind-the-scenes video from 20th Century Studios shows conductor Gustavo Dudamel leading both the orchestra, background dancers, and the cast of the film as they perform "America," arguably the best song in the film. There's impromptu dancing, cheers, and even Spielberg tapping along to the music and shooting the whole thing on his phone like a proud uncle. It is delightful.
Colin Farrell spices up Hot Ones
Finally, Colin Farrell may terrorize the streets of Gotham as the Penguin in Matt Reeves' "The Batman," and he already stared at the face of existentialism in the excellent "After Yang," but now he meets his biggest foe yet. In the newest episode of "Hot Ones," Farrell eats some spicy wings while pondering the genius of Steven Spielberg, Danish musician Chili Klaus, and why "Some Like it Hot" is a perfect film. The show continues to offer excellent interviews that are framed around hilarious moments of people begging for help as they burn up on spicy hot wings, and Colin Farrell is a great sport.