Gentleman Jack Season 2 Trailer: Anne Lister Makes Her Long-Awaited Return In April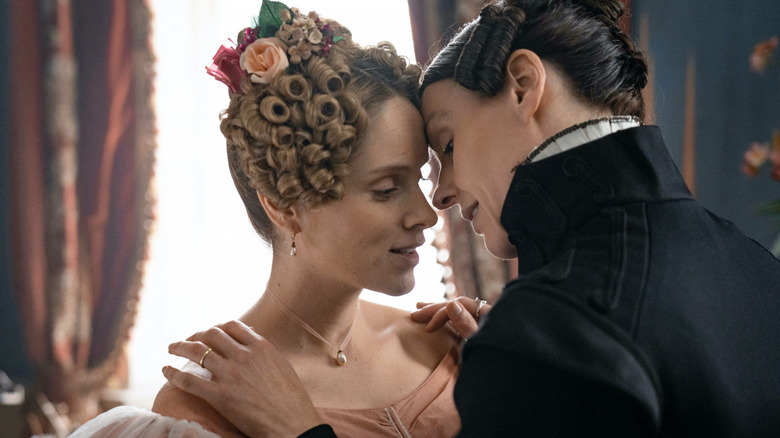 BBC One/HBO
Everyone's favorite messy lesbian period romance is finally coming back! HBO has, at last, released an official trailer for "Gentleman Jack" season 2, once again starring Suranne Jones as Anne Lister, the real-life English landlord and industrialist often referred to as "The First Modern Lesbian" by historians. Sophie Rundle also returns as Ann Walker, Anne's (with an "E" — and, yes, I'm aware I've made that joke in the past, but I haven't tired of it just yet) love interest turned secret wife, who's about to get a crash-course in just how wild life can be when you're living under the same roof as "Gentleman Jack."
While it's been nearly three years since season 1 (which began in 1832) debuted in the spring of 2019, "Gentleman Jack" season 2 will pick up two years after its predecessor in 1834. That's not to say things have changed much since the last time we checked in on Anne and Ann. As seen in the trailer, Anne's family remains as befuddled-yet-supportive of her ambitions as ever, all while Ann's meddling relatives continue to, well, meddle in her affairs, particularly now that she's openly residing with the Listers at Shibden Hall.
Watch the Gentleman Jack Season 2 teaser
Beyond sending the locals of Yorkshire into a tizzy with her love life and riling up Ann's brother-in-law Captain George Sutherland (Derek Riddell), Anne will continue her business war with the wealthy, scheming, coal-thieving brothers Jeremiah (Shaun Dooley) and Christopher Rawson (Vincent Franklin) in "Gentleman Jack" season 2. "I fear you have built me up in your mind to be all manner of things I am not ... and some that I am," as Anne warns one of her growing number of enemies in the teaser trailer.
"Gentleman Jack" creator Sally Wainwright once again served as head writer and executive producer on all eight episodes of season 2, which will debut on an as-yet-unannounced day in April. Directors this season include Edward Hall, Amanda Brotchie, and Fergus O'Brien, with Jones, Faith Penhale, Will Johnston, and Ben Irving also acting as executive producers. You can check out the official synopsis and supporting cast list for season 2 below. (Mind you, the list is incomplete. There's no mention of Gemma Whelan as Anne's sister Marian, even though she pops up several times in the teaser.)
Yorkshire, 1834. All eyes are on Anne Lister and Ann Walker as they set up home together at Shibden Hall as wife and wife, determined to combine their estates and become a power couple. Anne Lister's entrepreneurial spirit frightens the locals as much as her unconventional love life and, with Halifax on the brink of revolution, her refusal to keep a low profile becomes provocative and dangerous.

Season two will again use the real life diaries of Anne Lister – part of which were written in code – as its source, with every part of Lister's story based in historical fact and the five million words she wrote in her journals.

Season 2 cast: Gemma Jones as Aunt Anne Lister, Timothy West as Jeremy Lister, Jodhi May (Lady Vere Cameron), Katherine Kelly (Elizabeth Sutherland), Derek Riddell (Captain George Sutherland), Stephanie Cole (Aunt Ann Walker), Peter Davison (William Priestley), Amelia Bullmore (Eliza Priestley), Vincent Franklin (Christopher Rawson), Shaun Dooley (Jeremiah Rawson), Rosie Cavaliero (Elizabeth Cordingley), Joe Armstrong (Samuel Washington), Anthony Flanagan (Ben Sowden) and George Costigan (James Holt).