The Marvelous Mrs. Maisel Songwriters Reveal The Emotional Truth Beneath Shy Baldwin's Latest Hit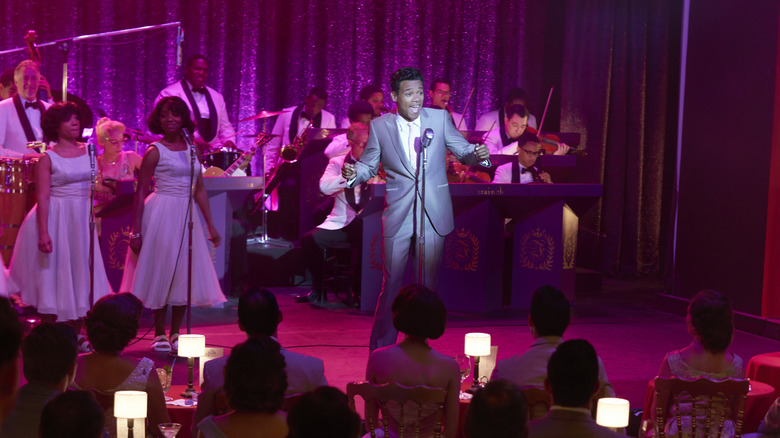 Prime Video
The knowledge that "The Marvelous Mrs. Maisel" invented soulful crooner Shy Baldwin will haunt me until the end of time. Between the stage presence of Leroy McClain and the powerful vocals of Darius de Haas, it's hard to believe that Shy is merely an amalgamation of similar sultry-voiced '60s pop stars. Similarly, it's hard to see Midge Maisel (Rachel Brosnahan) walk through her candy-colored New York City knowing the comedian's rise to fame is nothing more than a work of fiction (though she is inspired by some actual comedians). All this is just the magic of "Maisel." Amy Sherman-Palladino and Daniel Palladino have created a world so vivid that every fiber of your being wants to dive right in. One of the many elements contributing to this effect is the musical style of "Maisel," known for featuring hits of the '50s and '60s to immerse us in the period, along with original music that makes singer Shy Baldwin feel incredibly real.
This post contains minor spoilers for "The Marvelous Mrs. Maisel" season 4.
A story told through songs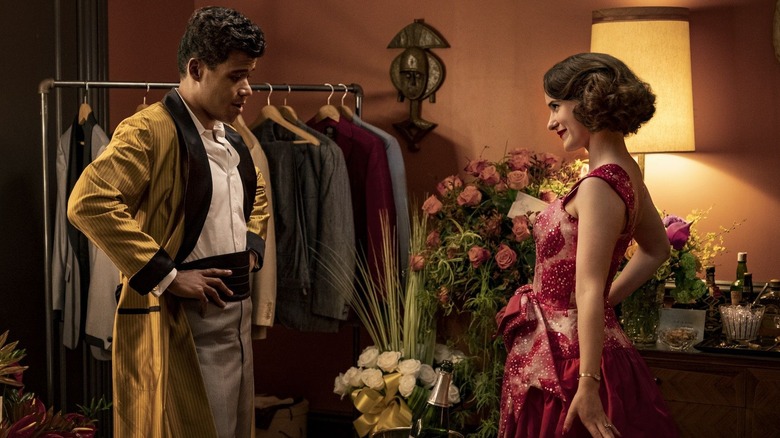 Prime Video
While the show's biggest selling point is the witty, fast-paced dialogue and a polished portrait of '50s New York, "Maisel" is just as meticulous when it comes to the music, and Shy is the prime example. Though we've primarily heard him cover a number of standards, every so often we hear a Shy Baldwin original: A song crafted by series songwriters Thomas Mizer and Curtis Moore, which does more than just show off the talents of McClain and de Haas — it tells us Shy's story through song.
Shy first appeared on the show at the end of the second season, where Midge caught his attention and he invited her aboard his tour as an opening act. Unfortunately for our star comedian, their partnership ended on bad terms when she essentially outed him to an audience at The Apollo, cracking jokes that hit way too close to home and betraying their budding friendship. Midge kissed her European dreams goodbye in the season 3 finale, when she was fired before the tour reached its international leg. Bad news for Midge was even worse for the rest of us — no more tour presumably meant no more time basking in the glow of Shy's star! Or so we thought. In an interview coming soon to /Film, Mizer and Moore delve into their latest batch of original songs, which includes Shy's new hit, "City Lights," performed during his season 4 appearance. One of the many insights of the conversation includes the songwriters digging into the challenge of following up on Shy's first hit, "One Less Angel," which earned them an Emmy nomination for Outstanding Original Music And Lyrics back in 2020.
Curtis Moore: So "One Less Angel" was his big coming-out hit. No pun attended there. And now we've got to write his next big [hit] ... and I think we were trying to give him that forward momentum as he would have in his career.
Thomas Mizer: There were a couple of competing factors. One, just the pressure on us. The response to "One Less Angel" was so lovely, and people seem to really enjoy it so much. So now we're like, "Okay, how can we top that, if possible?" And second, this is his next album. So musically, he should progress. And we thought, as he moves into the '60s, he's going to want to be a little more Sam Cooke than Johnny Mathis. He's going to want to sit into a more R&B soul kind of world. Start to move that direction.
'The city lights don't shine as bright as you...'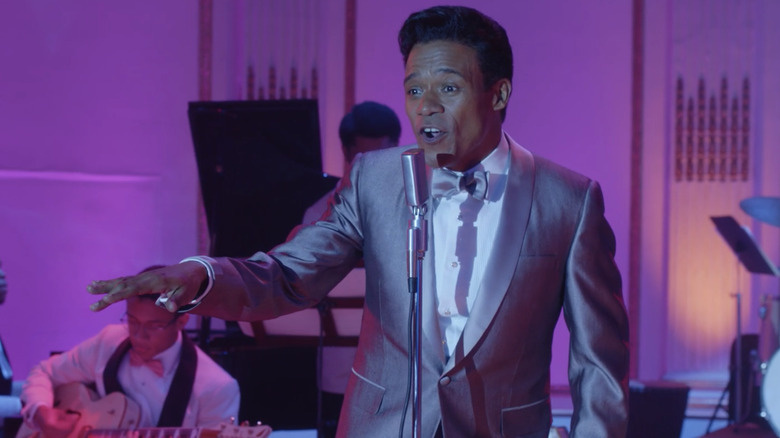 Prime Video
Along with progressing musically, "City Lights" and Shy's most recent appearance pushed him forward emotionally. When Midge finally catches up with her former friend, they're in the bathroom at Shy's publicity stunt of a wedding. He takes the opportunity to not just showcase his latest hit, but serenade his new wife, where all the cameras can see. But adding an extra layer of emotion is the detail that the song comes courtesy of his former manager and lifelong best friend, Reggie (Sterling K. Brown).
Thomas Mizer: That popped for me. I was like, "Ooh, this is Reggie, who's his dearest oldest friend, but what they've been through is kind of rocky, writing a song for his best friend about who's the person he wants to come home to." And you can listen to it as just a pop song and a fun moment, but hopefully, there's just that little bit of pathos and emotion beneath it, of Shy's having to do this as a publicity thing. But underneath it, who's he really singing to? I don't know.
Curtis Moore: Yeah. I think you're right, Tom. I mean, I think I know who he's singing to. [Laughs] I think you know who you think he's singing to, but that it is exactly that. We're trying to get all of those things in the song. It's still his next single, but at the same time, we, as storytellers, are trying to layer it with a little bit of extra storytelling.
On its surface, "City Lights" is a bubbly tune where Darius de Haas' voice soars to new heights. It's bright! It's fun! You'll swoon! The Shy Baldwin fans within the world of "Maisel" were no doubt fanning themselves from the romance of it all, absolutely enamored by the performance. As for those of us who know Shy a bit better, and get the implications of the song coming from Reggie? Suddenly, the lyrics hit like a punch to the gut. "Come home to me darling... those city lights don't shine as bright as you." Shy's latest appearance did have the air of a bittersweet ending, but here's hoping he'll show his face once more in the final season and inch closer to a happy ending.
Season 4 of "The Marvelous Mrs. Maisel" is now streaming on Amazon Prime Video and the Season 4 soundtrack album is now available to stream or download.