The Classic Comedy That Heavily Influenced The Mighty Ducks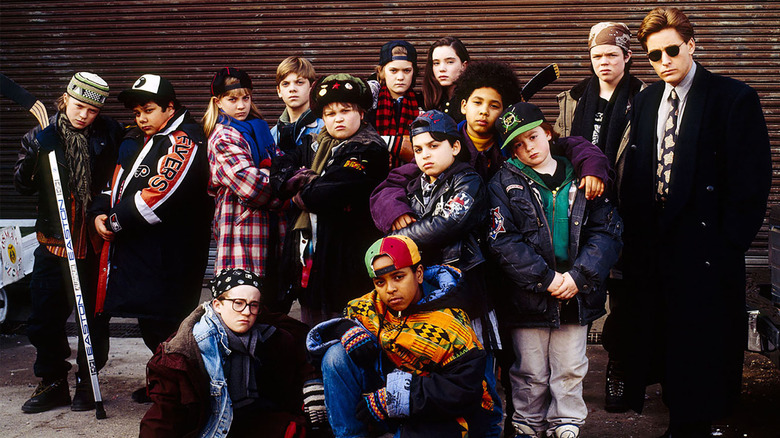 Walt Disney Productions
The 1990s were the heyday for kid-led sports movies, with films like "The Big Green," "The Sandlot," "Little Giants," "Ladybugs," "Air Bud," "Little Big League," "Angels in the Outfield," and "Rookie of the Year" becoming household favorites, but only one* became a certified cultural phenomenon. Disney's "The Mighty Ducks" spawned a trilogy of films, an animated television series, a live-action sequel television series, and a real-life National Hockey League hockey team. The feature writing debut of Steve Brill (who would go on to make films like "Heavyweights," "Ready to Rumble," "Little Nicky," "Mr. Deeds," "Without a Paddle," and "Hubie Halloween"), "The Mighty Ducks" nabbed Stephen Herek to direct, who had previously seen great success with "Critters," "Bill & Ted's Excellent Adventure," and "Don't Tell Mom The Babysitter's Dead."
The story of Gordon Bombay (Emilio Esteves) coaching the underdog Minnesotan pee-wee hockey team to victory had everything it needed to warm the hearts of audiences, but the film was heavily inspired by another classic kids' sports comedy franchise from a decade and a half prior — the Jackie Earle Haley starring "The Bad News Bears."
*Okay, two, but "Air Bud" turned into a dog franchise. Don't bother me with semantics!
Brill wanted to channel The Bad News Bears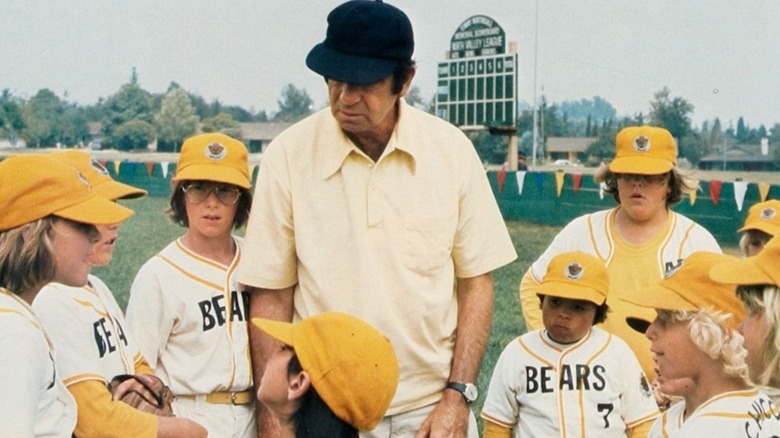 Paramount Pictures
At only 26-years-old, the time up-and-coming Brill wrote "The Mighty Ducks" in his apartment on spec. In an interview celebrating the film's legacy with Time, Brill said, "I loved sports movies and I was really looking to make a movie that could talk about my old sports experiences." A life-long fan of "The Bad News Bears," Brill's goal was to match a similar vibe where the sport was integral to the story's foundation. "You'd get in there and root for a goal crossing the line, or you could sort of be educated in the movie about how hockey feels and looks," he said.
I firmly believe that when most people think of "The Mighty Ducks," they're actually thinking of the totally rad 90s nonsense of "D2: The Mighty Ducks," and not the original film's Bombay-focused arc. Shortly after we meet our will-be hero, he's actively getting drunk while driving on a major highway. Reminder–this is a Disney movie. "The Mighty Ducks" leans heavily into Bombay's storyline of getting his s*** together, overcoming his childhood hockey trauma, and becoming a positive role model for his team of misfits, which makes the comparison to "The Bad News Bears" even more evident. While the foul-mouthed kids provide the most iconic moments, Walter Matthau's Coach Morris Buttermaker is the central heart of "The Bad News Bears," just as Bombay is for "Ducks."
The Bad News Bears on ice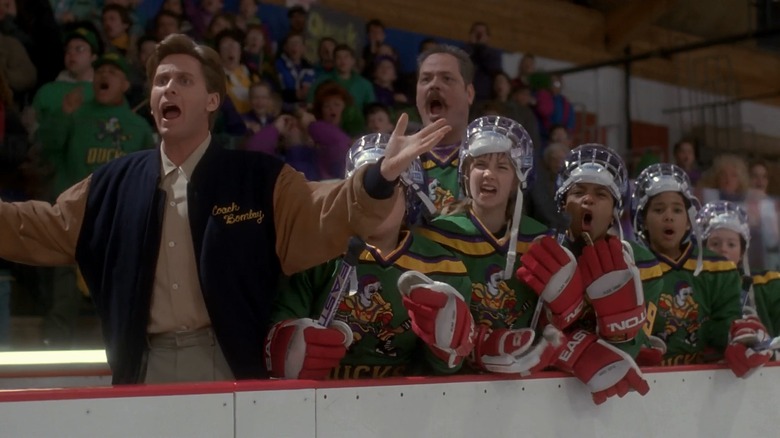 Walt Disney Productions
When "The Mighty Ducks" first debuted, a handful of critics called the film "The Bad News Bears" on ice, as if that's a bad thing. The film was panned by critics, but kids couldn't get enough of it. The comedic formula established in "The Bad News Bears" was already proven, but Brill's modernization for the generation that would later be known as millennials helped make it a childhood favorite. 
The influences of "The Mighty Ducks" are evident by the fact Disney+ is still making "Mighty Ducks" content, and even today, more kids play hockey in Minnesota than in any other state. Whether it's Coach Buttermaker or Coach Bombay, one thing's for sure, we love a movie featuring a down-on-his-luck dude who needs to learn a thing or two about life from a rabble-rousing gang of misfit youths with doofy catchphrases. And remember kids, "don't be careless, but don't be too careful either."