The Akira Connection You Might Have Missed In Uncut Gems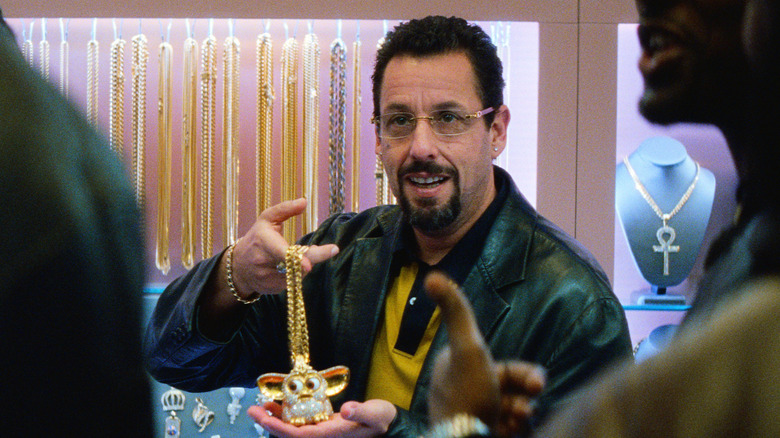 A24
Josh and Benny Safdie's "Uncut Gems" captures a strange sort of anxiety, the type of nervousness that arrives when everything is feeling generally comfortable. That's probably because the film follows the gambling addiction of Howard Ratner, played by Adam Sandler, whose debts continuously undercut any successful bets he wins. The soundtrack — a dreamy yet agitated collage of distorted synths, frantic drum pads, and eerily artificial-sounding choir voices — captures that ever-present underlying dread. It's no wonder that composer Daniel Lopatin used this opportunity to pay tribute to the anime masterpiece "Akira," which also uses pulsing rhythms in an uncomfortably tense manner.
Lopatin, perhaps better known by his stage name Oneohtrix Point Never (or "OPN" for short), is the musical brain behind the soundtrack of "Uncut Gems." The electronic artist, who also scored the Safdie brothers' previous film "Good Time," composes ambient synth soundscapes that utilize odd, distorted samples of nostalgic and familiar sounds like '80's pop hits, television advertisements, and radio station announcements. The result straddles the line between comforting and unsettling and influenced the niche Internet musical genre known as vaporwave. In 2014, Lopatin performed a live version of the soundtrack from the short anime film "Magnetic Rose," part of a 1995 anime anthology called "Memories" that was produced by and based on the manga works of none other than Katsuhiro Otomo, creator of "Akira."
"Windows" into "Kaneda"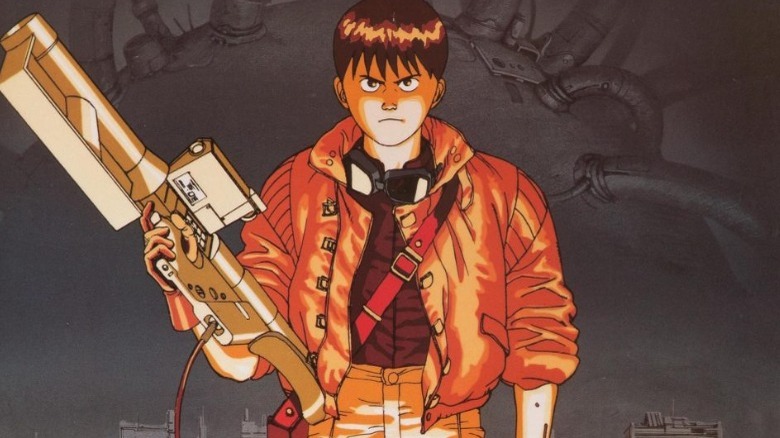 Toho
Fans of the percussion-heavy music of "Akira" may have heard some more-than-familiar beats emanating from one of the tracks off the "Uncut Gems" soundtrack. The song "Windows" follows an almost exact polyrhythm pattern building an ascending and descending pattern, with chanting voices to heighten the suspense. Lopatin even pointed out the influence on Twitter when asked about the two tracks' similarities.
totally, It's our love note to Kaneda building off the major key marimba vibe and then goes all wacky from there!

— oneohtrix point never (@0PN) December 16, 2019
Lopatin says the track has a "marimba vibe," referring to the percussion ensemble's use of bamboo keys that are part of a type of Indonesian music called Jegog. Composer Shoji Yamashiro and musical collective Geinoh Yamashirogumi combined these sorts of traditional percussive instruments with electronic MIDI synthesizers, a set-up that surely mirrors Lopatin's own unorthodox approach to songwriting. 
At first glance, "Akira" and "Uncut Gems" don't seem like they have a ton in common with each other, but dig deeper and the music reveals how they're similar. One is a mind-bending, cyberpunk sci-fi about the collapse of society, the other is an anxious, busy drama about the collapse of one man. It's no wonder their soundtracks both give off a sense of apocalyptic unease.