Windfall: Release Date, Cast, And More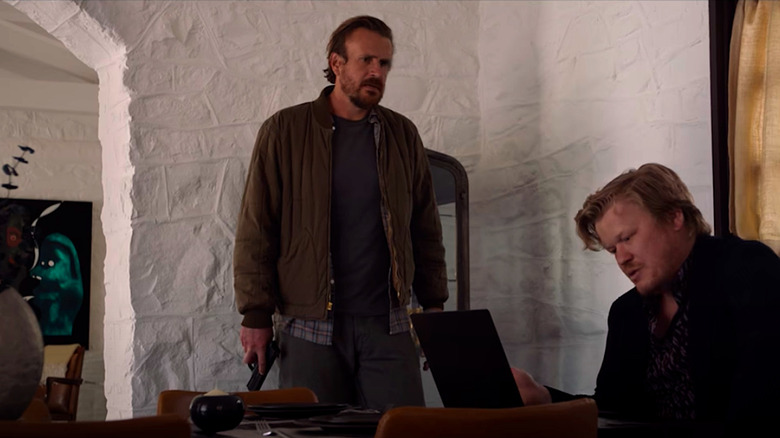 Netflix
The thing about being rich is that you most likely own a lot of houses. If you're someone like Taylor Swift, you own at least eight, and they are scattered across the country like convenient pit stops on your grand tour of life itself. You can visit them whenever you want like an all-expenses paid vacations to your favorite places on a map. But the thing about wealthy people's vacation homes is that they are typically left empty — save for the staff that's paid to keep the place from falling into disarray — for most of the year, making them a prime target for anyone looking to get a little nefarious. So what would you do if you, a wealthy CEO of a company, decided to take a spur of the moment vacation with your wife to one of your many luxurious homes, only to find someone else is already doing a little vacationing of his own when you get there?
Jesse Plemons ("The Power of the Dog") finds himself in this exact situation in the new movie "Windfall," set to release on Netflix later this month. He, along with his wife (played by Lily Collins) become unexpectedly at odds with a stranger (played by Jason Segel) in their chic vacation home. The film, which has been frequently described as "Hitchcockian," looks to be a cross between high-stakes subterfuge and darkly comedic pitfalls, all coming together to form a delightfully twisty and turny time. 
Windfall release date and where to watch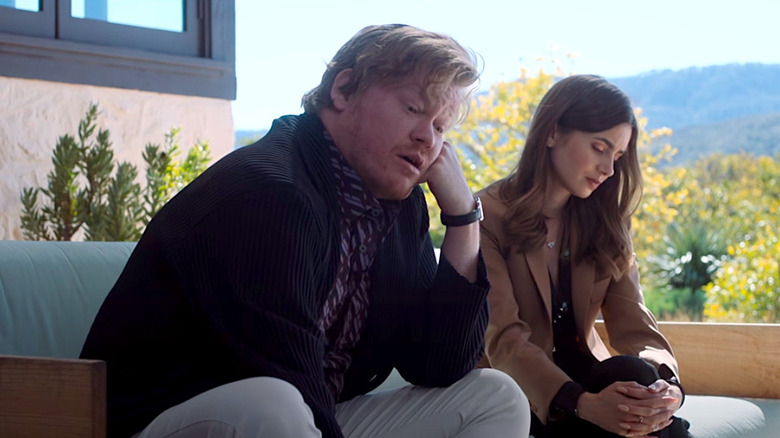 Netflix
If you're just now jumping onto the "Windfall" bandwagon, you don't have much longer to wait to see the film. The movie is set to stream on Netflix starting March 18, 2022. The tagline on the film's promotional poster states, "Every Kidnap is a Compromise" hinting at the likely notion that things are bound to get a little messy with this self-secluded trio. Even though the movie seems like an intense ride, its fresh, sunny, orange-filled atmosphere looks like the perfect escape from the doldrums of winter (even if it does involve kidnapping), as we (im)patiently wait for spring to arrive. 
March is looking to be a dark month for Netflix releases as "Windfall" will be joined by a handful of other enticing looking thrillers set to come out around the same time. Leighton Meester (Love you, Blair, honey!) will star in "The Weekend Away," where she tries to clear her name after her best friend is found dead, and Toni Collette is at the helm of a new series, "Pieces of Her" where the popular tropes of violence and small towns once again mix to create a harrowing tale, making Netflix the place to go if you're looking for a new edge-of-your-seat tale. 
What is Windfall?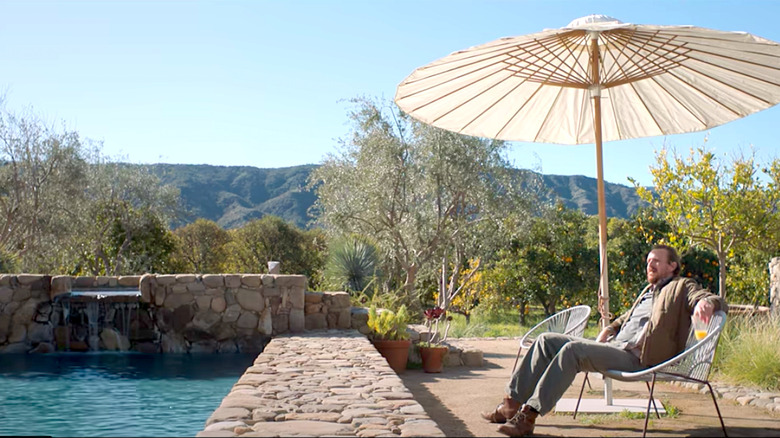 Netflix
Often seen described as a "Hitchcockian thriller," "Windfall" sees Jesse Plemons and his wife (Lily Collins) arrive at their lavish vacation home expecting to enjoy a relaxing getaway, only to find someone (Jason Segel) already there. What unfolds is a seemingly riveting game of chicken as the couple, now held hostage by Segel (albeit poorly), try to come up with an escape plan before things turn violent.
The film was allegedly made during lockdown in the early phases of the COVID-19 pandemic which makes the film's distinct sense of isolation all the more profound. If you're looking for something to remind you of those long afternoons stuck in your apartment with nothing to do but break yet another loaf of bread, then this movie might be for you. The only difference is that (hopefully) you were only being held hostage by the virus and not an actual person wielding a gun in your home.   
Who's in the Windfall cast?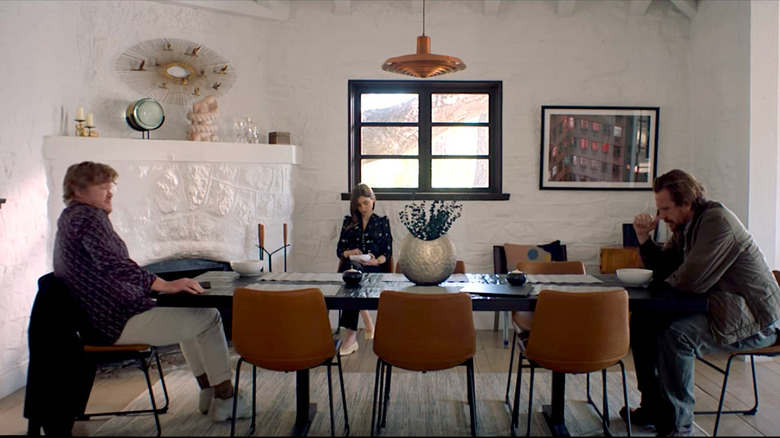 Netflix
The cast of "Windfall" is small. Only four people are listed on the film's IMDb page. Segel seems the most out of place, as he is typically cast in roles with a sillier bend. Still, I'm excited to see what he can do when tasked with a more severe role. Plemons and Collins should feel a bit more at home in this sort of high-stakes story, and their chemistry together should be captivating. The only other actor credited in the film is Omar Leyva who recently appeared in the 2018 HBO original movie "Icebox" about a young boy who ends up in the hands of the United States immigration system. Leyva appears in the trailer briefly and seems to be an unassuming visitor to the house, completely unaware of the danger Plemons and Collins are in. Perhaps he will be their way to escape?
An interesting fact about the cast of "Windfall" is that none of the characters have proper names. Plemons and Collins are the "CEO" and "Wife" respectively, while Segel has the great honor of being labeled simply as "Nobody." In an Entertainment Weekly first look, McDowell claims the reason for this is because "we wanted the audience to project what they wanted onto these characters, and we didn't want to spoonfeed the audience with manipulating them to feel one way or another." I don't know about you, but labeling someone as a "nobody" right from the start definitely doesn't make me feel neutral towards Segel's character, though. And "CEO" doesn't exactly have "warm, fuzzy, and trustworthy" vibes to it either. 
Regardless of how these characters interact, it should be exciting to see them try to outsmart one another. I have a sneaking suspicion that all is not what it seems in regards to how these characters know each other. The trailer sets Segel up as a random stranger who just shows up to rob a wealthy home, but something tells me Collins and Segel have met before. I don't know whether it's the weird reaction she seems to have in the trailer after seeing Segel for the first time — like, really? No screaming for your husband? — or the fact that I've just watched enough movies to know no one can ever be trusted. Either way, I suspect "Windfall" to surprise us with some twist that we may or may not see coming.
Windfall directors, writers, and more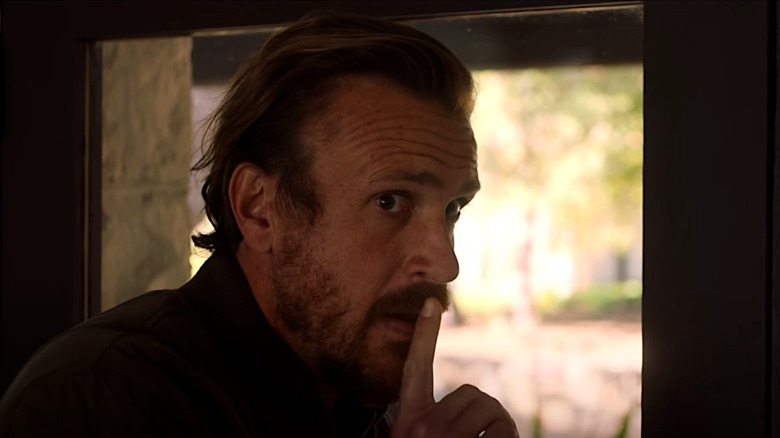 Netflix
"Windfall" is directed by Charlie McDowell (the son of English actor Malcolm McDowell). McDowell's first feature length directorial debut was "The One I Love" about a married couple who vacation at a house recommended to them by their therapist, only to find that all is not what it seems. (I'm sensing a theme here.) His second film, "The Discovery", was also acquired by Netflix and stars Rooney Mara, Jesse Plemmons, and Jason Segel (again, a theme) in a science fiction story about the afterlife. 
Just like with "The Discovery," McDowell helped write the script for "Windfall" along with Justin Lader and Andrew Kevin Walker. Fans of Walker know that he is the mastermind behind the insane David Fincher film, "Se7en," which left us all in a delightful state of shock when we first saw it. Hopefully his involvement with the script of "Windfall" means that we are in for a psychologically enticing time. The executive producers of "Windfall" are David Duque Estrada, Rick Covert, and Elika Portnoy, and Plemmons, Segel, McDowell, and Collins are also among those listed as being involved with production. 
Here's the Windfall trailer and synopsis
Here's the official trailer for "Windfall" from Netflix:
When a wealthy couple decide to go on a last-minute trip to their private vacation home, they find their house already occupied by a seemingly incompetent thief who attempts to hold them hostage in order to benefit from their wealth.