The Terminal List Teaser: Chris Pratt Is Back In Action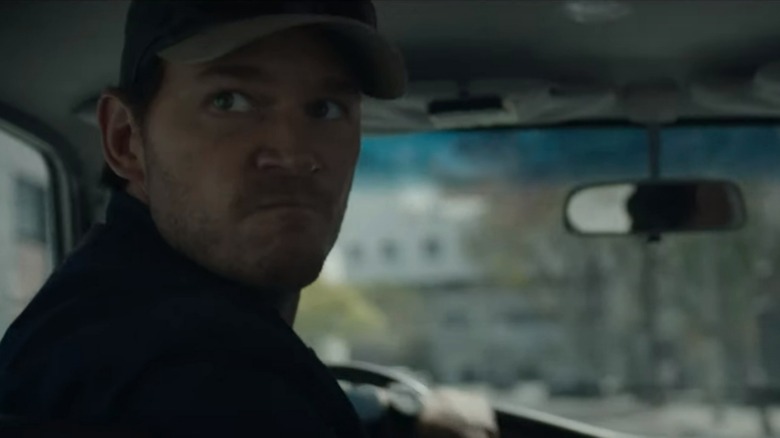 Amazon Studios
When you have dinosaurs in need of corralling, you call Chris Pratt. When the galaxy needs saving, you call Chris Pratt. If you're caught in vaguely militaristic circumstances and squaring off against dangerous enemies, whether extraterrestrial or human, you — you know what, you probably get the idea by now.
Chris Pratt has come a long way since his days as Andy Dwyer on "Parks and Recreation," reinventing himself as one of Hollywood's go-to action stars for movies like the "Jurassic World" franchise, his turn as a cowboy in "The Magnificent Seven," and Amazon's "The Tomorrow War" that released last year. His heralded return to the small screen in "The Terminal List" will continue that trend, as the actor will portray Navy SEAL James Reece, who returns home after an engagement gone tragically wrong only to find himself caught up in much larger events that threaten his life and those of his loved ones.
Though the streaming studio is clearly setting this series up as one of their prime (er, no pun intended) original offerings to lure more subscribers to the service, we've only received very few glimpses of the actual project to this point. That's another trend that continues today, as our first real look at "The Terminal List" takes the form of a breezy 18-second teaser that's mostly trying to sell potential viewers on a certain mood, as opposed to the actual story. Check it out below!
Watch the Terminal List teaser
The premiere of "The Terminal List" remains a few months away, so there's plenty of time left for Amazon to truly ramp up the marketing and give us a better sense of what to expect from this series. Until then, well, maybe don't expect any extensive trailer breakdowns anytime soon based on these scant few seconds of footage. Our very first look at the show came a little less than a month ago, confirming initial details upon the show's announcement that it was billed as a "conspiracy thriller that combines elevated action with deep psychological questions about the cost of pushing our nation's highest trained operators too far."
The series will actually serve as a reunion of sorts, bringing Chris Pratt and director Antoine Fuqua back together after previously working on "The Magnificent Seven." It's based on a popular novel of the same title written by author Jack Carr, who is also attached to the series as an executive producer. Both Pratt and Fuqua also serve as executive producers alongside writer and showrunner David DiGilio, who previously wrote the screenplay for 2006's "Eight Below" and created the 2007 series "Traveler," starring Matt Bomer, Logan Marshall-Green, and Viola Davis. In addition to Pratt, "The Terminal List" stars Constance Wu, Taylor Kitsch, Riley Keough, Jeanne Tripplehorn, Arlo Mertz, Jai Courtney, JD Pardo, Patrick Schwarzenegger, LaMonica Garrett, Stephen Bishop, Sean Gunn, Tyner Rushing, Jared Shaw, Christina Vidal, Nick Chinlund, Matthew Rauch, Warren Kole, Alexis Louder, and more.
All eight episodes will debut on Amazon Prime Video July 1, 2022.
'The Terminal List' follows James Reece (Chris Pratt) after his entire platoon of Navy SEALs is ambushed during a high-stakes covert mission. Reece returns home to his family with conflicting memories of the event and questions about his culpability. However, as new evidence comes to light, Reece discovers dark forces working against him, endangering not only his life, but the lives of those he loves.