Star Wars Bits: Alan Ladd Jr., Andor, Obi-Wan Kenobi, Crimson Reign, The Mandalorian, And More!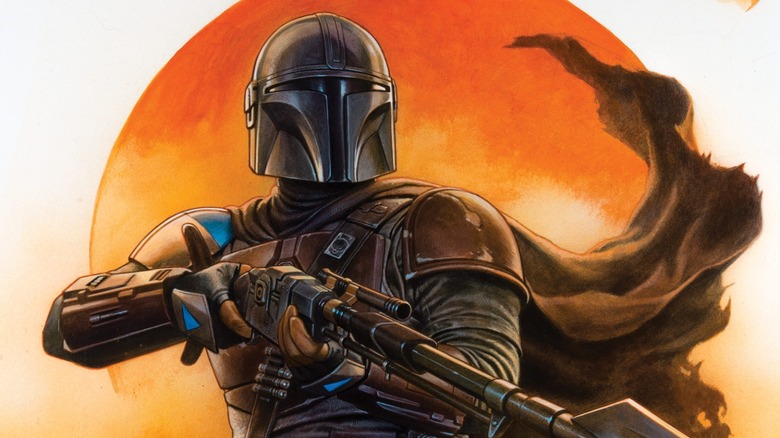 Marvel
We may receive a commission on purchases made from links.
In this edition of Star Wars Bits:
Alan Ladd Jr. Passes Away at 84
"Andor" Adds Rosalind Halstead and David Hayman
Qui-Gon Jinn to Appear in "Obi-Wan Kenobi"
Marvel's Upcoming "Star Wars" Comics
And More!
Alan Ladd Jr. passes away at 84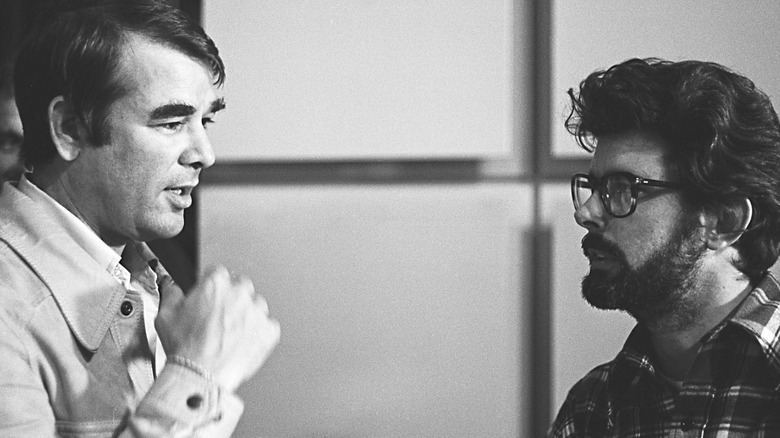 Lucasfilm
Legendary film executive and producer Alan Ladd Jr. passed away on March 2 at the age of 84. Ladd — or Laddie, as he was commonly known — greenlit "Star Wars" as the president of 20th Century Fox after seeing George Lucas' previous film, "American Graffiti." In addition to "Star Wars" and "The Empire Strikes Back," Ladd's list of credits is humbling to say the least, including "The Rocky Horror Picture Show," "The Omen," "Alien," "All That Jazz," "Chariots of Fire," "Blade Runner," "The Right Stuff," "Willow," "Thelma & Louise," and "Braveheart," just to name a few.
StarWars.com has a nice tribute to Ladd with comments from Lucas. Here's a snippet:
"Laddie loved film and believed in filmmakers. He was one of the few executives who bet on the person rather than the project," said Lucas. "Without Laddie there would be no 'Star Wars.' He didn't understand what 'Star Wars' was about, but he believed in me and supported my vision. Quiet and thoughtful, he had an independent spirit that gave so many storytellers a chance. He stood up to the studios and went with his gut instinct. Laddie took a great personal and professional risk on 'Star Wars,' and on me, and for that I will be forever grateful."
If you'd like to learn more about Ladd, check out "Empire of Dreams: The Story of the Star Wars Trilogy" on Disney+ and the documentary "Laddie: The Man Behind the Movies" on Amazon Prime Video. Thank you for your incredible contributions to cinema, Mr. Ladd. My thoughts are with your family and friends. 
Andor adds Rosalind Halstead and David Hayman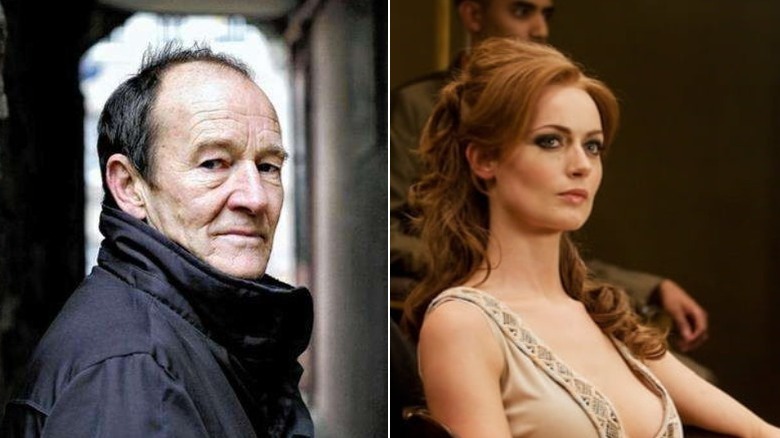 Scottish actor David Hayman ("The Boy in the Striped Pajamas") plays a key role in Disney+'s upcoming "Andor" series. During a recent interview with the Scottish tabloid newspaper The Daily Record, Hayman said:
"Everything was supposed to be top secret. About 500 film crew descended on Oban, and nobody was supposed to know what was happening. But folk were coming up to me and asking if I was doing my 'Wonders of Scotland' programme or 'Star Wars.' Everybody knew what was happening there."
Joining Hayman in the "Rogue One: A Star Wars Story" spin-off is British actress Rosalind Halstead. The news comes via the casting website Spotlight (hat tip to Bespin Bulletin) which lists Halstead as playing a character known as "Sculdun's Wife." Halstead has starred in popular British television series such as "The Trial of Christine Keeler," "Holby City," "Wuthering Heights," and "Sherlock."
Together, Hayman and Halstead join a cast that includes Diego Luna, Forest Whitaker, Stellan Skarsgård, Adria Arjona, Fiona Shaw, Denise Gough, Kyle Soller, and Genevieve O'Reilly. "Andor" is currently slated for release sometime during Disney's fiscal fourth quarter (July-September). 
Qui-Gon Jinn to appear in Obi-Wan Kenobi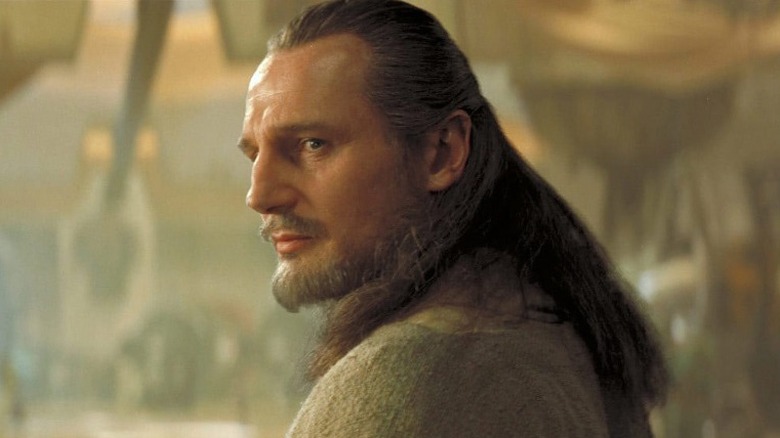 Lucasfilm
According to Bespin Bulletin, Liam Neeson will reprise his role as Jedi Master Qui-Gon Jinn in the upcoming "Obi-Wan Kenobi" series. 
"My personal belief based on a singular source is that the appearance is physical, meaning Qui-Gon Jinn would be seen as a force ghost at some point during the limited series, and not just a disembodied voice us fans previously heard in 'Star Wars: The Clone Wars.'"
In 2017's short story collection "Star Wars: From a Certain Point of View," Qui-Gon Jinn returns from the Netherworld of the Force to visit his former Padawan during the events of "Star Wars: A New Hope" in Claudia Gray's "Master and Apprentice." Here's an excerpt:
"You are afraid," Qui-Gon says. He knows why; the events taking place around them are clearer to him than they are to Obi-Wan. "You seek your center. You need balance."

The living find it difficult not to tell the dead that which they al­ready know. Obi-Wan doesn't even try. "There may be Imperial stormtroopers waiting for Luke at the Lars farm. If so—"

"Then you will rescue him." Qui-Gon smiles. "Or he may rescue himself. Or the sister will find the brother instead."

Obi-Wan cannot be so easily comforted. "Or he could be killed. Cut down while still hardly more than a boy."

To Qui-Gon, all human lives now seem impossibly brief. Years are irrelevant. It is journeys through the Force that matter. Some must struggle for that knowledge through many decades; others are very nearly born with it. Most never begin the journey at all, no matter how long they live.
Marvel's upcoming Star Wars comics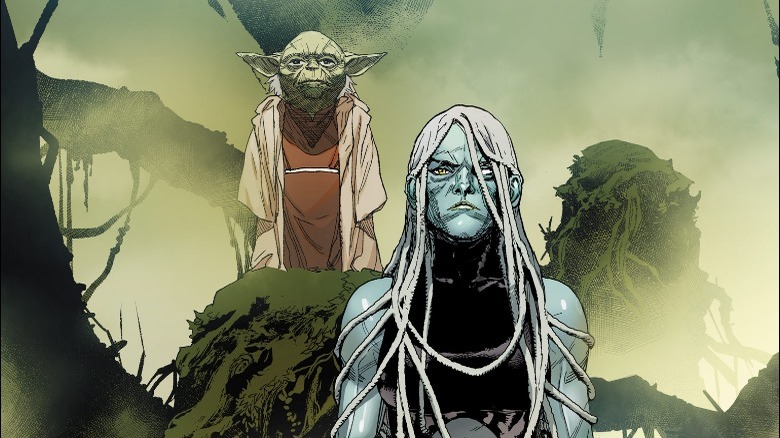 Marvel
In "Star Wars: Crimson Reign" #3 written by Charles Soule and illustrated by Steven Cummings with a cover by Leinil Francis Yu, the mysterious force-sensitive archivist Sava Madelin Sun becomes Lady Qi'ra's right-hand woman. 
StarWars.com has an exclusive first look at the upcoming issue, which arrives March 9, as well this month's other releases, including "Star Wars: The High Republic: Eye of the Storm" #2," "Star Wars: Han Solo & Chewbacca," "Star Wars: The Halcyon Legacy," "Star Wars: Doctor Aphra," "Star Wars: Bounty Hunters," "Star Wars: Darth Vader," and more!
In other comics news, starting this June, Marvel's "The Mandalorian" will be an eight-issue, episode-by-episode adaptation of the Disney+ series' first season. The series will be written by Rodney Barnes and illustrated by Georges Jeanty, with variant covers available for each installment. 
Within a Minute: The Making of Episode III
Our friends Ralph and James over at Live Action Star Wars have a new episode dedicated to the excellent 2005 documentary "Within a Minute: The Making of Episode III." If you've never seen the doc, which was originally released as a bonus feature on the "Star Wars: Revenge of the Sith" DVD, you can watch it on YouTube.
The complete story of Cad Bane
Our friends at Star Wars Explained have an excellent new video detailing the complete story of Cad Bane, the ruthless Duros bounty hunter who recently made his live-action debut on "The Book of Boba Fett."
Silver's Star Wars thrifting finds
Have you checked out Silver's Star Wars Thrifting channel? A true scavenger girl, Silver visits flea markets and thrift stores in search of Star Wars treasures.
Mighty Jabba's Collection
Mighty Jabba's Collection shows off some new acquisitions to his most impressive collection of Jabba the Hutt-related paraphernalia.
Han Solo paint repair guide
Vintage toy restoration expert Toy Polloi shows us how to repair a vintage Kenner Han Solo action figure.
Star Wars: Fallen Republic mod for Stellaris
Check out the trailer above for "Star Wars: Fallen Republic," a mod for the real-time grand strategy game "Stellaris."
"'Star Wars: Fallen Republic' is a total conversion mod designed to bring the 'Star Wars' experience to 'Stellaris' complete with ancient secrets, epic space battles, and political intrigue. With numerous potential starting maps and over forty playable empires to pick from, you will take the reigns of your empire of choice and lead them from the very start of the Galactic Civil War to the Battle of Endor and beyond." Visit Steam Workshop to learn more.
If you would like to see the game in action, check out Corey Loses for a gameplay tutorial. 
Building the ultimate Dark Trooper hallway
MandRproductions challenges himself to create one massive LEGO Star Wars Imperial Light Cruiser hallway (as seen in season 2 of "The Mandalorian) based on the build from 75324 Dark Trooper Attack!
This Week! in Star Wars
And finally, on This Week! in Star Wars, host Kristin Baver gives us the lowdown on all the latest news from that galaxy far, far away.
This week in Star Wars, we take a voyage among the stars on the Halcyon at Star Wars: Galactic Starcruiser and flip through the pages of Marvel's 'Han Solo and Chewbacca' #1 and 'Crimson Reign' #3. Plus, we get a first look at our new series Dispatches from the Halcyon.