Quentin Tarantino's First Movie Memory Is Extremely Quentin Tarantino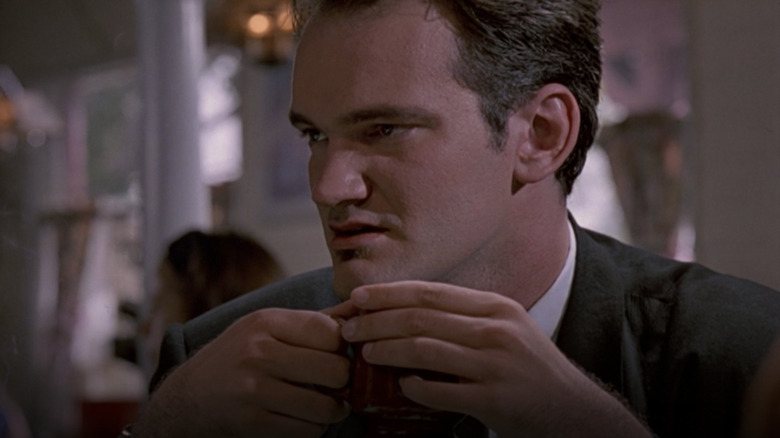 Miramax
All of us have our cherished first movie experience. Mine was watching Disney's "Snow White and the Seven Dwarfs" on VHS in my living room. I'm sure this movie, or a plethora of others from the House of Mouse, were among your first film experiences, Or at least, they would have similar sensibilities to those Disney movies. Parents want to ease their children into movies, letting them see things with simple morals and bright colors. Being under 80 minutes is also a plus, as it's tough to hold a child's attention for too long. After all, a parent showing a movie to a kid usually is just to keep a kid occupied. Rarely does that kid turn out to be a major filmmaker.
Well, Quentin Tarantino had a very different introduction to movie watching. His early movie memory wasn't of "Some Day My Prince Will Come" or "A Dream Is a Wish Your Heart Makes." That would be far too ordinary and sentimental for Tarantino. No, the "Once Upon a Time ... in Hollywood" director who helped bring his love of the grindhouse and the B-movie to the mainstream could only have begun watching movies with a cheap knock-off.
The Name's Drummond, Bulldog Drummond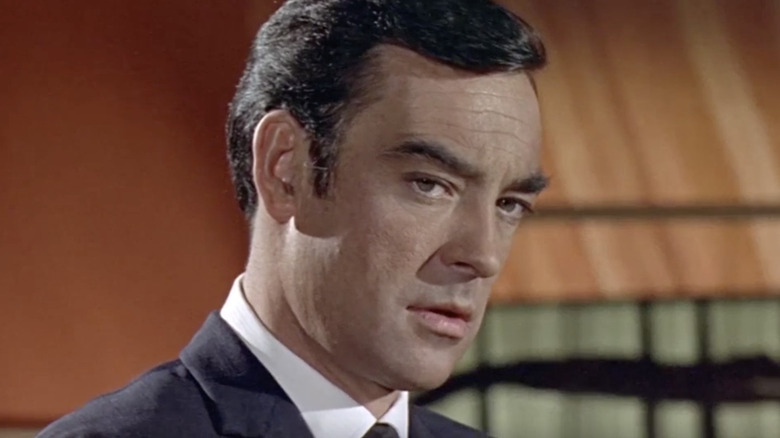 Universal Pictures
In an interview with Italian talk show host Fabio Fazio, Quentin Tarantino revealed that his first film was "Deadlier Than the Male," a quick cash grab in 1967 to capitalize on the popularity of James Bond. Based on the post-World War I British adventurer Bulldog Drummond, "Deadlier Than the Male" starred Royal Shakespeare Company stalwart Richard Johnson as Drummond, who also happened to be the first choice to play James Bond in "Dr. No," and was directed by British journeyman filmmaker Ralph Thomas. It has the beats of a Bond film down to the cold open ending on a big parachute stunt that goes into a title sequence with its own theme song. Even the poster wants to be a Bond movie. Plenty of studios wanted in on this trend, and "Deadlier Than the Male" was simply another one thrown on the pile.
But it was certainly an impactful experience for Tarantino — it was the first film he remembers seeing. He recalls of the experience:
"I remember this one scene with Elke Sommer and Sylva Koscina. They kidnap this guy, and they kind of hold this guy prisoner. I remember watching it at five and being a little blown away by the sexual politics of it. I didn't understand that at five."
Being five, he could only remember so much. A fleeting moment like that can trap itself inside the mind of a child so easily, removed from any kind of context. It was not until years later, when he naturally blind bought the movie (I love a blind buy; an underrated part of movie collecting), that he knew what movie he saw as a kid:
"And so I'm screening it after I bought it. And then all of a sudden, about midway through, that scene comes on and I go: 'Oh my God! This is the f****** movie! This is the first movie I ever f****** saw!"
While Tarantino's first movie may not have been exactly age-appropriate or even that good of a movie, that first exposure to the mixture of light, sound, and image is a powerful one. With my viewing of "Snow White," I know deep down I expect a certain level of craft and vibrancy to a picture, even though when I was a tiny child I had no idea what those things were. I just knew I liked "Snow White," which is a film that still holds up tremendously as an adult. I am sure seeing "Deadlier Than the Male" taught Quentin Tarantino at the age of five about how entertaining pulp storytelling could be, something that he has infused into all of his films as a director. There's a rather impressive straight line you can draw from that formative experience of seeing this kind of junky rip-off to masterpieces like "Inglourious Basterds." Was this conscious? Most certainly not, but it just goes to show you how your singular life experience informs everything you do. For Tarantino, who has become one of the great champions of cinema, be it high or (more than likely) low, "Deadlier Than the Male" may have proved more impactful than its makers ever could have known.