The 15 Best Erotic Thrillers Ranked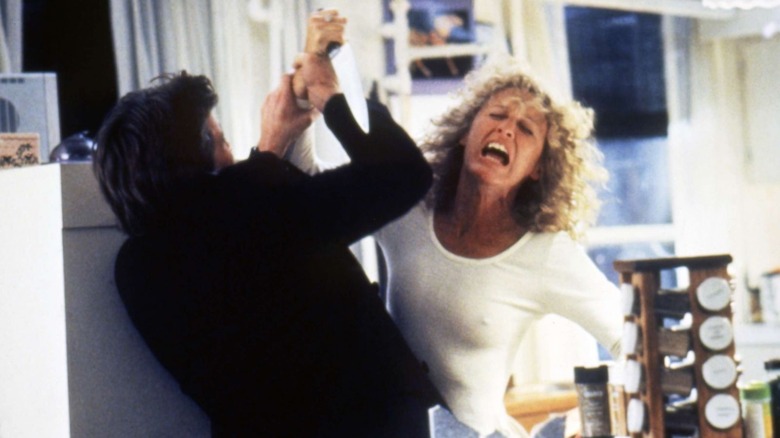 Paramount Pictures
Erotic thrillers are a tricky beast, running the gamut from trashy delights to straightforward dramas about infidelity to neo-noirs with femme fatales and the dumb marks who fall for them. These are films that explore the dangers of seeking a sexual thrill to break up the monotony of suburban life. Fascinatingly enough, there is an undeniable element of queer sexuality (and queer fear) underlying many of these popular texts. The reality is that like any subgenre there is a certain level of malleability in erotic thrillers that makes for a deep bench of diverse films. 
While we wait to see if Ben Affleck and Ana De Armas' new thriller "Deep Water" can revive the subgenre where Justice Smith and Sydney Sweeny's "The Voyeurs" failed, let's revisit 15 erotic thrillers that highlight the range and diversity of the subgenre (plus: a healthy splash of international titles). Let's dig in, shall we?
15. The Boy Next Door (2015)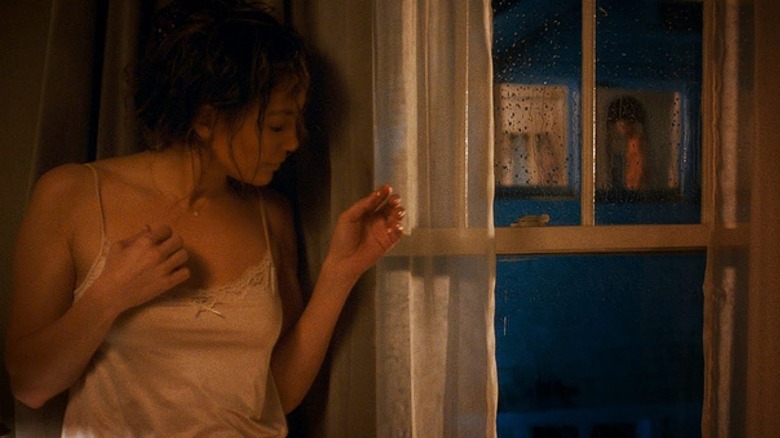 Universal Pictures
To some, erotic thriller simply connotes silliness, and this Jennifer Lopez film is the perfect embodiment of the phrase. The multi-hyphenate stars as Claire, a MILF high school English teacher who, while separated from her cheating ex (John Corbett), is seduced by Noah (Ryan Guzman), the incredibly hunky titular boy next door. Naturally, there's more to Ryan than meets the eye, as poor Kristin Chenoweth (playing Vicky the 'doomed to die' best friend) learns.
While "The Boy Next Door" isn't a good movie, it is a highly entertaining one. This is particularly true when the Rob Cohen-directed film inadvertently strays into camp territory. There are so many dumb parts of this guilty pleasure, including Noah's reference to Claire's "cookies" (a clear sexual euphemism), the repeated objectification of Guzman's twenty-something torso and chest, and a key plot point wherein Noah gifts Claire a first edition copy of the Iliad (?!?!). Bonus points for "The Fast and the Furious" director's inability to resist incorporating multiple car chases, as well as a climax featuring car parts as murder weapons. This erotic thriller is just pure dumb fun.
14. Wild Things (1998)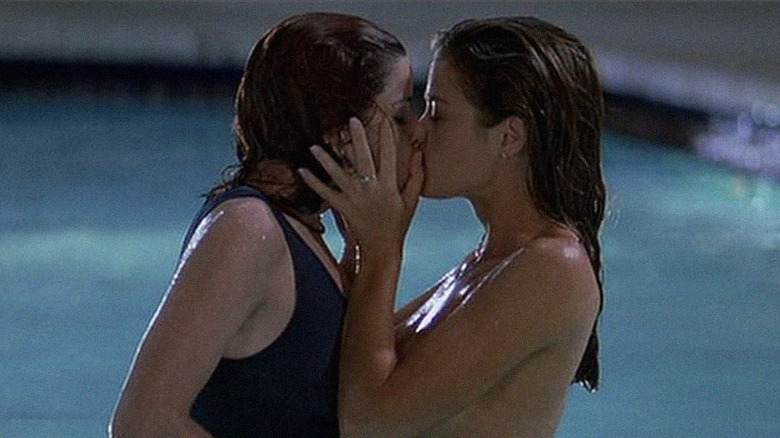 Sony Pictures
Speaking of dumb fun, here's a film that is so 1998 it could never be made nowadays. Not only is Matt Dillon's predatory guidance counselor Mr. Lombardo committing statutory rape, but Kelly (Denise Richards) and Suzie (Neve Campbell)'s fake rape plot has aged really badly. Plus the only significant character of color — Daphne Rubin-Vega's Detective Perez — is arguably the least likable character and the one saddled with all of the anti-women dialogue.
Politics aside, this slice of Florida trash is a delight. It's a film that's ridiculous enough to let Bill Murray's skeezy public defender slink around in a fake arm brace the whole film, or feature genre staple Theresa Russell as a boozy, gun-loving mom who is introduced mid-coitus before hitting on her daughter's teacher. Throw in Kevin Bacon's full-frontal nudity, a watery catfight-turned-make-out for the ages, and a plot so convoluted it requires a series of flashbacks doled out over the credits, and "Wild Things" is one helluva ride. Just don't take a shot every time you hear "Mr. Lombardo" if you want to live to read the rest of this list.
13. The Hand That Rocks the Cradle (1992)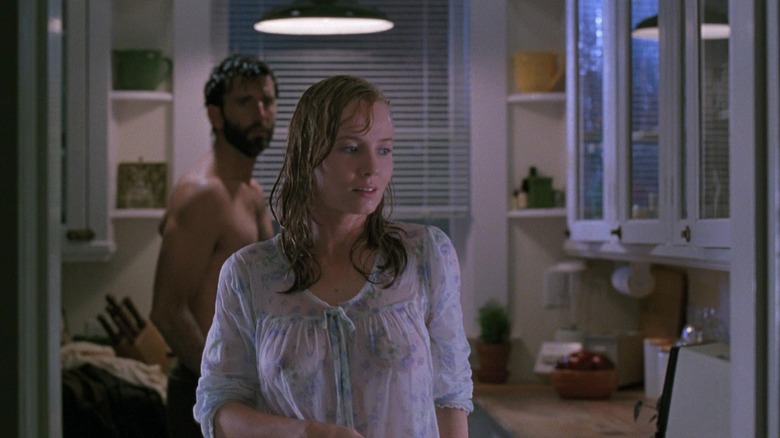 Hollywood Pictures
In addition to being one of Julianne Moore's early roles, "The Hand That Rocks The Cradle" is notable for focusing less on the salacious cheating elements from other erotic thrillers in favor of targeting the heart of American domesticity. Peyton (Rebecca De Mornay, oozing malice) is less interested in sleeping with Michael (Matt McCoy) than imploding every aspect of Claire (Annabelle Sciorra)'s perfect family life, up to and including her white picket fence.
Peyton is a tricky character in that she's alternately presented as both a victim (widowed and miscarried) and a vengeful nanny from hell. Her evil plots include framing the mentally disabled gardener (Ernie Hudson) as a pedophile, gaslighting Claire into thinking Michael is having multiple affairs, and killing bestie Marlene (Moore) in the silver screen's finest greenhouse-related death trap. RIP Marlene: you were destined to die the minute you arrived onscreen having more fun and looking better than the lead
12. Single White Female (1992)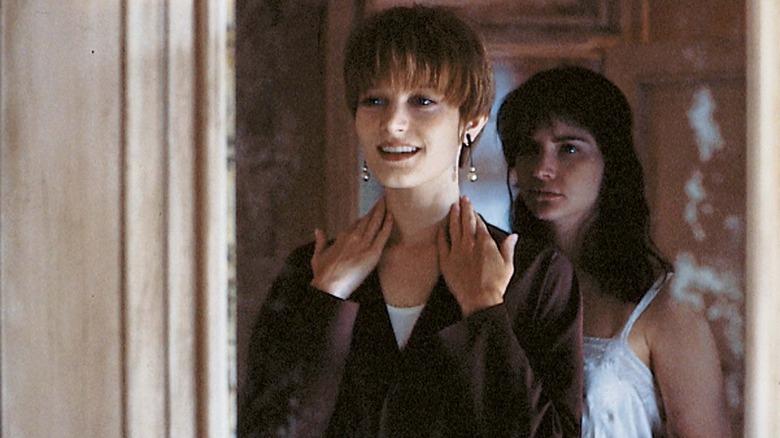 Columbia Pictures
If there's one thing erotic thrillers love more than killing a best friend, it's murdering a beloved pet to highlight how unhinged the villain is. "Single White Female," the most "white lady in crisis" of the crop, isn't the most egregious example of the trope, but it's still a movie that punts a dog out the window of a New York high-rise.
This 1992 Bridget Fonda vs Jennifer Jason Leigh joint features several other conventions of the subgenre, including a ridiculous death (Steven Weber takes a stiletto to the eye), a protracted finale (the garbage room brawl that never ends), house porn (Fonda's two-bedroom is larger than most houses), and a gay best friend (justice for Peter Friedman's Graham, who gets nothing to do). Classic elements aside, the film's success hinges on the committed performances of its two female leads, particularly Leigh who nails Hedy's manipulative obsessive stalker while maintaining a sense of vulnerability. If there is a single (heh) scene that defines the film, it is the moment that Hedy comes down the spiral staircase of the hair salon, featuring an identical orange bowl cut as Allie (Fonda). It's a definitive moment in the pantheons of queer film history, the gay gasp heard around the world.
11. In the Cut (2003)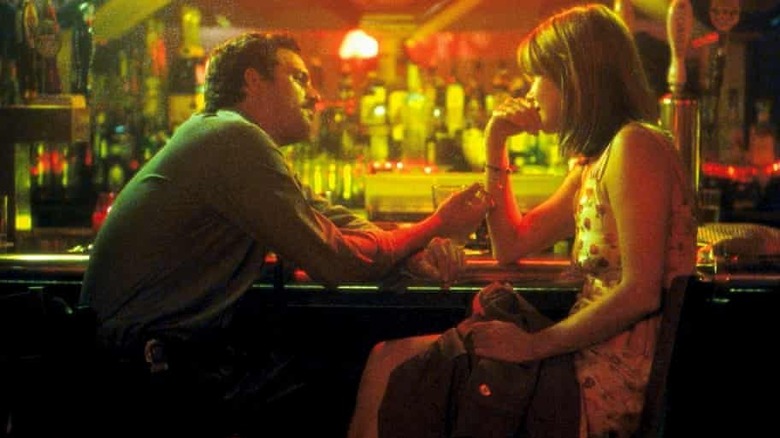 Screen Gems
Considering the fixation on women's bodies and sexuality, there's a disappointing disparity in how many erotic thrillers are directed by women. Aside from Katt Shea, who helmed "Stripped To Kill" in 1987, the subgenre's most notable female director is New Zealand's Jane Campion, whose "In The Cut" was critically derided by critics and commercially abandoned by audiences when it was released in 2003 (/Film highlighted the film as one of the greatest thrillers of the 21st century last year). Like many cult classics, the extremely hot and sexy film starring Meg Ryan and Mark Ruffalo has undergone a reappreciation of sorts in the last few years. In the early aughts, no one was ready for a sexually promiscuous Ryan to engage in incredibly graphic sex with a mustachioed Ruffalo.
What early reviews missed is just how clever "In The Cut" is at subverting the subgenre's typical "woman in danger" narrative. The film is far less interested in the serial killer who is preying on women than it is about the psychology of Ryan's Frannie, who falls for Ruffalo's Detective Malloy even as she suspects him of being the killer. "In The Cut" covertly uses genre trappings to deliver a beautifully shot character study about a sexually assertive woman embarking on a questionable romantic relationship. It's far from conventional, but what the film lacks in thrills it more than makes up for in heat and Ryan's committed performance.
10. Crash (1996)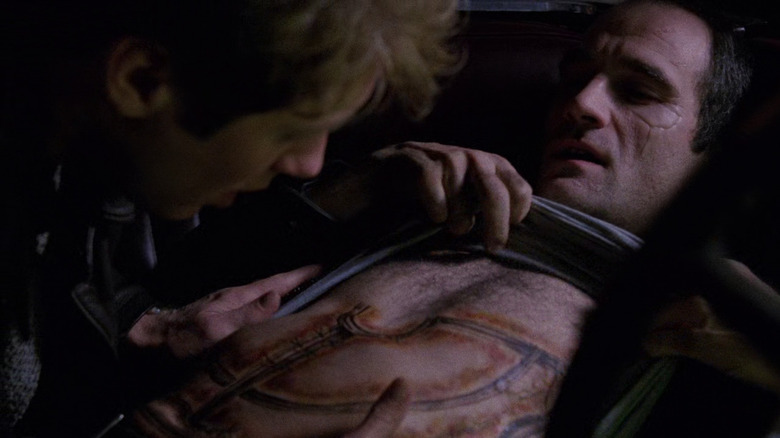 Alliance Communications
Using the word thriller to describe Canadian director David Cronenberg's 1996 adaptation of the J.G. Ballard novel "Crash" might be a little generous, but this tale of a husband and wife who fall in with car crash fetishists both contains and subverts a number of erotic thriller conventions.
The cold sterility of the mise-en-scene and the performances by Deborah Kara Unger, Holly Hunter, Elias Koteas, and lead James Spader (ranging from muted to deadpan) constantly lend the art-house film a discomforting vibe. While there's nothing bombastic about the car crash sequences, the sexual tension surrounding wrecked vehicles and bodies, the interrogation of vanilla turn-ons, and the inevitable creep into thriller territory as James (Spader) becomes fascinated (then stalked) by Vaughan (Koteas) dances around the margins of erotic thriller territory. Cronenberg's films rarely traffic in traditional notions of taste or normality, and "Crash" is no exception. The film exemplifies what can happen when auteurs challenge or pervert audience expectations about what is deemed controversial and scintillating. "Crash" is a daring and, yes, exciting film in every sense of the word.
9. The Last Seduction (1994)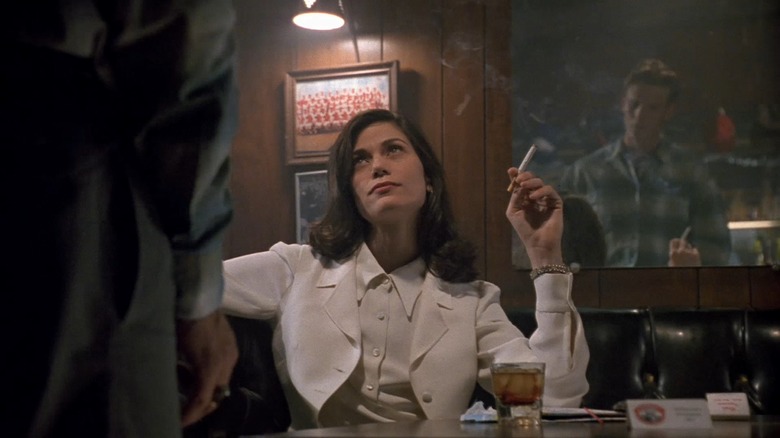 October Films
"The Last Seduction" is admittedly a bit more neo-noir than erotic thriller, but it's all semantics when you drill down into the film's DNA. Linda Fiorentino delivers a career-best performance as Bridget, a con-woman who steals $700K from her New York boyfriend Clay (Bill Pullman), then hides out in a small town where she shacks up with deluded local Mike (Peter Berg) as she waits for the heat to blow over.
What's so effective about "The Last Seduction" is how unapologetic Bridget is. She's in control of the entire film, manipulating the men in her life without a care for their feelings or emotions. Mike is a classic rube, a bewildered everyman who can't believe that a powerful sexy woman has taken an interest in him (his past is naturally tinged with homophobia because ... it's the '90s). Everything about Bridget, however, is delightful. She stomps around in high heels, smoking cigarettes and having sex with Mike wherever and however she pleases. The best aspect is the ending, which solidifies the film as a feminist text without the usual interest in morals or punishment. "The Last Seduction" is an underrated gem.
8. The Skin I Live In (2011)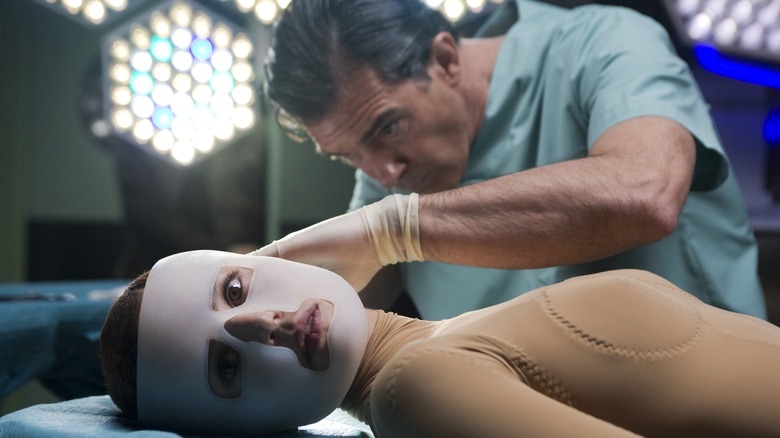 Warner Bros. Pictures
This controversial pick is courtesy of famed Spanish auteur Pedro Almodóvar. While the queer director is mostly known for his female-centric melodramas, he has a strong stable of films that explicitly center on sex and violence, including early films "Matador," "Live Flesh," as well as "Bad Education" (another contender for this list).
This 2011 adaptation of Thierry Jonquet's 1984 novella "Spider" tells the tale of Robert Ledgard (Antonio Banderas), a world-renowned plastic surgeon who, in his grief for his deceased daughter, abducts and imprisons a young woman, Vera (Elena Anaya). While the film's sexual politics have grown problematic in the last decade, Almodóvar's flashback-heavy narrative intricately weaves a tale of love, obsession, and madness in an incredibly compelling way. Adding to the film's beauty is a visual aesthetic composed of soft tan and taupe colors, which subtly contrasts the darkness of the tale. This is an underseen film by a director working at the top of his game.
7. Stranger by the Lake (2013)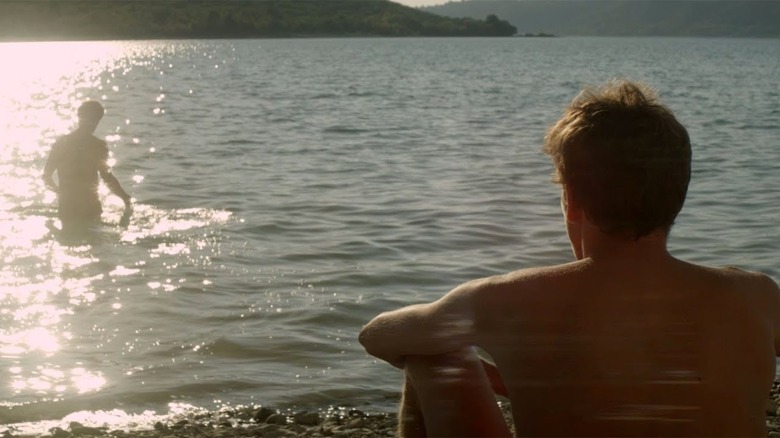 Les films du losange
Alain Guiraudie's ode to cruising is also a compelling examination of the dangers of gay desire. "Stranger by the Lake" takes place at an unnamed nude beach in France where men anonymously hook up. The protagonist is Franck (Pierre Delandonchamps), an attractive young man who isn't interested in anything but casual sex. Despite his single-minded aims, Franck is befriended by Henri (Patrick d'Assumçao) an older, overweight man who is hesitant to engage in carnal activities.
The story surrounds Michel (Christophe Paou), a devastatingly handsome man who Franck falls for, despite seeing him drown a man in the lake after hours. Not unlike "In The Cut," "Stranger by the Lake" explores the thin line between sexual infatuation and danger: Franck can't help pursuing Michel, even when doing so could cost him, or Henri, their lives. Thanks to its gorgeous sun-drenched mise-en-scene and non-disclosed setting, "Stranger by the Lake" has a naturalistic, timeless quality to it. Add in several graphic sex scenes and this is the rare erotic thriller that is both exceedingly queer and extremely hot. It's a nice contrast to the usual deluge of bored suburban heterosexuals who typically dominate these films.
6. Black Swan (2010)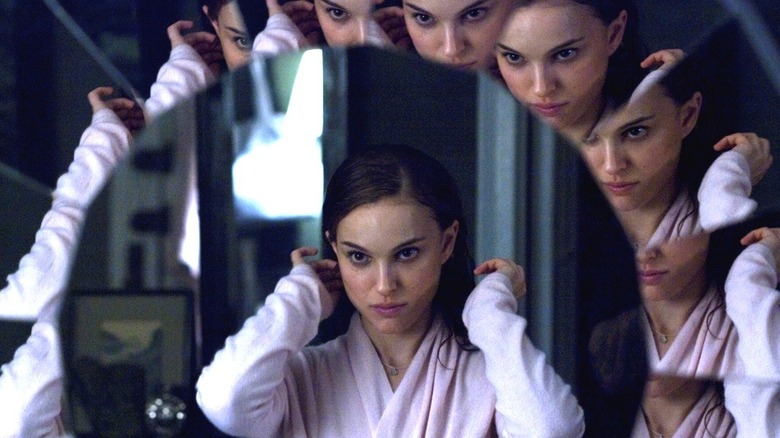 Fox Searchlight Pictures
Erotic thrillers typically do not feature unreliable protagonists. From the audience's perspective, our noble hero is always trustworthy and the narrative usually involves convincing friends, parents, neighbors, and police that the danger is all-too real.
In Darren Aronofsky's psychological erotic thriller, this isn't the case. It's frequently unclear whether Nina (Natalie Portman) is having a mental breakdown under the intense pressure of her domineering mother Erica (Barbara Hershey) and manipulative instructor Thomas (Vincent Cassel) or if her rivalry — and attraction — to new star pupil Odile (Mila Kunis) is actually the cause. The questioning of reality, augmented by the film's extensive use of mirrors and cinematographer Matthew Libatique's camera movements is both masterful and incredibly harrowing. Portman's commitment to the role is nearly as impressive as her filmic alter ego. Watching Nina literally bleed for her craft is effective because Portman is so commanding in this unconventional sexually-charged thriller.
5. The Handmaiden (2016)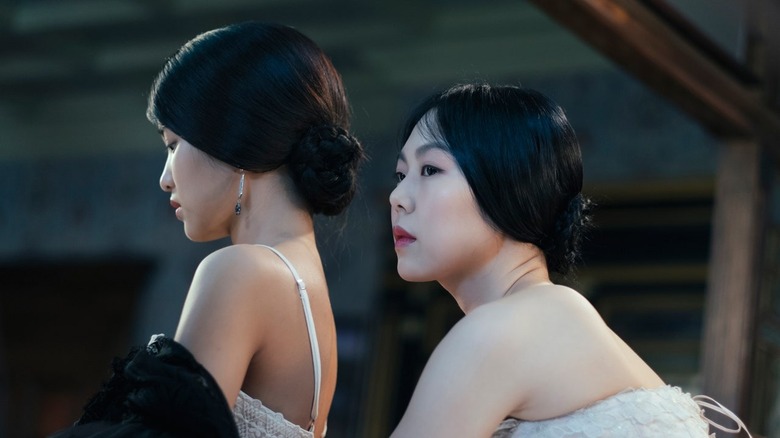 CJ Entertainment
This is where the sex/heat quotient of the films begins to rise dramatically. While some would hesitate to classify Park Chan-wook's brilliant period drama as an erotic thriller, this twisty noir-infused tale of two women — Lady Hideko (Kim Min-hee) and her maid Sook-hee (Kim Tae-ri) — who plot the downfall of the abusive men in their lives checks all of the relevant genre boxes and then some.
In addition to featuring incredibly sultry sex scenes, the way in which the women orchestrate their scheme (brilliantly depicted in three sections that offer new context from different characters' perspectives) is a hallmark of the best erotic thrillers. Thanks to Park's masterful script and direction, which is augmented by Ryu Seong-hee's art direction and costumes by Jo Sang-gyeong, "The Handmaiden" is a prim and proper period drama with the beating heart of a sordid erotic thriller. No one said that classy can't be hot.
4. Basic Instinct (1992)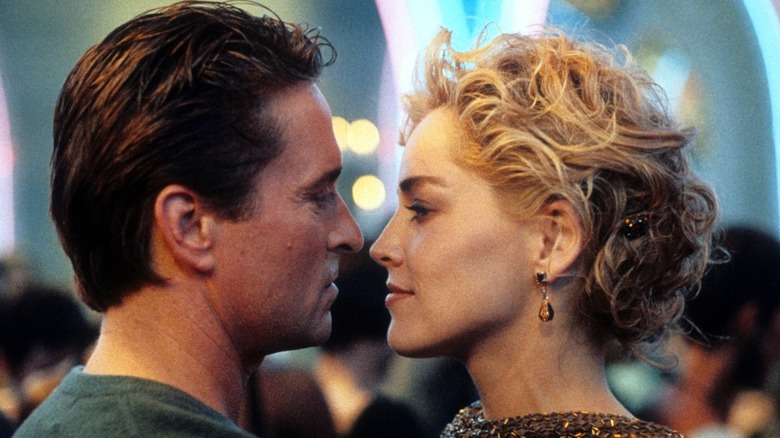 Tri-Star Pictures
One of the most iconic erotic thrillers is 1992's "Basic Instinct," Paul Verhoeven's first collaboration with screenwriter Joe Eszterhas. The notorious film not only cemented Sharon Stone's star power, it marked the return of Michael Douglas in his first erotic thriller since "Fatal Attraction." The film follows Detective Nick Curran (Douglas) who ill-advisedly embarks on a sexual relationship with bestselling author – and murder suspect – Catherine Tramell (Stone). Naturally, the detective is in way over his head, leading to very hot sex and possibly his demise in the film's famed ambiguous end.
In addition to featuring a memorable murder weapon (a post-coitus ice pick), Catherine's bisexuality is reflective of '90s Hollywood fascination with female queerness, principally as a marketing tool for straight male audiences. Not unlike "Cruising" a decade earlier, the equation of queerness with murder sparked a controversy that led to the film being heavily protested by the LGBTQ community, which wound up helping the notorious film's bottom line, pushing the domestic gross to a dazzling $117 million.
3. Unfaithful (2002)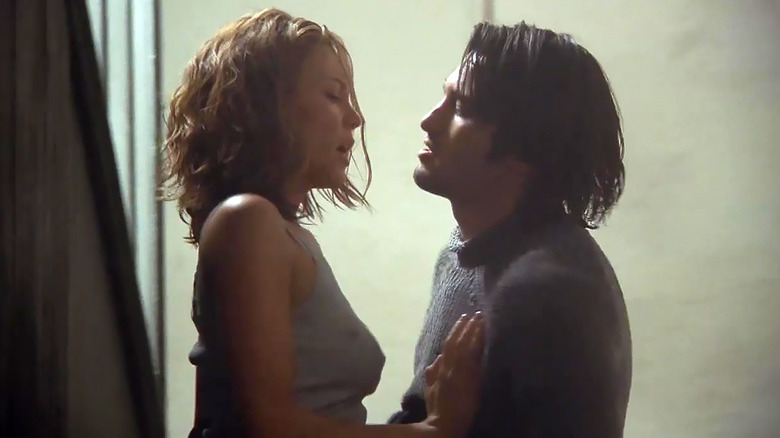 20th Century Fox
Where "Basic Instinct" is sensational, "Unfaithful" is thoroughly grown-up fare. This tale of adultery and murder marked the return of director Adrian Lyne ("Fatal Attraction") to the genre and gave stars Diane Lane and Richard Gere meaty, mature, and (yes) sexy roles.
Unlike other erotic thrillers, the tension in "Unfaithful" doesn't derive from the affair between Lane's Connie and Olivier Martinez's Paul Martel or even the threat of being caught. While that's certainly a part of the early section of the film, Alvin Sargent and William Broyles Jr.'s script is far more interested in teasing conflict out of the aftermath, when Gere's Edward becomes intimately involved and homicide enters the picture. "Unfaithful" asks the question, "Can this broken couple put their lives back together and move on?" In some ways "Unfaithful" is a neo-erotic thriller, a film that evolves the thematic concerns of the subgenre to suit changing times. By 2002, films of this kind were rare, but "Unfaithful" offers proof that there's still a way to do erotic thrillers and do them well, even if Hollywood was already shifting away from mid-tier adult fare.
2. Body Heat (1981)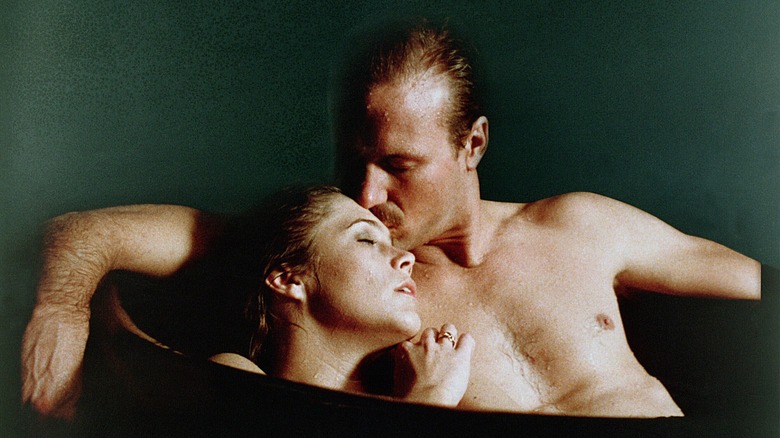 Warner Bros. Pictures
"Body Heat" is the perfect encapsulation of the intersection between noir and thriller. William Hurt stars as Ned Racine, a lawyer who falls for femme fatale Matty Walker (Kathleen Turner). Naturally, Ned's manly inclinations lead him completely astray and he winds up taking the fall for Matty's husband's murder in this sweaty Florida-set erotic thriller.
What makes "Body Heat" so successful is the chemistry between Hurt and Turner, which is electric. This is particularly true of the sex, which is both provocative and incredibly hot. One need only check out the risque bathtub scene (with its coded anal sex reference) for proof that films like this aren't made anymore. Besides the titular heat, the film's other key asset is Turner, whose uniquely husky voice has never been put to better use (aside from "Who Framed Roger Rabbit"). Matty is easily one of the silver screen's best femme fatales, second only to Barbara Stanwyck's Phyllis Dietrichson in "Double Indemnity."
1. Fatal Attraction (1987)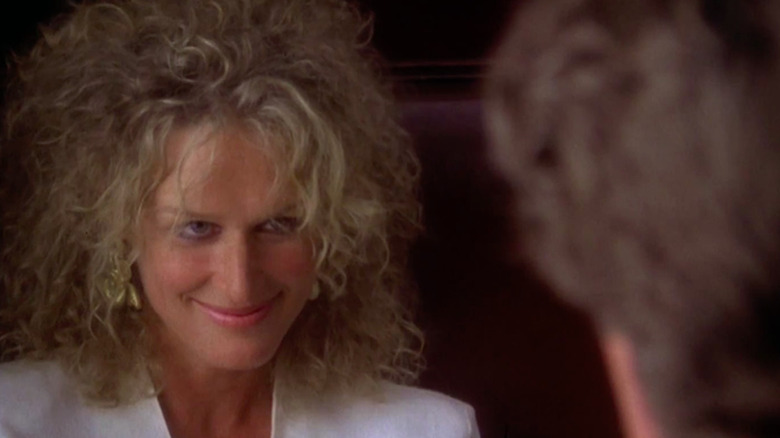 Paramount Pictures
Michael Douglas turns up on this list twice because he's the undisputed king of erotic thrillers, capping his unofficial trilogy with 1994's "Disclosure." The reality is that Douglas brought a smarmy charm to many of his characters in the '80s and '90s, which is especially vital in this cautionary tale. Douglas is only as good as his co-stars, though, and no one exemplifies the sexy/threatening dichotomy as well as Glenn Close, whose performance as Alex Forrest is one for the ages. The film is the definitive erotic thriller because it checks all of the boxes: adultery, great chemistry between the leads, sexy sex, gorgeous '80s hair, a cute kid, animal murder (the bunny in the pot!), and a wildly violent ending.
"Fatal Attraction" does one thing better than the rest: Where other films glibly focus on the sexy shenanigans and demonize women, "Fatal Attraction" accepts that Dan is a cad who cheats on his wife Beth (Anne Archer) for no good reason, while simultaneously giving her a fair amount of screen time. It's refreshing for a film that ends by reconfirming the traditional heteronormative family to actually, you know, include the family in the plot.