The One Thing Fans Should Do While Watching All Of Us Are Dead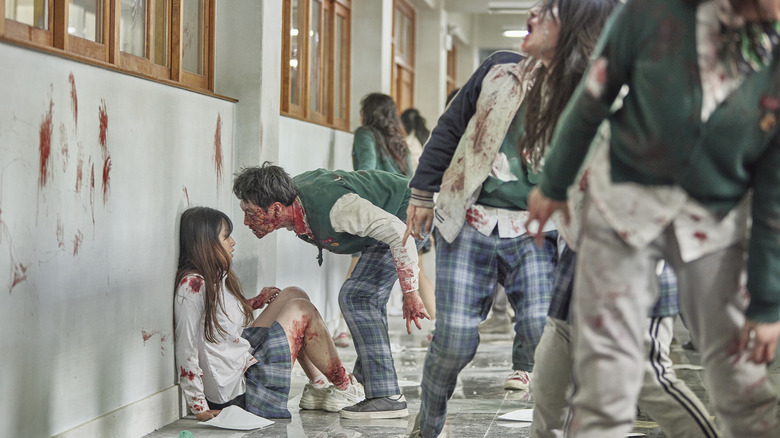 Netflix
It's hard to overstate just how monumentally popular the South Korean zombie series "All Of Us Are Dead" has been on Netflix. The show became the platform's fifth most popular non-English series debut, following behind the record-shattering "Squid Game" and parts 4, 3, and 5 of "Money Heist" in second, third, and fourth place. Starring Park Ji-hu, Yoon Chan-young, Cho Yi-hyun, Park Solomon, Yoo In-soo, Lee Yoo-mi, Kim Byung-chul, Lee Kyu-hyung, and Jeon Bae-soo, "All Of Us Are Dead" centers on a group of Hyosan High students who find themselves at the center of a zombie virus outbreak unleashed from their school. Based on the popular webtoon "Now at Our School" by Joo Dong-geun, "All Of Us Are Dead" blends K-drama elements with teenage romance and high-octane zombie horror, so it's no surprise that the show became a hit.
"All Of Us Are Dead" isn't Netflix's first foray into K-drama zombie programming, with the eerily relevant "Kingdom" hitting streaming as the pandemic roared into full-gear in 2020, along with the monster-battling series "Sweet Home," also based on a popular webtoon. With the series streaming exclusively on Netflix, it's assumed that everyone's viewing experiences are going to be different based on whether or not the show is being consumed through a TV, a laptop, or even a phone. Fortunately, director Lee Jae-kyoo has some advice for viewers looking to have the best possible experience watching "All Of Us Are Dead," and ensure the horrifying zombie goodness is most effective.
Pump up the volume
In a behind-the-scenes video from Netflix with "All Of Us Are Dead" director Lee Jae-kyoo, he recommends that everyone pumps up the volume. The k-drama features a variety of detailed and specifically chosen sounds, some of which are creeping just beneath the main track and require a higher volume to notice:
Turn the volume up and watch it louder than usual. Then you'll enjoy it more. Dim the lights in the room and dim the screen for a fun experience. Watch many times, and you'll see things you've missed at first. So I dare say the more you watch it, the more fun and fresh experiences you'll have.
"All Of Us Are Dead" is a zombie show, yes, but it's also a show about defying the odds, staying true to yourself, and learning to overcome conflict without any help from the adults who are supposed to protect you. "In an enclosed place like a school where teenagers are clustered, they have to survive on their own," Jae-kyoo says. Part of survival is utilizing your senses to the best of your ability, and that includes sound. Is there a zombie sauntering on the other side of a classroom door? Has a bitten classmate begun to turn yet? Is there anyone left breathing after a vicious attack? The answers to all of these questions can be predicted earlier than the show provides if we listen carefully.
Don't just hear, listen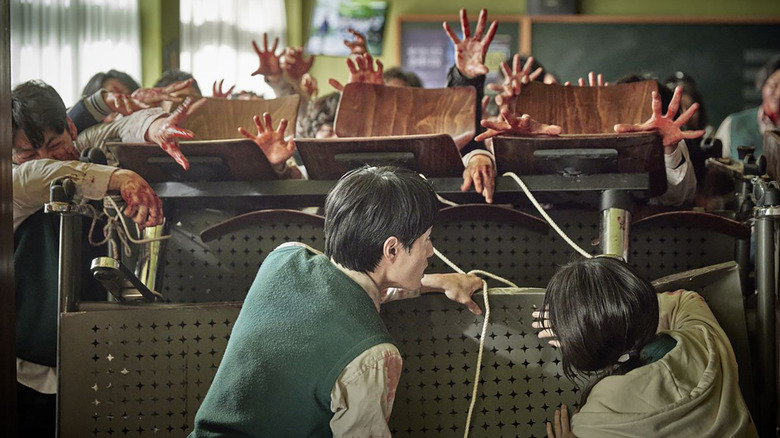 Netflix
Fortunately, "All Of Us Are Dead" is an equally enjoyable experience for anyone who may be hard of hearing, as the show's creators also took into consideration the visual storytelling. Before the zombie outbreak takes place, Hyosan High looks bright and inviting under blue skies, with the color washing out to a bleaker tone as the zombie outbreak rages on. The students all wear green uniforms, a way to contrast the vibrant shades of red that would stain their skin and white undershirts when fighting off flesh-eating hordes of their former friends and classmates. The cast and crew wanted the show to appear as authentic as possible within the confines of a post-apocalyptic zombie nightmare. The actors who were cast as zombies were all given specific zombie choreography to learn, to make sure that the visual language of all of the zombies looked uniform.
In addition to the show's technical effectiveness, Jae-kyoo also sees the show as representing a microcosm of society as a whole, and hopes that viewers will reflect on their own roles in their community. "At first, you might think how cruel those kids can be, but as you get through the episodes, you will see that some of the elements run parallel to this society," he said. "I hoped that the series could offer viewers a chance to reflect on where they stand in that society."
The instructions are clear–turn up the volume, turn off the lights, and don't be afraid to sit in your own discomfort and think about your own place in the world.