All Of Us Are Dead Hit A Major Milestone On Netflix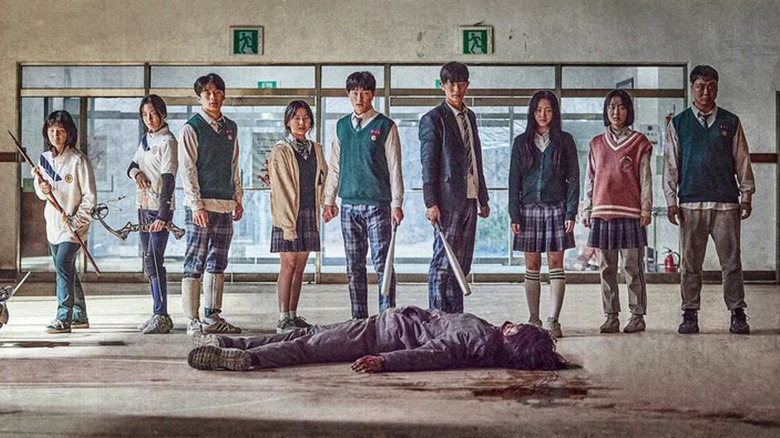 Netflix
Korean thrillers often brim with terrifying zombies or psychological mind-benders, as evidenced in "Train to Busan," "Sweet Home," and "Strangers from Hell (A.K.A. Hell is Other People)." According to an exclusive report by Variety, Netflix's Korean zombie horror series "All of Us Are Dead" has become the platform's fifth most popular non-English series debut. Since the show's release on January 28, 2022, "All of Us Are Dead" has been watched for a total of 361 million hours so far.
"All of Us Are Dead" follows a group of students trapped in a school during a zombie invasion, which inevitably takes a murkier, bloodier turn. Adapted from the Webtoon comic of the same name, "All of Us Are Dead" touches upon the morbid reality of teenagers having to navigate tough survival odds and loss while still having to experience adolescent needs — even as the world crumbles around them. Due to the tense, relatable, and emotionally charged action sequences that define the show, it's no big surprise that "All of Us Are Dead" has hit such a major milestone on its streaming platform.
As Popular As Squid Game?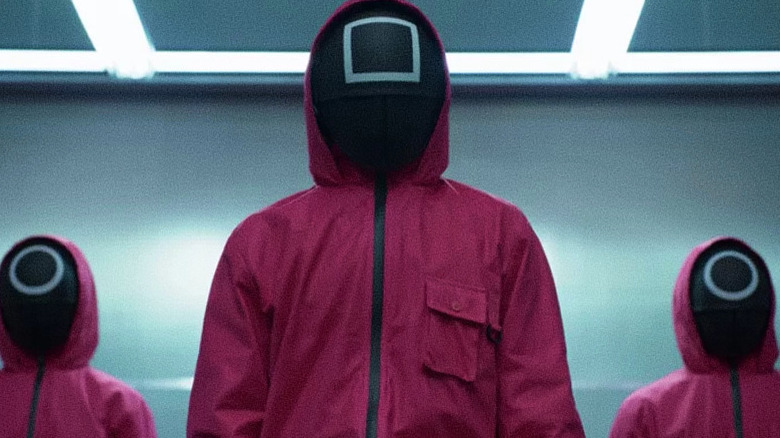 Netflix
"All of Us Are Dead" debuted on Netflix's all-time rankings, which tracks the top ten most popular non-English TV series on the platform and the total number of hours subscribers spend watching these titles. Naturally, the wildly popular "Squid Game" tops this particular list, followed by Parts 4, 3, and 5 of "Money Heist" in second, third, and fourth place. Now that "All of Us Are Dead" has hit number five, "Café con aroma de mujer" has been shifted to number six, while "Lupin Part 1," "Elite Season 3," "Who Killed Sara?," and "Elite Season 4" occupy the remaining four sports.
The comparison between "All of Us Are Dead" and "Squid Game" is warranted for two reasons: "Squid Game" is Netflix's most-watched non-English language so far (having pulled 448.7 million hours of viewing during its second week of release), and it also has a thrilling premise wherein the characters supersede their circumstances. While the numbers for "All of Us Are Dead" are impressive, they are nowhere near the numbers of "Squid Game," nor does it match the "Squid Game" mainstream popularity. This can be attributed to the sudden, overwhelming attention that "Squid Game" managed to achieve over a short span of time, along with the series' tense execution of complex themes including a broken socio-economic system under capitalism.
"All of Us Are Dead" stars Park Ji-hu, Yoon Chan-young, Cho Yi-hyun, Lomon, Yoo In-soo, Lee Yoo-mi, Kim Byung-chul, Lee Kyu-hyung, and Jeon Bae-soo. The series was released on January 28, 2022, on Netflix.