The DC Movie Zoe Kravitz Almost Starred In Before The Batman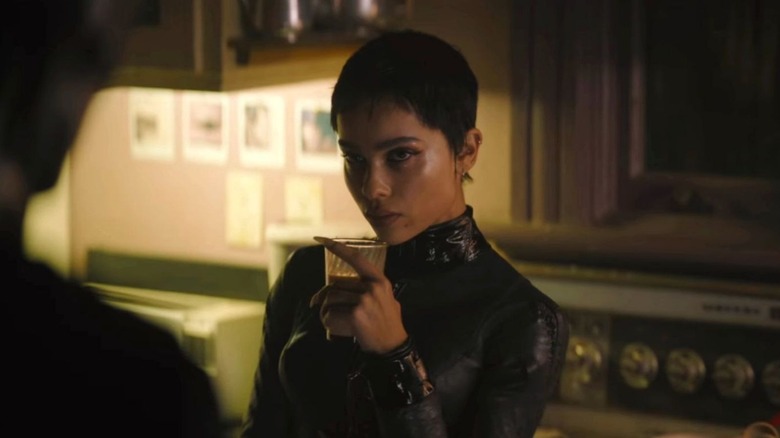 Warner Bros.
Zoë Kravitz is Catwoman. The actress will make her DC Universe debut later this week when the Matt Reeves-directed superhero film "The Batman" releases in theaters everywhere. The actress is set to appear as Selina Kyle, AKA Catwoman, a Gotham City expert thief and Batman's love interest. Kravitz stars in the film alongside Robert Pattinson, who plays part-time billionaire and full-time Caped Crusader Bruce Wayne; Colin Farrell, who brings the terrifying rogue, Penguin, to life; and Paul Dano as the deadly Riddler.
While we're glad that Kravitz has a chance to portray one of the most iconic female comic book characters on the silver screen, it's crazy to imagine that the actress could've been a part of the world of Gotham much earlier. Did you know that Zoë Kravitz's DC debut has been a long time in the making — that the actor hoped to audition for Christopher Nolan's "The Dark Knight Rises"? At the time, the actress was turned away and not even permitted to audition ... for a troubling reason.
Zoë Kravitz was denied an audition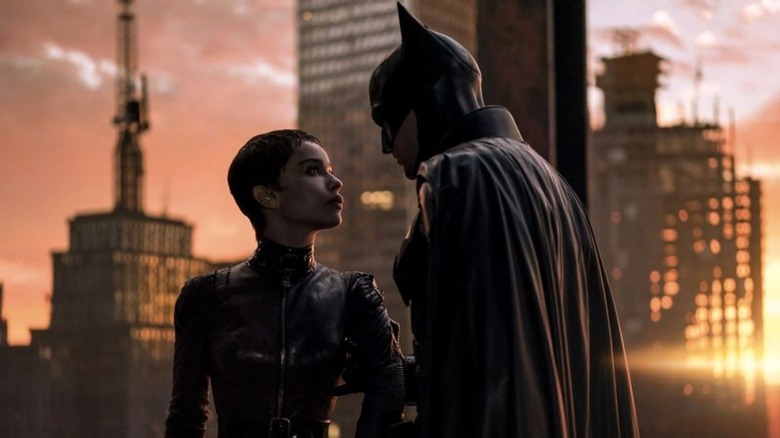 Warner Bros.
Zoë Kravitz has achieved success during her tenure as an actress, but she too has lost out on several roles because of her racial background. One of them includes a part in "The Dark Knight Rises," the final film in Christopher Nolan's "Dark Knight" trilogy. While Kravitz's entry into the DC Universe as Catwoman has been met with much excitement, it's disappointing to hear that the actor wasn't allowed to previously audition for a part because of her race.
In a 2015 story for Nylon magazine, Kravitz revealed that she had been rejected to audition for "The Dark Knight Rises" because she was "too urban" for it.
"In the last Batman movie, they told me that I couldn't get an audition for a small role they were casting because they weren't 'going urban,'" she said. "It was like, 'What does that have to do with anything?' I have to play the role like, 'Yo, what's up, Batman? What's going on wit chu?'"
The slang term "urban" is a troubling one as it is plagued with racial stereotypes. It serves as a euphemism for Black and is often used in a derogatory manner. The fact that Kravitz may have been denied an audition due to her race is hugely problematic, to say the least — it makes her casting as Catwoman all the more satisfying — but still leaves a negative imprint on her history with the DC Universe.
While the actress didn't offer any details on the role she wanted to audition for, it has since been speculated to have been Jen, played by Juno Temple. The character is rumored to be an iteration of Holly Robinson in the DC Comics, who is a friend and ally to Catwoman. At some point in the comic books, Robinson takes over the mantle of Catwoman after Selina Kyle.
Unlike Kravitz's Selina Kyle, Jen had very little screen time in "The Dark Knight Rises" and wasn't fully explored. In a turn of events, Kravitz ended up being the voice behind Catwoman in the 2017 movie titled "The Lego Batman Movie," and now has a rather prominent role as the femme fatale in what critics call the best Batman movie of all time. 
It looks like Kravitz was never meant to be a side character. She was always meant to play the DC Universe's most charismatic antiheroine.