Kevin's Famous Chili Recipe From The Office Is Buried In Peacock's Terms And Conditions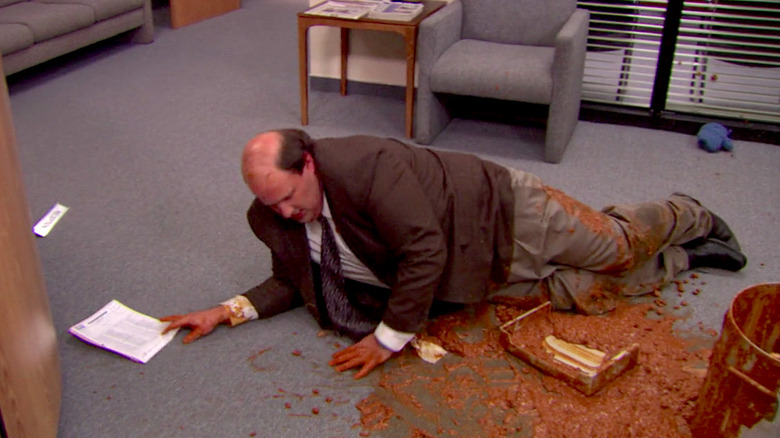 NBC
"At least once a year, I like to bring in some of my Kevin's famous chili. The trick is to undercook the onions. Everybody is going to get to know each other in the pot. I'm serious about this stuff. I'm up the night before, pressing garlic and dicing whole tomatoes. I toast my own ancho chiles.  It's a recipe passed down from Malone's for generations.

It's probably the thing I do best."
Of the 200+ cold opens on the American version of "The Office," that of the 26th episode of season 5 takes the cake – or the pot. "Casual Friday" begins with Kevin Malone (Brian Baumgartner) of accounting at Dunder Mifflin (Scranton branch) gleefully bringing his famous chili into work. As Kevin's voiceover describes his process, things go horribly south and the pot ends up upside down on the floor by reception, spilling forth its contents like pig's blood in "Carrie." 
We missed National Chili Day by a bit, but in most parts of the country it's still chili weather, so Peacock's decision to share Kevin's recipe, albeit in a stealthy way, is a welcome one. All nine seasons are ready for your viewing pleasure on Peacock, and if you're already signed up for the subscription service, there's a little treat waiting for you in the mumbo jumbo of the official Terms and Conditions.
Hawkeyed TikTok user McKenzie Floyd is credited with posting a video on the app pointing out the recipe hidden in plain sight, in the Peacock text of terms and conditions. AV Club reports that the user's boyfriend is one of those folks who actually reads the T&C before checking the box and moving on. She asks why it's necessary to include the recipe, though the answer should be painfully clear: because good chili should be spread around like holiday cheer. A good chili recipe is as good as tomato-based gold: it's always a treat to find out what the "secret" ingredient or technique is that takes the taster straight to Flavortown. Some swear by a spoonful of bacon grease in the mix, others claim that a splash of sherry or a pinch of cocoa powder is the magic element – Kevin's chili success relies on sweating the onions. Whatever the lynchpin may be, the final product is a labor of love. One bite, and the angels sing, which makes Kevin's saga all the more tragic.
For sale: floor chili, never eaten
Kevin's is a horror story, through the lens of those of us who only excel at one thing. Look at this doomed man, grinning ear-to-ear as he carts in the pot. He's a little tired, because he stayed up late prepping all of the fixings. He toasted the chiles, maybe directly over the stovetop because that's how his pops taught him to do it. Maybe he hand-ground the herbs with a mortar and pestle whilst listening to The Police – Season 2's "Casino Night" revealed that he's in a tribute band called Scrantonicity. His eyes are stinging from the chopped onions, but it'll be worth it when Michael Scott (Steve Carell) gives a firm thumbs up of approval once he gets a spoonful. 
Kevin treks up the stairs, struggling but taking care not to spill a drop. But terror strikes: he overcorrects after an adjustment and flips the whole shebang over just as his voice asserts, "I'm serious about this stuff." Shock gives way to desperation as we witness a grown man going through several stages of grief over tumbled food. Baumgartner nails the scene, heaving his shoulders and breathing with the urgency of someone trying to un-spill their milk. Pam's paperwork is another casualty in the debacle, as Kevin swipes whatever's handy to scoop the chunky treasure back into its container. The biggest casualties of the spill, however, are the new wave of parishioners who would have been led to the cumin-specked light of Kevin's chili gospel. 
Thankfully, we have the recipe for ourselves now. Here it is for your enjoyment:
Kevin's Chili Recipe

Ingredients:

1 lb. 85/15 lean ground beef

1 (12 oz.) coarsely chopped yellow onion

1 (15 oz.) can petite diced tomatoes

1 (8 oz.) can tomato sauce

2 (about 1 oz.) dried ancho chiles

1 cup water

2 1/2 tablespoons chili powder

1 tablespoon garlic powder

1 1/2 teaspoons salt

1/2 teaspoon ground black pepper

Toppings of your choice (shredded cheese, scallions, etc.)

Instructions:

Combine beef and onion in a large saucepan over medium heat.

Sauté until meat and onion are browned (the trick is to undercook the onions).

Stir in tomatoes, tomato sauce, toasted ancho chilis, and water.

Season with chili powder, garlic powder, salt, and ground black pepper to taste.

Boil on a low-heat.

Simmer for 15 minutes while covered.

Add the toppings of your choice (shredded cheese, scallions, etc.).