The Only Anime To Win The Oscar For Best Animated Feature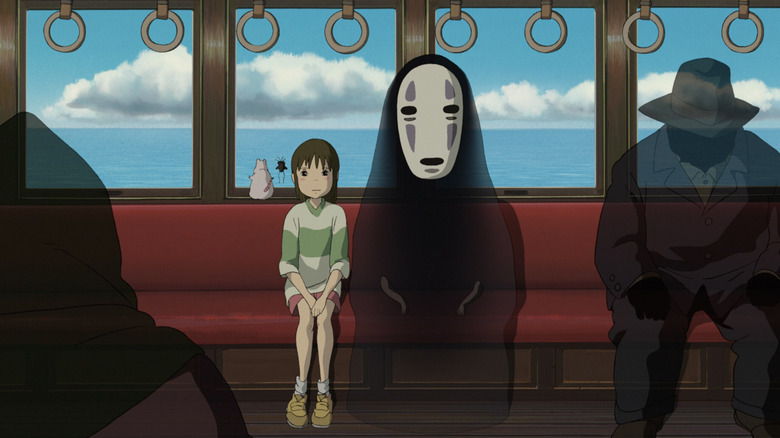 Studio Ghibli
The Best Animated Feature Academy Award was only introduced 20 years ago, shining a new light on the animated films of 2001. "Shrek" took home the inaugural award, wrongfully beating out "Monsters, Inc." and rightfully beating "Jimmy Neutron: Boy Genius." Though Pixar didn't win that first year, they have taken home the prize a whopping 11 times. Walt Disney Animation Studios proper, surprisingly, only has three wins, though "Encanto" stands a strong chance of netting the studio's fourth this year. Warner Bros., Sony, Paramount, and Aardman also each have a win, so this is a major studio award. But when Disney has distributed 75% of the winners, it is clear they have quite a stranglehold on this category, as the history of the studio is inextricably tied to the medium. That means a lot of other animation is left out in the wind
Obviously, one of the most popular forms of animation around the world is anime. The films and series coming out of Japan have a devoted following that makes other fandoms look tame. I cannot even fathom the sheer amount of hours it takes to keep up with every single one of these things out there, because these people do. They watch it all. However, in the 20 years of the Best Animated Feature Oscar, only one anime has ever nabbed the award: "Spirited Away" from legendary Japanese director (and frequent retiree) Hayao Miyazaki. If you had to pick one anime to win this award, they chose correctly. Watching "Spirited Away" is a sublime experience, a feast for the senses and imagination that few films rival. Even an Academy set in its ways about form and content in film (especially at that time) could not deny the film's overwhelming power.
How did Spirited Away win?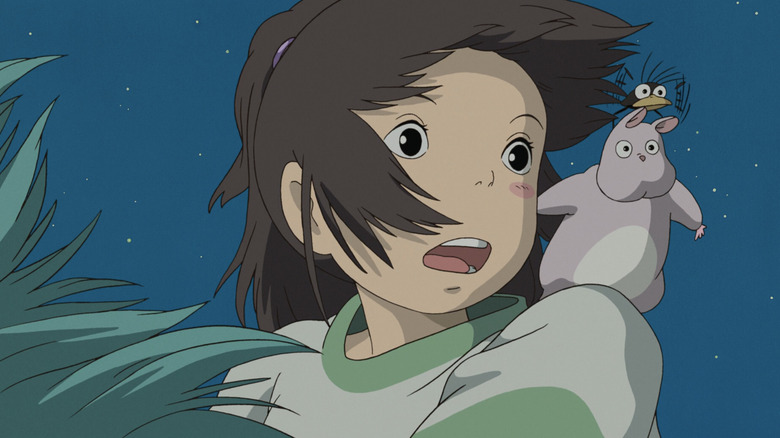 Studio Ghibli
Only six animes have ever been up for the Best Animated Feature Oscar, and three of them directed by Hayao Miyazaki. So much had to go right for "Spirited Away" to cross the finish line. 
First and foremost, "Spirited Away" was a gigantic hit. Until 2020's release of "Demon Slayer: Kimetsu no Yaiba – The Movie: Mugen Train," it was the highest grossing film in the history of Japan. Making that kind of money will unquestionably turn heads in Hollywood and make them pay attention. Secondly, it had the help of the House of Mouse. Today, almost every anime film comes to the United States with the help of GKIDS, but "Spirited Away" came out when Studio Ghibli had a distribution partnership with Disney. As we all know, Disney has an immense amount of resources to put behind an awards campaign and could get the right people's eyes on the film.
The runway for that win was also very open. Disney's "Treasure Planet" was meant to be the company's marquee title to put all its weight behind, but the film was an enormous bomb that held no cultural footprint. Disney did have a massive hit that summer with "Lilo & Stitch," but that film was always seen as an also-ran by the company, as it was given to the studio's B-team. "Treasure Planet" was John Musker and Ron Clements, the guys who gave you "The Little Mermaid" and "Aladdin." Disney had puts its chips on the prime fall release and failed. 
With all that, having a beloved and popular film like "Spirited Away" looked like the right horse to back for Disney. They could push it by the huge hit of "Ice Age." It was the first film by Blue Sky Studios, and they didn't really have the proper campaign infrastructure to push it to the finish line. Then there was Dreamworks' "Spirit: Stallion of the Cimarron," and although they won the previous year with "Shrek," I think it is safe to say that "Spirit" was not the phenomenon that "Shrek" was. It was an ideal condition for "Spirited Away" to grab that Oscar.
A Spiritual Experience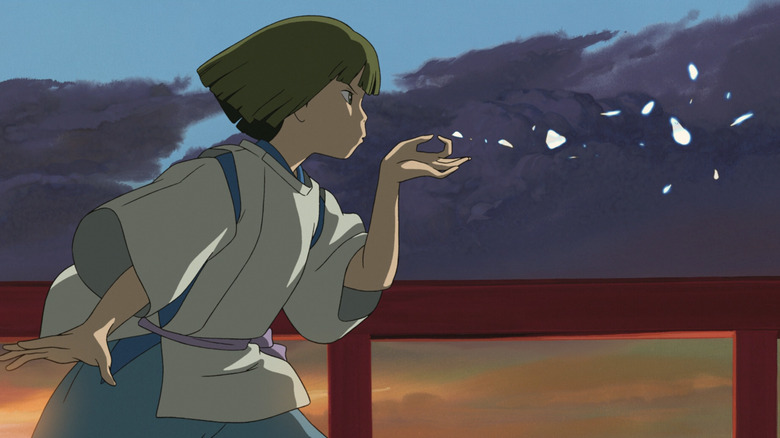 Studio Ghibli
"Spirited Away" hit theaters when I was nine years old, living in Orlando, Florida. Being a child born in the 1990s and growing up a 20-minute car ride from Disney World, I was raised on the aesthetics, tropes, and structures of Disney animated films. They were what I thought animated films were, and every other one I saw that was not made by Disney was trying to be Disney (or in the case of "Shrek," making fun of Disney). My dad brought my sister, who is three years younger, and me to see "Spirited Away" in the theater, thinking this was just going to be another kids movie he could take a nap during. Well, the second the main character's parents turned into grotesque, gluttonous pigs, accompanied by my sister crying in complete terror, I knew this was not going to be "The Road to El Dorado" or whatever.
After 20 years, I am still grappling with what this story about young Chihiru entering the realm of the spirits is all about. "Spirited Away" unfurls like a dream, where the idea that this young girl has to get a job at a bathhouse for spirits and the boy she meets is the embodiment of a river makes complete sense. It simultaneously teaches children and adults alike valuable life lessons about putting in work to keep society afloat, appreciating one's youth, and responsibility to others. It's a rare film that is as transportive now as it was when I was nine.
Strangely enough, one would assume anime, or at least the works of Hayao Miyazaki, would come to overtake my life based on my reaction to "Spirited Away." This has not come to pass. Most of these works do not get me at the emotional level that this particular film does. Something about their aesthetic beauty always keeps me a little distant. "Spirited Away" has just the right balance of visual wonder, raw emotionality, and thematic unknowability to bury itself inside my mind.
Aside from its circumstantial advantages when it came to campaigning, reactions like mine had to be a common occurrence. A film this artistically driven and culturally specific can't become that big of a phenomenon and a crossover hit without the spiritual and emotional essence of the film speaking a universal truth. Unless another anime comes along that can match that same power as "Spirited Away," the chances of one taking home that Best Animated Feature Academy Award will continue to prove to be immensely difficult, because the Disney empire is only growing and not leaving much space for others. To break through again, it almost requires being a spiritual experience. Because "Spirited Away" is one.
At the time of this publication, "Spirited Away" is available to stream on HBO Max.