Another Classic South Park Song Got The Full Orchestra Treatment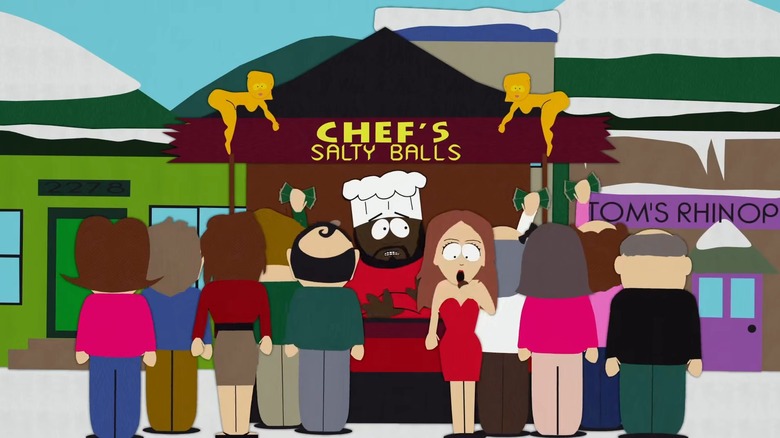 Comedy Central
Everyone's favorite quiet little mountain town in Colorado is celebrating this year. After the highs and lows of an unprecedented $900 million deal that renews the series up to a 30th season (and an abbreviated 24th season, due to the ongoing pandemic), "South Park" returned to Comedy Central earlier this month for its landmark 25th season. And to mark the occasion, the satirical animated series created by Trey Parker and Matt Stone decided to get fancy.
Since last month, the South Park Studios YouTube channel has been releasing special orchestral renditions of classic songs from the show's extensive songbook. They kicked things off with the opening theme song, followed by "Jackin' It In San Diego" from season 16, "Gay Fish" from the season 13 episode "Fishsticks," and arguably one of the most memorable songs from the series to date, "Kyle's Mom" from season 1 and the Oscar-nominated feature film "South Park: Bigger, Longer, & Uncut."
Now, they've released another delicious track for fans to have themselves a time.
Packed full of goodness
For the latest installment of this campaign, the 30-piece orchestra dug out a fan favorite "South Park" tune from the second season that was originated by a beloved staple of the show's early years. The next song in the program is "Chocolate Salty Balls (P.S. I Love You)" by Chef.
Originally appearing in the 1998 episode "Chef's Chocolate Salty Balls," the song was performed by the legendary Isaac Hayes. The award-winning musician and songwriter voiced Chef from the show's debut in 1997 to the end of the ninth season in 2006. Through his departure was surrounded by controversy, "South Park" and its creators still paid tribute to the original cast member by dedicating an episode to him after his death in 2008, and they continue to honor him today with this soulful performance.
Interestingly enough, while the song was a hit in America, Australia, Denmark, the Netherlands, and Norway, "Chocolate Salty Balls (P.S. I Love You)" was Hayes' only number one hit in the UK. This is especially mind-blowing when you think about his massive song catalogue with hit songs by Sam and Dave, Dionne Warwick, and himself. It was almost the Christmas #1 single in 1998, but Hayes was beat out by The Spice Girls by only 5,000 copies.
With so many songs left from throughout the show's run, who knows what "South Park" song this orchestra will tackle next? While we anxiously await the next installment of this YouTube series, fans should remember two things: First, new episodes of "South Park" will resume on Comedy Central on March 2, 2022. Second, a monumental 25th season? "The Simpsons" did it.