South Park Season 25 Release Date Set At Comedy Central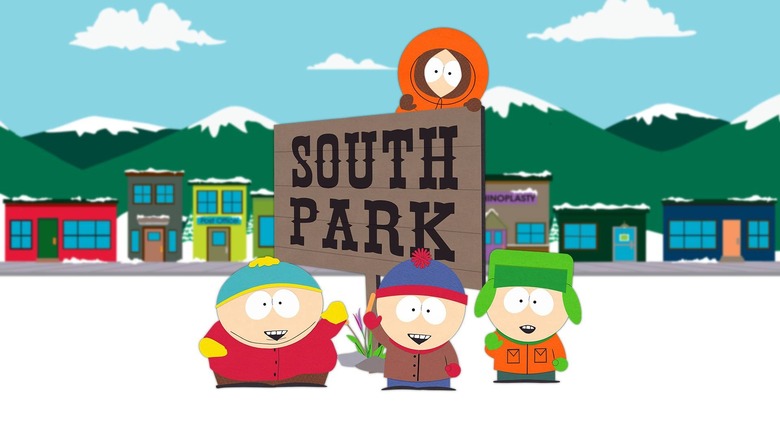 South Park Studios
Another year, another season of "South Park." The Comedy Central series will celebrate its silver anniversary this August, which means that it's been going for almost a full quarter-century now. At this point, the only things guaranteed to survive the nuclear apocalypse are cockroaches and long-running animated sitcoms like "The Simpsons" and "South Park."
What makes season 25 of "South Park" special is that it is a true season, as opposed to just a couple of standalone specials, which is what season 24 was. Viewers haven't seen a full new 10-episode season of "South Park" since season 23 concluded in December 2019.
In 2020, Trey Parker wrote and directed a single one-hour episode, "The Pandemic Special," which MTV Entertainment Studios touted as "cable's #1 scripted telecast" of that year. Parker followed it up with the equally popular "South ParQ Vaccination Special" in March 2021.
Those two episodes constituted the whole of the abbreviated season 24, though they were supplemented by two Paramount+ movies late last year. November 2021 brought "South Park: Post Covid." December 2021 brought "South Park: Post Covid: The Return of Covid," which you have to admit, is a pretty funny way to sum up the maddening ebb and flow of coronavirus waves.
In August 2021, Parker and his co-creator, Matt Stone, inked a cray-cray $900 million deal for 5 more seasons of "South Park" and 14 spin-off movies. Now, they're delivering on the first part of that deal with "South Park" season 25, which has locked in a premiere date of February 2, 2022 (via Variety). To make it all official, South Park Studios has released a promo announcing the premiere date with 10 seconds of fanfare, which you can see below.
The Show That Will Never End
Building a show on the idea of one that never ends hasn't always worked out well for the creative vitality of serialized dramas like "The Walking Dead." Episodic, animated shows like "South Park," however, aren't bound by the same principles, since they're not dealing with live-action actors who age or season-long plots and character arcs that grow more stagnant over time. Theoretically, "South Park" — with its paper cutout kids, frozen in time — could go on for a hundred years or more.
Parker and Stone winked at the idea of "South Park" having such longevity in a joint statement last year after the show's $900 million renewal. They said:
"Comedy Central has been our home for 25 years and we're really happy that they've made a commitment to us for the next 75 years. When we came to ViacomCBS with a different way to produce the show during the pandemic, Chris (McCarthy), Nina (Diaz), Keyes (Hill-Edgar) and Tanya (Giles) were immediately supportive and enabled us to try something new that turned out to be really well received. We can't wait to get back to doing traditional South Park episodes but now we can also try out new formats. It's great to have partners who will always take a chance with us."
Now, finally, Parker and Stone are getting back to doing traditional episodes, as they teased. "South Park" season 25 is scheduled to run at least six episodes, though it's not clear yet if there will be more after that or if this season will also be somewhat truncated.
Once more for the road: season 25 of "South Park" premieres on Wednesday, February 2, 2022.