M. Night Shyamalan Credits One Director For Inspiring His Film Career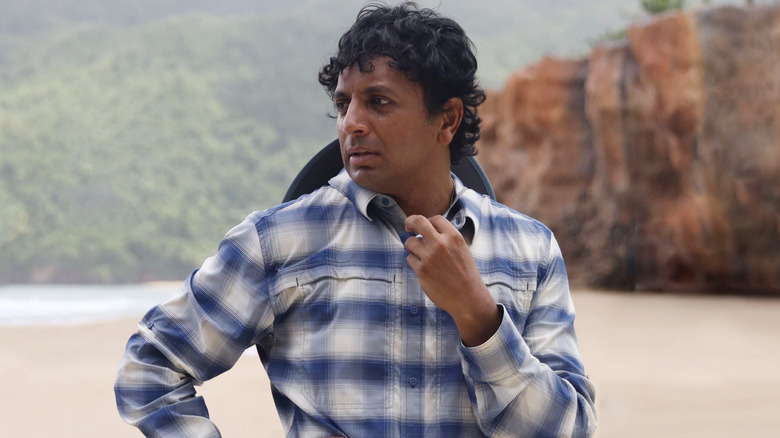 Universal Pictures
Say what you will about his art, but you always know when you're watching an M. Night Shyamalan movie. That's a rare quality among mainstream U.S. filmmakers in the age of shared universes and blockbuster franchises, many of which are notorious for flattening the voices of what are otherwise unique storytellers with a distinct style and set of thematic interests. Even Shyamalan's infamous "The Last Airbender," for all of its flaws, very much feels like his handiwork.
This brings us to another interesting point: Whether he's flying high or falling flat on his face as a director, Shyamalan has always danced to the beat of his own drum. In doing so, he's created an example for others to follow, not least of whom is Jordan Peele. In a 2019 interview with Rolling Stone, the "Key & Peele" co-creator revealed that Shyamalan went so far as to send him a message through their mutual friend, producer Jason Blum, about how to follow up the success of his directorial debut on "Get Out," advising him to "Tell the story you want to tell. Don't listen to everything around you. Go back to what drove you to write the first one." The resulting film, "Us," was another hit for Peele, cementing his status as a director whose name alone guarantees an audience, like Shyamalan.
But who did Shyamalan look to for guidance back when he was starting out as a director? As he explained to Variety in 2021, there's one particular filmmaker he would have to credit for influencing his career path:
"It was definitely Spike. It was definitely Spike Lee, and he knows this, the reason that I'm a filmmaker — it was his leading the way. He didn't look like anybody in Hollywood. He did it in a different way. He didn't ask for permission from the East Coast ... I just followed his lead, essentially, and he's super meaningful to me. Because I know if I didn't, if I didn't read that book of 'She's Gotta Have It', I know I'd be a doctor right now."
Shyamalan and Lee are kindred spirits (for good and bad)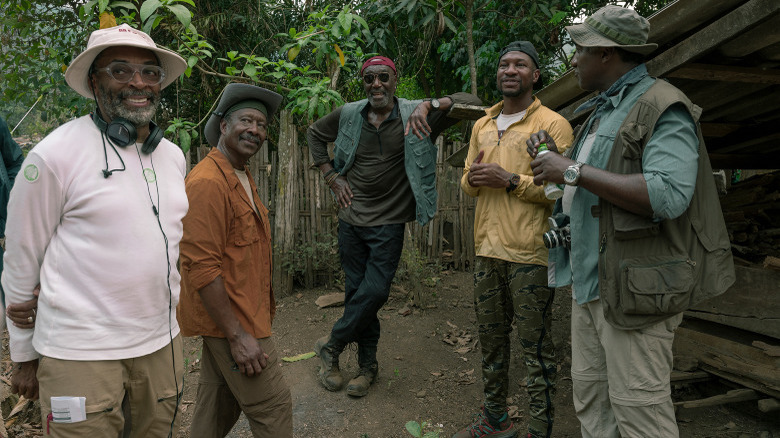 Netflix
You might not make the connection right away, but there are, indeed, a lot of parallels between Lee and Shyamalan as directors. They're both artists of color who, as Shyamalan quietly pointed out to Variety, have found success in an industry that's still predominantly white and has only recently taken steps to become more inclusive. But more than that, they're storytellers who have never shied away from going against the grain when it comes to the kind of movies they make.
Lee, of course, was churning out movies with primarily Black casts and centered on issues related to the Black community at a time when few others were in Hollywood. In his own way, Shyamalan was also a rule-breaker when he broke out with "The Sixth Sense" in 1999, only to follow his acclaimed supernatural thriller one year later with "Unbreakable" — a film that deconstructed comic book superhero tropes prior to the modern era of superhero cinema. Lee and Shyamalan have only continued to focus on crafting original movies that speak to their personal interests ever since then, save for those rare, not-so-great exceptions (namely, "Oldboy" and "The Last Airbender") where they've adapted someone else's creation. And even in those cases, they still infuse them with their personal quirks, as Shyamalan did most recently with his comic book adaptation "Old."
Funnily enough, there's an argument to be made that Shyamalan and Lee even share some of the same shortcomings as directors. Most pointedly, they both have a bad habit of using the characters in their films as glorified mouthpieces for preaching their beliefs (some of which are, frankly, dubious) rather than allowing these concerns to arise more organically as themes in their storytelling. They've also been (not unfairly) criticized for their problematic handling of sensitive topics that go beyond their lived experiences, be it Shyamalan linking mental illness with violence in films like "Split" and "Old" or Lee conflating "MAGA" U.S. and the legacy of imperialism in Vietnam in "Da 5 Bloods."
Then again, how many other mainstream Hollywood directors nowadays are even trying to use, respectively, original high-concept thrillers and genre-blending films to have a serious conversation about these issues? (Yes, that's a rhetorical question.) It's how Shyamalan, like Lee, has avoided becoming irrelevant as a filmmaker: Whatever your feelings are about one or more of their movies, you're going to have a firm opinion. "Compels me though," as Benoit Blanc would put it.