Colin Farrell Went To Starbucks In His Penguin Make-Up For The Batman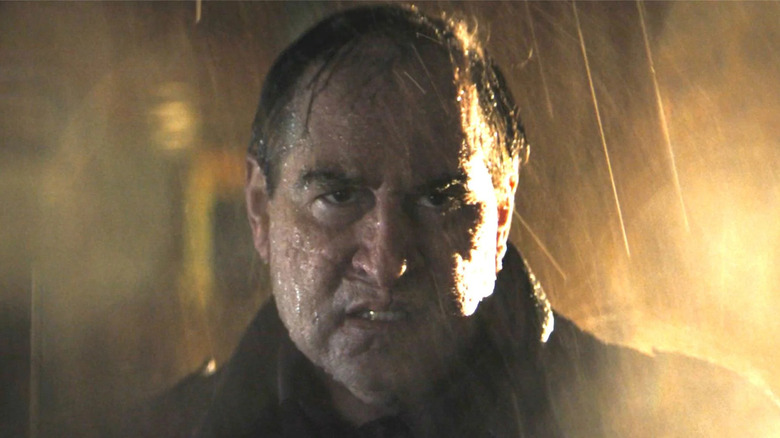 Warner Bros. Pictures
As we've seen in the trailers for "The Batman," Colin Farrell is absolutely unrecognizable in his makeup for the role of Oswald Cobblepot, aka the Penguin. I wouldn't recognize him on the street. Honestly, I'd look though and worry that he was one of the mob guys who used to go to a restaurant I worked at in NYC. 
Well, no one at Starbucks recognized him either, according to an interview with Collider. Farrell told the site that he visited the coffee chain and ordered a drink with that crazy makeup on. Not that anyone at Starbucks would have noticed anyway — I don't think any barista I've seen in the last few months has looked up at me. Farrell told the site:
"The first day we tried the whole thing out, we took it for a drive, a spin metaphorically speaking. We did it in Burbank. It took about six or eight hours. It was a team of ten or fifteen people. And it was really fun. I went into Starbucks and ordered myself a very un-Oswald drink, an oat milk late [sic] with two stevia sweeteners. I got a couple of stares but only because it's such an imposing look. Mike (Marino) did so much of the work for me on this, so much of the heavy lifting."
Oat milk latte for Osberg Cumberpot?
Friends, I have been to a number of the Starbucks locations in Burbank, and I'm very sad that I wasn't there that day. Heck, maybe I wouldn't have known it was him either. In fact, I'm sure I wouldn't. I just want to see that makeup up close! I used to do makeup for a living, and while I never did prosthetics, I have a crazy amount of respect for people who can pull off something as incredible as this! I mean, look at him! 
I am so excited for "The Batman." I mean, freaking out level excited. I don't care that it's three hours long (nearly). I love that it's dark. I like a silly Batman as much as the next person, but to me, the Dark Knight is just that — dark. I cannot wait for March 4, 2022. Also, now I really want the Penguin special oat milk latte with two stevias. 
From Warner Bros. Pictures comes Matt Reeves' "The Batman," starring Robert Pattinson in the dual role of Gotham City's vigilante detective and his alter ego, reclusive billionaire Bruce Wayne. Starring alongside Pattinson ("Tenet," "The Lighthouse") as Gotham's famous and infamous cast of characters are Zoë Kravitz ("Big Little Lies," "Fantastic Beasts: The Crimes of Grindelwald") as Selina Kyle; Paul Dano ("Love & Mercy," "12 Years a Slave") as Edward Nashton; Jeffrey Wright ("No Time to Die," "Westworld") as the GCPD's James Gordon; John Turturro (the "Transformers" films, "The Plot Against America") as Carmine Falcone; Peter Sarsgaard ("The Magnificent Seven," "Interrogation") as Gotham D.A. Gil Colson; Jayme Lawson ("Farewell Amor") as mayoral candidate Bella Reál; with Andy Serkis (the "Planet of the Apes" films, "Black Panther") as Alfred; and Colin Farrell ("The Gentlemen," "Fantastic Beasts and Where to Find Them") as Oswald Cobblepot.