The Morning Watch: The Making Of The Mitchells Vs. The Machines, Kevin Smith Interviews James Gunn & More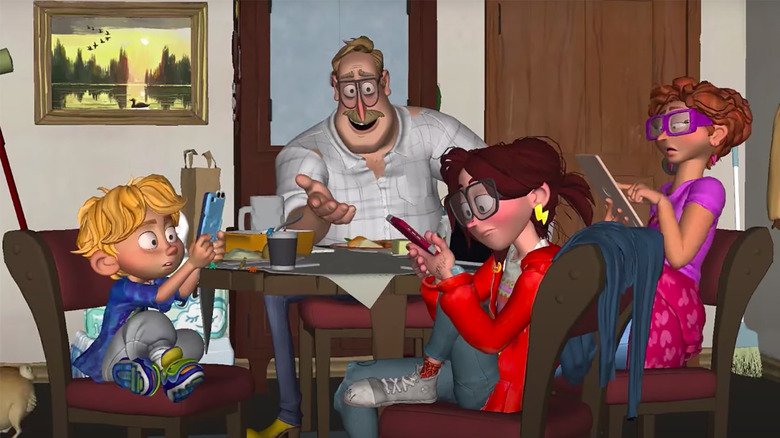 Netflix
(The Morning Watch is a recurring feature that highlights a handful of noteworthy videos from around the web. They could be video essays, fan-made productions, featurettes, short films, hilarious sketches, or just anything that has to do with our favorite movies and TV shows.)
In this edition, find out how a group of passionate weirdos made the Oscar-nominated animated movie "The Mitchells vs. The Machines" at Sony Pictures Animation. Plus, watch as "Clerks" and "Jay and Silent Bob Strike Back" filmmaker Kevin Smith interviews "Peacemaker" executive producer and director James Gunn. And finally, listen as "Marry Me" and "Wedding Crashers" answers the web's most searched questions about himself.
How a group of weirdos made The Mitchells vs. the Machines
First up, Sony Pictures Animation has provided a look behind the scenes of "The Mitchells vs. The Machines," which has been nominated for the Academy Award for Best Animated Feature. Listen as director Michael Rianda, producers Phil Lord & Chris Miller, and more of the film's passionate, creative minds talk about how they brought the film's unique animation style and heartwarming story to life.
Kevin Smith has a long chat with James Gunn
Next, now that the first season of "Peacemaker" has come to a close (with a second season on the way), director and executive producer James Gunn took the time to sit down for an extensive chat about the DC Comics series and much more with fellow filmmaker Kevin Smith. Listen as they chat about the obscure comic book references, the long road from banging away at the computer keyboard to having true creative control over a story, and plenty of other fascinating anecdotes.
Owen Wilson partakes in the autocomplete interview
Finally, in conjunction with the release of "Marry Me" in theaters and on Peacock, Owen Wilson sat down to partake in Wired's Autocomplete Interview. Listen as the "Wedding Crashers" star answers the internet's most searched questions about him, including how he broke his now famously crooked nose. Plus, find out if he's a good skateboarder, whether or not he was in a fraternity, and a lot more about his big screen career and life.