Texas Chainsaw Massacre Director Has A Few Ideas For A Sequel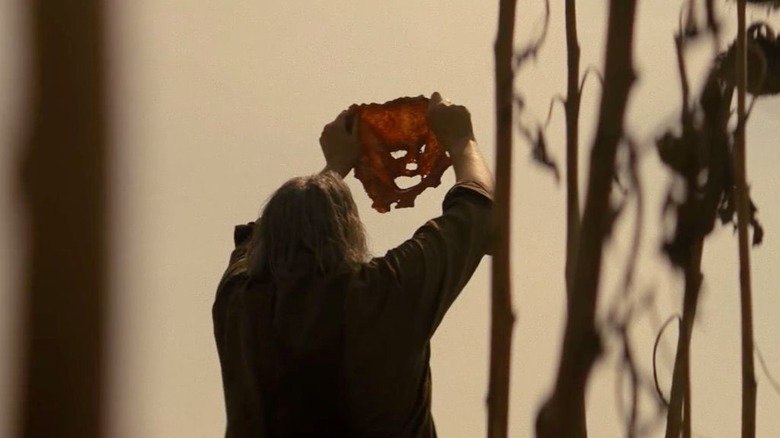 Netflix
Netflix released "Texas Chainsaw Massacre" last week, serving as (more or less) a direct sequel to Tobe Hooper's original horror classic. It was met with, shall we say, a bit of a mixed response on social media, with many critics not being too kind to it. But it certainly generated a lot of conversation, and, as with almost any horror movie, it left the door open for more down the line. As it just so happens, director David Blue Garcia has been brainstorming ideas for a sequel.
Garcia recently spoke with The Hollywood Reporter in honor of the movie's release. Without getting into spoilers (yet), the filmmaker was asked about the prospect of another adventure with old man Leatherface. While he didn't get into specifics, Garcia did explain that he has thoughts on how to continue the story.
"I've actually brainstormed quite a bit about what would happen in a continuation of this story, or just another tale in this world. I have some really cool ideas that I'd love to have the opportunity to pitch if Legendary wants to make another one. There are also things when I watched this movie that I look back on and I wish I had done, so I've got those in my back pocket if I get to do another one. And of course, there's that teaser at the end of the film, so there's definitely a future to explore."
Legendary originally produced the movie with dreams of cashing in like "Halloween" did in 2018 but, instead, they sold it to Netflix and took the no-risk cash guarantee. Presumably, that means it would be up to Legendary and Netflix to decide on a sequel.
What are the odds of a sequel?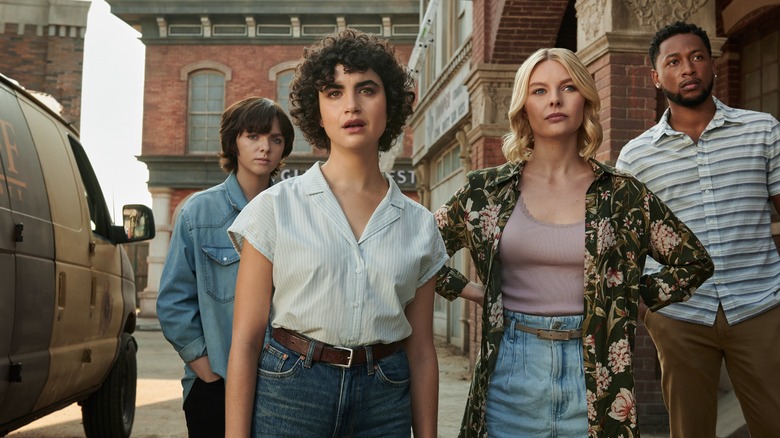 Netflix
Warning: spoilers ahead for the new "Texas Chainsaw Massacre." Proceed with caution.
Okay, now is the time to discuss spoiler-y stuff. The movie ends with just about everyone in the town of Harlow, save for Elsie Fisher's Lila, dead at the hands of a re-awakened Leatherface who had been living the quiet life for years. But with everyone dead and Lila in a Tesla on autopilot mode heading back home, what is Leatherface to do? Well, the post-credits scene that Garcia alludes to sees the killer heading back to his old stomping grounds: the house from the original "Texas Chain Saw Massacre." That implies that we would go back to where it all began in a possible follow-up. The stage is set.
Now the question becomes: Will a sequel happen? There is no denying that the movie didn't totally connect critically, but that hasn't stopped franchises from persisting before. It's all about creating value. "Texas Chainsaw Massacre" wasn't burdened with box office expectations because it went straight to streaming. So, it's now a matter of whether or not the money Netflix spent brings enough eyeballs to warrant a sequel. It's early, but the movie has been consistently in the streamer's top ten most-watched list since it debuted, signifying that it is bringing in a healthy audience. Is that enough to justify a sequel? Time will tell, but with Netflix's notoriously deep pockets, I wouldn't count it out.
"Texas Chainsaw Massacre" is now streaming on Netflix.
Melody (Sarah Yarkin), her teenage sister Lila (Elsie Fisher), and their friends Dante (Jacob Latimore) and Ruth (Nell Hudson), head to the remote town of Harlow, Texas to start an idealistic new business venture. But their dream soon turns into a waking nightmare when they accidentally disrupt the home of Leatherface, the deranged serial killer whose blood-soaked legacy continues to haunt the area's residents — including Sally Hardesty (Olwen Fouéré), the sole survivor of his infamous 1973 massacre who's hell-bent on seeking revenge.