The Morning Watch: Behind The VFX Magic Of Hawkeye, Encanto Honest Trailer & More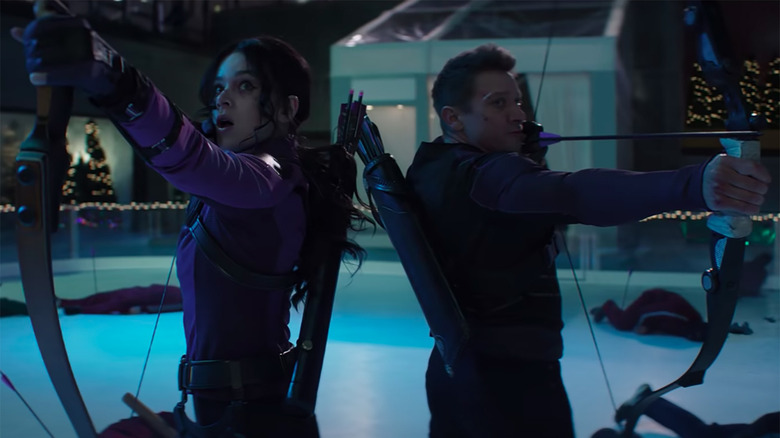 Marvel Studios
(The Morning Watch is a recurring feature that highlights a handful of noteworthy videos from around the web. They could be video essays, fan-made productions, featurettes, short films, hilarious sketches, or just anything that has to do with our favorite movies and TV shows.)
In this edition, get a closer look at the VFX work that Industrial Light & Magic did on Marvel's "Hawkeye" TV series. Plus, Disney's "Encanto" gets the Honest Trailer treatment, and they'll probably talk about Bruno a little bit. And finally, "Peacemaker" star John Cena got into his full superhero wardrobe to break down the many characters he's played over the years, from his professional wrestling persona to Vin Diesel's brother in the "Fast and Furious" franchise and beyond.
Industrial Light & Magic worked hard on Hawkeye
First up, Industrial Light & Magic shows off the work they put into Marvel's "Hawkeye" TV series on Disney+. Much of this breakdown focuses on the creation of Rockefeller Plaza where the famous Christmas tree stands during the holidays. It would appear that not much of that sequence was shot on location, and visual effects actually brought the real tourist attraction to life.
Encanto's latest gift is an Honest Trailer
Next, Screen Junkies has chimed in with the Honest Trailer for "Encanto," and no Oscar nomination can keep the movie safe from their wisecracks. You'll quickly realize that while some of the Madrigal family's gifts are genuinely helpful, others seem to be inconveniences or traits that would be better suited for committing crimes. Seriously, how is shapeshifting going to help the family? The real gift is a rent-free house that cleans itself.
John Cena breaks down a career of muscles
Finally, now that the first season of "Peacemaker" has wrapped up, John Cena took the time to sit down with GQ (in his full superhero wardrobe) to take a look back at some of his most memorable characters. In this case, he reaches back into his wrestling day, and then runs through action roles in "The Marine," "Bumblebee," "The Suicide Squad" and "F9," not to mention comedic turns in "Trainwreck" and "Vacation Friends." Enjoy!