Everything We Know About Outer Banks Season 3 So Far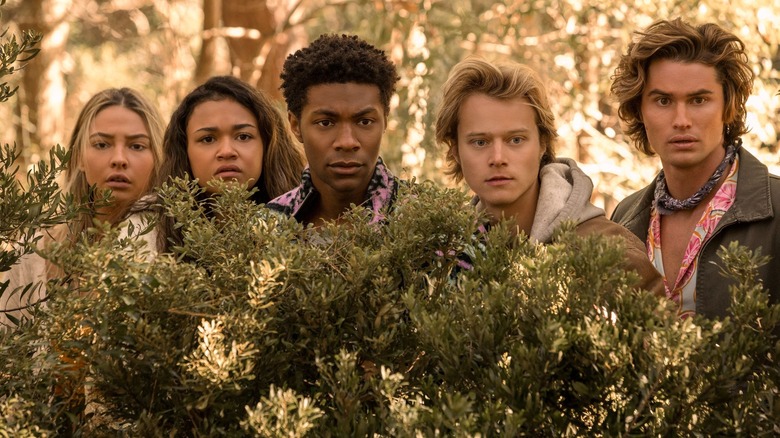 Netflix
While we're all still hoping 2022 will be better than 2021, few things are more comforting than the perfect binge. Although I can't tell you "Outer Banks" is a truly great show, I'd still recommend the series on the basis that I had a ton of fun watching it. The treasure hunt teen drama centers on a group known as the Pogues, most of whom reside on the south side of Kildare Island in the Outer Banks of North Carolina. Also known as The Cut, this area is mostly home to the working class, who are largely looked down upon by the wealthy residents who live on the other side, Figure 8. They are known as the Kooks.
The Pogues are comprised of John B, Kiara (who identifies as a Pogue, despite living on the north side), Pope, and JJ. They are looking for sunken treasure, as well as John B's dad, who disappeared in search of it. This mission becomes even more complicated when Sarah (a Kook) and John B spark up an unexpected romance. However, they are not alone in this quest for treasure, as Sarah's dad Ward and her psychotic brother Rafe are hunting for the very same prize.
You can draw comparisons to everything from "The Goonies" to "The Outsiders" to "Romeo and Juliet," though "Outer Banks" sets itself apart by being so much crazier than you could possibly imagine. Whether it's John B narrowly escaping Ward's harpoon gun by riding away on a jet ski, the Pogues heading off a plane on the runway with their van, or John B fighting an alligator, it's literally impossible to predict where this show is going from one minute to the next. It's best to just sit back, suspend your disbelief and enjoy the ride.
"Outer Banks" was a hit for Netflix and Deadline reported that the streaming service renewed the series for a third season back in December. So, there's definitely more "Outer Banks" headed our way at some point, but what details do we have on what's to come?
When and where to watch Outer Banks season 3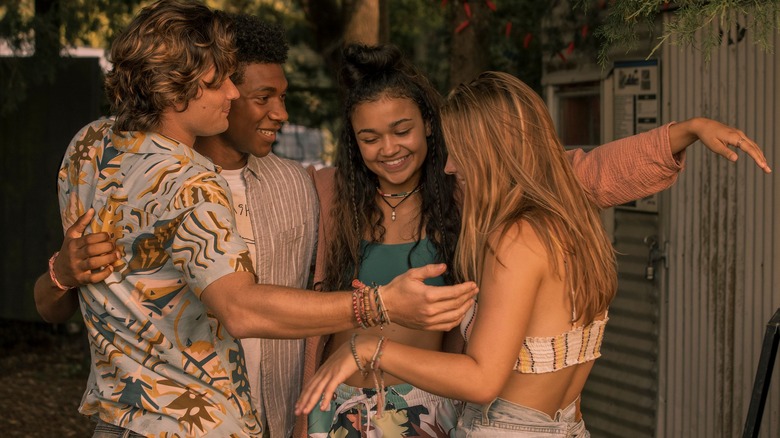 Netflix
The first part of this is simple, because like the previous two seasons of "Outer Banks," season 3 will air on Netflix. When it will drop is a more difficult question to answer. The show was only recently renewed and hasn't begun filming as of yet. Seasons 1 and 2 were a little more than a year apart, landing on Netflix in April 2020 and July 2021, respectively. So, it seems like perhaps "Outer Banks" will return in the summer of 2022, at the earliest. However, after that cliffhanger, fans will be anxiously awaiting the show's return.
What we think Outer Banks season 3 will be about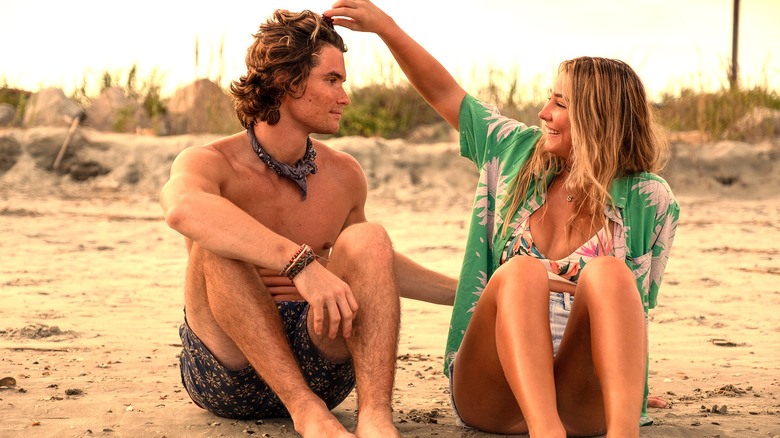 Netflix
When we last left the Pogues, they had lost their treasure to Sarah's family (again), but escaped with their lives to inevitably try to regain it. After quite literally jumping ship, they landed on an island in the Caribbean they chose to dub Poguelandia. Season 2 left quite a few dangling plot threads, but the most shocking was obviously the reveal that John B's dad is alive! That's right, Sarah's dad faking his own death (an obvious twist from the beginning) wasn't the only surprise season 2 had in store. "Outer Banks" took things to the next level by showing that John B's presumed dead father was also somehow inexplicably alive. Perhaps even more surprising is that he seems to be in league with Carla Limbrey, who served as an antagonist to the Pogues for half the season.
As for what will happen in season 3, it seems likely the gang will take some time to regroup before trying to track down the treasure and facing off against Sarah's family once again. This is bound to be awkward, since by this point, both Ward and Rafe have tried to kill her. Showrunner Josh Pate told EW that John B's relationship with his father would be a major theme in season 3, saying, "eventually they're going to meet back up and John B has to reconcile his idealized version of his dead dad with the reality of his alive dad." He also explained that romance, which mostly took a backseat in season 2, will be more fully embraced once again in the show's third outing. He said:
"Teen romance and teen soap are a big part of the show. We wanted to explore the Ki-Pope relationship but obviously, we're aware of how the fans feel about JJ and Ki. We wanted to tease that for the third season. We didn't want to do it immediately, but we definitely want to do it just because that took us by surprise, like the audience's reaction to JJ and Kiara and rooting for that romance. So we were immediately open to it, because it seems like an interesting idea to explore but we kind of left it for season 3."
Speaking of romance, Sarah and John will also likely have to reckon with their rather hasty decision to get married. Being bonded by trauma and knowing each aren't really the same thing. Aside from that, on a show that plays this fast and loose with reality, it's kind of tough to predict what else will happen in season 3. I think we can all agree that the Pogues will be in some life threatening situations that they will escape from largely unscathed. I mean, at this point, they've survived falling from great heights, being shot, a literal death sentence (after being framed for murder), and so much more. All I need for season 3 to truly compete me is for it to feature a song from the actual Pogues — who I am listening to as I write this.
What we know about the Outer Banks season 3 cast and crew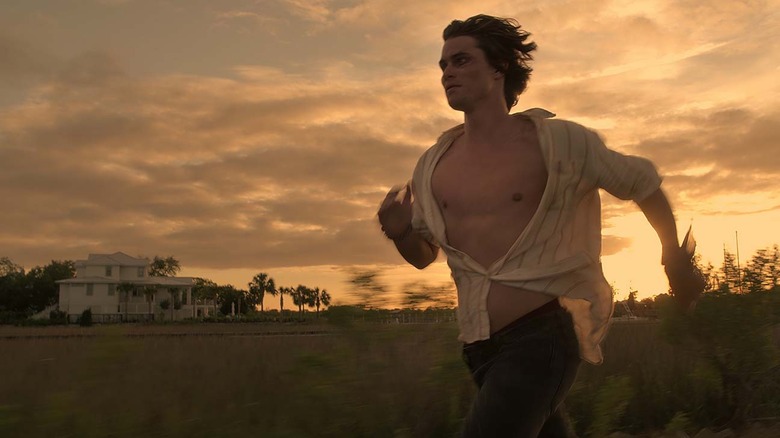 Netflix
Deadline reported that all the Pogues will be returning for season 3: John B (Chase Stokes), Sarah (Madelyn Cline, recently cast in "Knives Out 2"), Kiara (Madison Bailey), Pope (Jonathan Daviss), and JJ (Rudy Pankow). Plus, new member who appeared in season 2, Carlacia Grant's Cleo, will now be a series regular. Also returning is Austin North as Topper, Drew Starkey as Rafe, and Charles Esten as Ward. It seems safe to assume that Elizabeth Mitchell will reprise her role as Carla Limbrey and that Charles Halford will return as John B's dad, Big John. Series creators Jonas Pate, Josh Pate and Shannon Burke, who served as showrunners and executive producers on the first two seasons, will also be onboard for season 3.
Part of what makes this ridiculous show so compulsively watchable is endearing performances from its young cast of actors. It took me a few episodes to get into it, and a few more to realize how bananas it really is, which is also part of its charm. I'll definitely be tuning in for season 3. If anything happens to JJ, we riot!