The Peacemaker Finale's Big Cameo Scene Originally Included More Major DC Heroes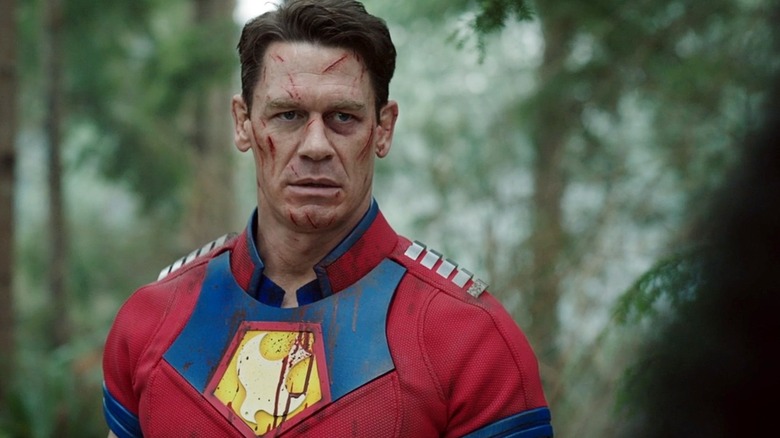 Warner Bros
Warning! Spoilers for the "Peacemaker" season 1 finale ahead.
The recent finale of James Gunn's "Peacemaker" series brought the first season to a bloody, heavy metal close — but its big cameo sequence was originally filmed with all six members of the Justice League, including Batman and Cyborg. Like Wonder Woman and Superman, Batman and Cyborg were played by body doubles on set (only "The Flash" star Ezra Miller and "Aquaman" star Jason Momoa had proper cameos). But for reasons currently known only to Gunn and Warner Bros., the bat and the 'borg didn't make it into the final cut. 
In his interview with Variety, Gunn explained that there were reasons for Batman and Cyborg being cut from the episode, but he wasn't allowed to disclose them:
"I don't know what I can – there are reasons for it, but I'm actually uncertain whether I can say what those reasons are. It might have to do with future stuff. I really thought it was going to be just Jason [Momoa]. And Ezra [Miller, who plays the Flash] was more like the extra thing because I found that he was interested in doing it."
Why did only part of the Justice League show up?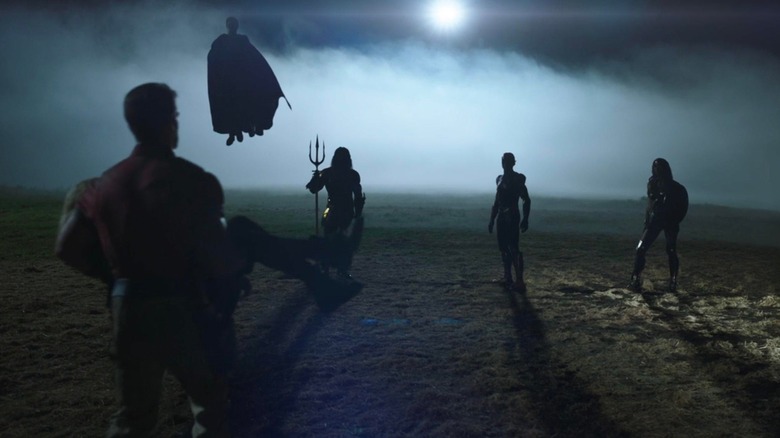 Warner Bros.
According to "Peacemaker's" Batman actor Matt Turner (via ComicBook.com), the finale originally had Batman and Cyborg show up as a part of the Justice League scene where Peacemaker (John Cena) makes fun of Aquaman (Jason Momoa). Offering a glimpse of what didn't end up on screen, Turner shared photos of himself in the Batsuit and explained that he shot versions of the scene alongside the rest of the Justice League (including Cyborg), but they were cut:
After that epic #peacemaker finale I can finally post this. Sadly I(& Cyborg) were cut from the final edit. Why? Only @jamesgunn & @warnerbrosentertainment know that. While it's disappointing to be scrubbed out, this was still a blast, and a dream come true to wear the suit!!! Big thanks to everyone involved!!
While DC Extended Universe fans wondered why the two were missing from the ensemble, there were some behind-the-scenes explanations that could have led to the decision. Ray Fisher, who played Cyborg in "Justice League," is in an ongoing battle with Warner Bros. and has been cut from "The Flash" movie. Batman's current incarnation is even more complicated, as he's being played by Michael Keaton, Ben Affleck, and Robert Pattinson all in the very near future.
The first season of "Peacemaker" is now streaming on HBO Max, and a second season has been announced. Maybe we'll get to see Peacemaker make fun of Batman to his face in season 2...