Alamo Drafthouse Introduces New Season Pass As MoviePass Prepares To Relaunch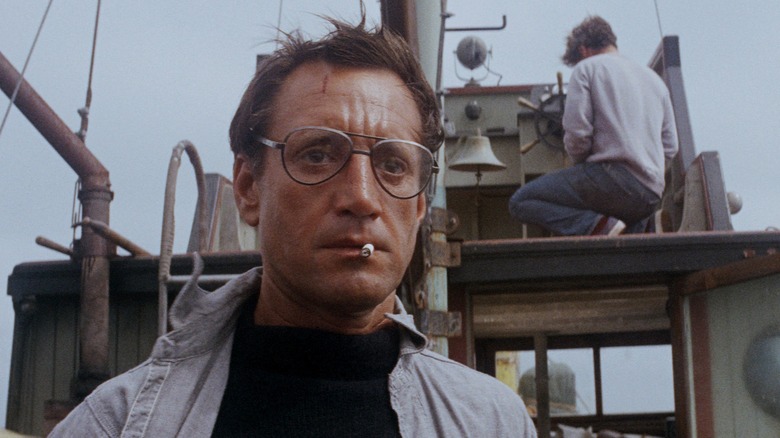 Universal Pictures
If you haven't heard, MoviePass is relaunching this summer, but it's not the only game in town anymore when it comes to movies and passes and the all-you-can-watch theatergoing option. That's because the Alamo Drafthouse chain of theaters, which allows you to drink and dine (but never text or tweet) while watching movies, is launching its own new Season Pass system. The Alamo Season Pass will allow theatergoers in participating U.S. cities to pay one flat fee per month and take in one movie per day for the duration of that month.
This year marks the 25th anniversary of the first Drafthouse's opening in Austin, Texas. Since 1997, the Drafthouse has expanded outward from Austin to incorporate two dozen locations and counting across America, with theaters in St. Louis, Chicago, and Birmingham "coming soon," according to the official website. For its Season Pass system, Alamo Drafthouse is offering three price tiers, which take their name from that famous "Jaws" quote, "You're gonna need a bigger boat."
The $16.99 "Big Boat" plan is good for one movie per day in El Paso and Lubbock, and it can be used to attain a $5.00 discount off the price of tickets at other locations nationwide. The $19.99 "Bigger Boat" plan covers those two cities along with these:
Austin
Charlottesville
Corpus Christi (coming soon)
Dallas/Fort Worth (coming soon)
Denver Area
Houston
Laredo (coming soon)
Northern Virginia
Omaha
Raleigh
San Antonio
Springfield, MO
Twin Cities (coming soon)
Winchester (coming soon)
Yonkers
It will also get you a $10.00 discount at other locations. Finally, the $29.99 "Biggest Boat" plan is good for use anywhere, including all of the previously listed cities as well as the DC Metro Area, Los Angeles, New York City, and San Francisco.
Bring your phone but don't text
One thing that's rather ironic about the Alamo Season Pass is that it's "available only on the Alamo app for iOS and Android." The website notes, "The ticket is tied to your phone, so be sure to bring that with you." Once you get into the theater, however, you will need to turn that phone off or at least put it in silent mode and disconnect from it for a little while. Back in 2011, the Drafthouse made headlines when it kicked a woman out of one of its theaters for texting. It even posted her angry voicemail on its official YouTube account with the following message:
"We do not tolerate people that talk or text in the theater. In fact, before every film we have several warnings on screen to prevent such happenings. Occasionally, someone doesn't follow the rules, and we do, in fact, kick their asses out of our theater."
Alamo has built its brand on providing its patrons with a different kind of theatrical experience than the one they would get at other multiplex chains. I've only been to the Drafthouse once, back in the summer of 2008 before I moved abroad, but it was a memorable experience. I was actually disheartened to hear that the Ritz, the theater I visited on Sixth Street in Austin, closed down last year. It just goes to show that the pandemic has affected Alamo as much as any other theater chain.
/Film's Ryan Scott recently wrote that services like MoviePass could be just what the box office needs right now, but MoviePass might carry a lot of baggage for customers who were burned by it before. If you feel comfortable with venturing out to the theater, the Alamo Season Pass might give you an incentive to get out of the house again and do just that. Theoretically, with this service, you could take in about 30 screenings a month for less than $30, though convenience fees do apply.