New Star Wars: Galactic Starcruiser Ad Provides A Closer Look At The Star Wars-Themed Hotel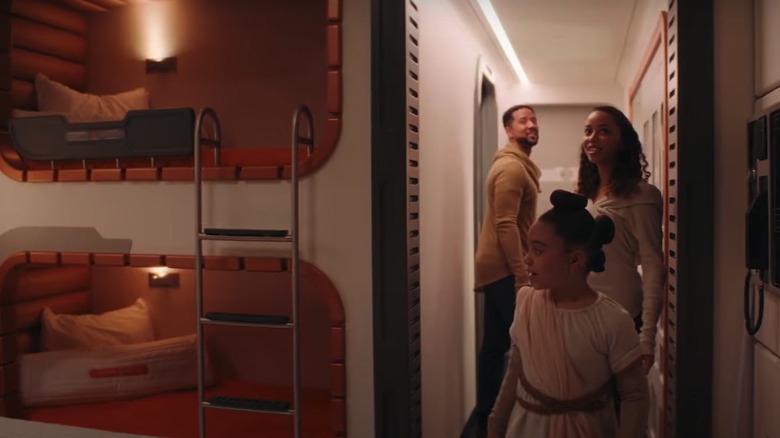 Disney
Long ago I sat in the audience at Disney's D23 Expo and watched live as the powers that be explained the first details about the Star Wars: Galactic Starcruiser hotel experience. There was drool. Of course, most of us will never be able to afford such a thing. The two-day journey prices range from $4,809 to $5,999 on a weekday, but ooh, that includes going to Disney's Hollywood Studios theme park. 
Today we have a new video with Lucasfilm Franchise Content & Strategy member Matt Martin and Walt Disney Imagineering member Travis Finstein who give us some fun details on what we're never going to get to do. Well, maybe if we nab some extra credits by selling spice or something, but not on Tatooine, okay? No one is having that. Ahem, kids, don't do spice.
According to the notes on the video, the Star Wars: Galactic Cruiser was developed at the same time as Star Wars: Galaxy's Edge to complement each other, and the info from Martina and Finstein explains just how they're connected. 
By the way, I love the little girl in the pic dressed as Rey, but I don't know how comfortable she's going to be in one of those little cubby holes. 
That's a whole lot of credits — this ship will be full of spice traders, I think
In the video, we learn that the ship, the Halcyon, has been restored to its former glory and the first place the starcruiser went was Batuu, the planet you're on at Galaxy's Edge. The story is set between the events of "Star Wars: The Last Jedi" and "Star Wars: The Rise of Skywalker." Not only that, but we'll be seeing familiar faces. I spotted Chewbacca in that video, and I'm sure we'll see R2-D2, because he's everywhere, bless him.
We'll even see Rey and Kylo Renn, who we're told will meet up for the first time since the events of "The Last Jedi." Awkward! You can choose your own path and the parts of "Star Wars" that mean something to you. Apparently, there will be a love story on board, though we don't get any info on that. I feel bad for whatever actor is part of this particular storyline because if you think Disney characters get harassed at the park, imagine how the "Star Wars" fans are going to be if there is something they don't like. 
If you want to learn more about the history of the Halcyon, there are five issues of a comic series called Halcyon Legacy that you can read along with the High Republic book "Mission to Disaster" by Justina Ireland, which will be released on March 1, 2022, the same day as the Starcruiser launch. 
Happy flying, and do I maybe fit in your suitcase? I do yoga, so I can fold up or something.