LEGO Unveils New Book Of Boba Fett Sets, Including Mando's New Ship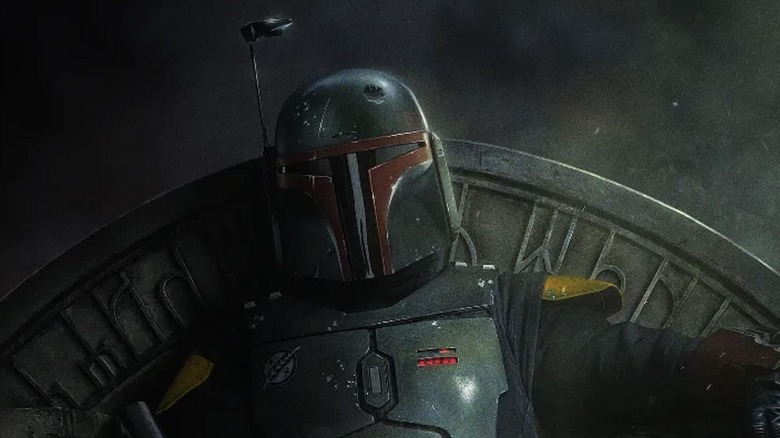 Disney+
"The Book of Boba Fett" season 1 is behind us now, but you can keep the fun going with some new LEGO sets (via THR). According to the site, LEGO is celebrating its 90th anniversary and will release over 245 sets in the first half of this year. There are two new "The Book of Boba Fett" sets available, including Boba Fett's Throne Room, and The Mandalorian's N-1 Starfighter that you can pre-order right now. Unlike the Hasbro Pulse throne room, which won't release until summer of 2023, these beauties will be available — gasp — this year!
Boba Fett's Throne Room will let you recreate that moment in the post-credits scene of "The Mandalorian" season 2 where Boba and Fennec Shand took over Jabba's old palace from a larger-than-you-remember Bib Fortuna. Plus, the Mandalorian's N-1 Starfighter comes complete with a certain mechanic and a baby we all want to see.
Becoming the Daimyo of Mos Espa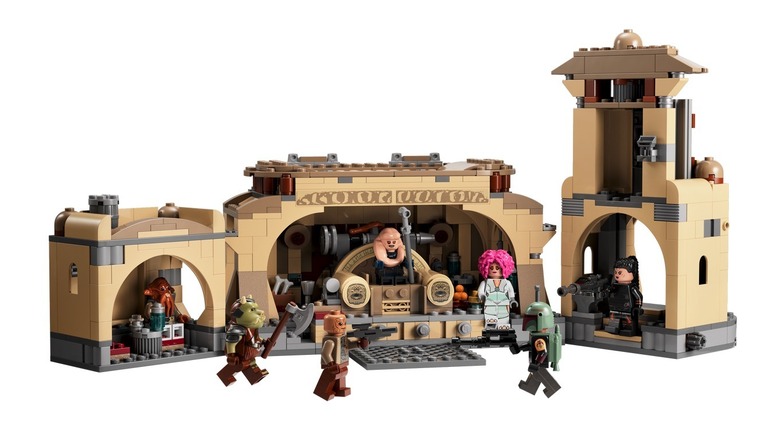 LEGO
Boba Fett's Throne Room will retail for $99.99 on LEGO.com. It's a hefty price, but it's LEGO, which also sells a $799.99 AT-AT figure. This set will ship from March 1, 2022, which is just a couple of weeks away, though depending on the amount of orders they'll need to fulfill, it might be a while until it actually reaches your door. This playset (75326, if you want the exact set number) is recommended for ages nine and up. 
Once you build it, the palace opens up so you can see the entire throne room, barbecue area, and kitchen. There is also a hidden treasure compartment in the throne itself and a pop-up function to eject Bib Fortuna, with tilting steps, an opening gate, accessories like spotchka drinks, and seven minifigs. They include Bib Fortuna, Boba Fett, Fennec Shand, a Theelin Dancer, a Weequay Guard, a Gamorrean Guard, and a Quarren, with assorted weapons. 
I do notice that the kitchen/barbecue area doesn't have the LEP droid or the kitchen droids from "The Book of Boba Fett," but hey, maybe they were busy catching rats. The 732 piece palace playset measures over 6.5 inches high, 12.5 inches wide, and 8 inches deep. In case you want to model this after the actual scene in "The Mandalorian" season 2 finale "The Rescue," it happens at 41:33 in the episode.
Oddly enough, no Jawa figure for Pelli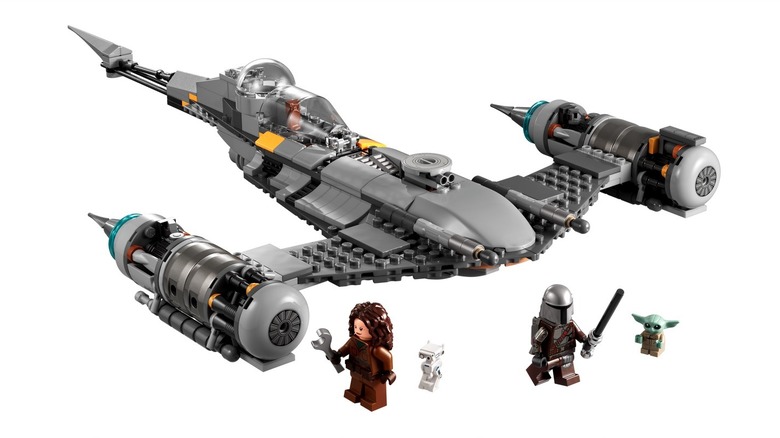 LEGO
Remember how after episode 4 of "The Book of Boba Fett," the show basically became "The Mandalorian" season 2.5? Well, the other LEGO set we're highlighting today is The Mandalorian's N-1 Starfighter, set number 75325 with 412 pieces. The Starfighter, which was revamped for Mando's purposes by Peli Motto, includes her minifig, one for Mando, a tiny Grogu minifig (mini-minifig? teensyfig?), and Peli's BD Droid. No Jawa to flirt with her, though. Maybe you can one in if that's the sort of LEGO play you're into. I'm not judging you or Pelli. 
The N-1 Starfighter set has a minifig cockpit, the former droid spot that fits the Grogu minifig so he can beg Mando to use the hyperdrive, cargo compartment, and a spring-loaded shooter. The set retails for $59.99 and will ship from June 1, 2022 with a pre-order. It's also for ages nine and up. Mando's minifig comes with the darksaber and a jetpack accessory, while Peli has a wrench. The set measures over 2.5 inches high, 16.5 inches long, and 11.5 inches wide. 
May the Force be with you all.