New Book Of Boba Fett Throne Room Toy Set Lets You Re-Enact The Bib Fortuna Murder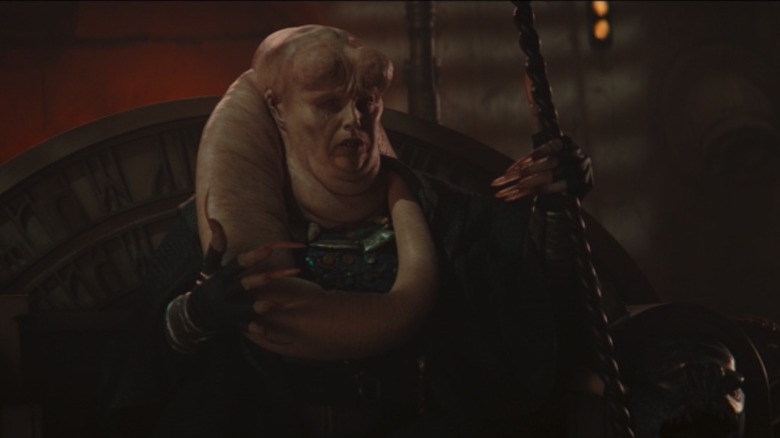 Disney+
Toy alert! You just finished watching "The Book of Boba Fett" finale, and now we have a little treat — that you can't get for a very long time. Here's some background on The Book of Boba Fett Throne Room from Hasbro Pulse, which will be available for pre-order tomorrow.
Bib Fortuna was a bad Twi'lek, serving as Jabba the Hutt's majordomo. He served the crime lord for a really long time, and when Jabba was strangled by Princess Leia back in "Return of the Jedi," a power vacuum was created. Want to guess who stepped in? None other than Bib Fortuna! He may have indulged a bit, and while I don't want to body shame anyone, let's just say that he's probably been snacking more than was strictly necessary. In "The Mandalorian" episode "The Rescue," which was the final episode in the second season, we got a very important post-credits scene. (It happens at 41:33, in case you want to do a rewatch.) 
Boba Fett and Fennec Shand enter the palace. Bib tries to stall by remarking that he thought Boba was dead. Oh Bib, don't you just wish he had been! Boba kills Bib Fortuna, throws him off the throne and takes it himself, giving us an introduction to a series about a new brutal crime lord ... wait, what? Oh right. About a really nice crime lord who doesn't like killing anymore, and just wants to share melons with his friends. 
Now you can recreate that crazy "The Book of Boba Fett" set-up all on your own with a new toy from that brief, but important moment.
Boba, I Thought You Were Dead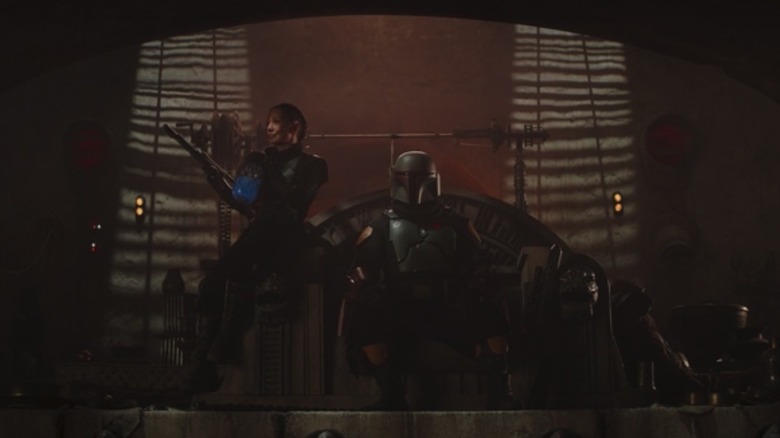 Disney+
YakFace.com tweeted out some pics from this morning's Hasbro Star Wars livestream. One of them is The Book of Boba Fett Throne Room, which you can pre-order from Hasbro Pulse (in the U.S., U.K., and Canada) starting tomorrow, February 10, 2022 starting at 1 P.M. ET. 
No Jabba, No Botha j/k 1000% preordering this tomorrow. #hasbro #starwars #vintagecollection #kenner https://t.co/AAbXum1H7c

— Yakface.com (@yak_face) February 9, 2022
As of this writing, there is no page for the pre-order on the site, in case you're looking for it like I was for way too long. This beauty is going to set you back $229.99, so can I come to your house to play with it? 
There are 50 accessories, so you can recreate Bib Fortuna's snack time fun before his inevitable demise (via Superhero Hype). The throne is removable and the dais moves. By the way, the site points out that this set will include the first ever "larger" version of Bib Fortuna. (Do keep in mind that the figure is scaled to the 3-3/4 inch vintage collection, not the 6-inch Black Series, as the site points out. I mean "larger" in terms of girth.) The set is 10 inches tall, 20 inches wide and 10.5 inches deep (via Bleeding Cool). 
There isn't any info about how many of these have been made, but it will be released in summer of 2023. Seriously, can I come over for a playdate?