He-Man And The Masters Of The Universe Season 2 Trailer Reveals Netflix Release Date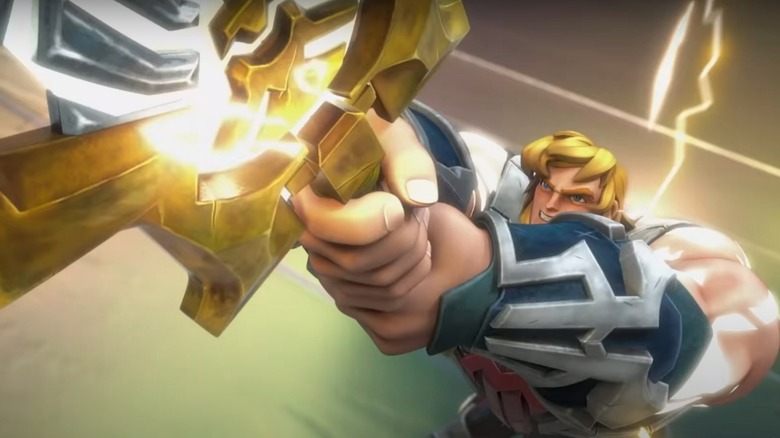 Netflix
By the power of Grayskull, Netflix simply isn't going to stop making "He-Man" shows until they truly exhaust every possible angle of this revitalized franchise. That's great news for fans of Prince Adam (aka the eponymous, sword-wielding He-Man), who have several different options to turn to for all their "Masters of the Universe" entertainment needs. The beloved 1980s original series, originally brought to life in glorious hand-drawn animation, is currently in the midst of a massive revival across multiple mediums. Netflix alone is working on two different shows, including Kevin Smith's "Masters of the Universe: Revelation," and we recently heard the news that the live-action "Masters of the Universe" movie has cast its main lead and also moved to Netflix.
In the midst of all this, the release of the CG-animated "He-Man: Masters of the Universe" series has been received glowingly by critics and fans (generic and rather ugly-looking animation style notwithstanding). The series is aimed at a whole new generation of prospective "He-Man" fans, which will hopefully get kids interested in the original that started it all. The first season premiered on September 16, 2021 and viewers now have a fresh look at what's in store for season 2, along with the reveal of a premiere date. Check out the trailer below!
He-Man and the Masters of the Universe Season 2 Trailer
You didn't think we'd seen the last of the villainous Skeletor, did you? The stakes have been raised even higher since last we saw this cast of characters, taking part in a brand-new adventure marketed as a "reimagining" of the original series. Developed by Rob David ("Masters of the Universe: Revelation"), our first look at season 2 of "He-Man and the Masters of the Universe" teases a sweeping, epic fantasy story with all the familiar heroes and villains fans know and love ... and perhaps a few new and unfamiliar elements, too. The premise of the new season has been described by Netflix as, "The fate of Eternos hangs in the balance as He-Man and the heroes forge new alliances — and new destinies — to stop Skeletor from raising an Army of the Dead and obtain ultimate power."
Yuri Lowenthal returns to reprise his voice role as He-Man, along with Kimberly Brooks as Teela/Sorceress and Teela Na/Eldress, Judy Alice Lee as Krass'tine/Ram-Ma'am, David Kaye as Cringer/Battle Cat, Antony Del Rio as Duncan/Man-at-Arms, Benjamin Diskin as Keldor/Skeletor, Roger Craig Smith as Kronis/Trap Jaw, Grey Griffin as Evelyn/Evil-lyn, Trevor Devall as R'Qazz/Beast Man and General Dolos, Fred Tatasciore as King Randor and Baddrah, and Tom Kenny as Ork-0.
The trailer also revealed that season 2 of "He-Man and the Masters of the Universe" will premiere on Netflix on March 3, 2022.