Young Justice: Phantoms Mid-Season Trailer: Come This Way If You Want The Galaxy To Survive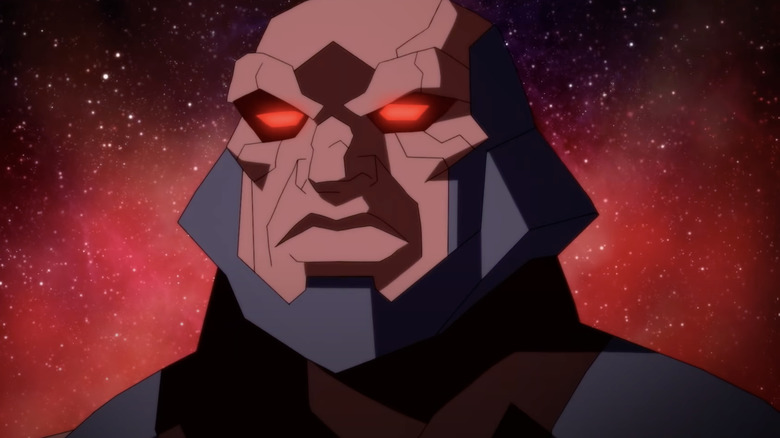 HBO Max
It's been a long road to the back half of "Young Justice" season 4. The DC animated series, which follows the adventures of a junior Justice League, premiered on the Cartoon Network way back in 2010. Since then, "Young Justice" has undergone cancellation and renewal and a few network changes, not to mention different subtitles for each season. This fourth season, "Young Justice: Phantoms," is finally ready to conclude now over a decade after the series launched.
Though it is animated and could have easily kept its teenage characters in stasis, the show is incorporating the real-world time that has elapsed into its story, with "Phantoms" being set 10 years after the "Young Justice" series premiere. The original members of the "Young Justice" team in season 1 included Robin (Jesse McCartney), Superboy (Nolan North), Aqualad (Khary Payton), Kid Flash (Jason Spisak), and Miss Martian (Danica McKellar), all sidekicks or younger versions of heroes corresponding to Batman, Superman, Aquaman, Flash, and Martin Manhunter.
Since then, the "Young Justice" lineup has expanded to include dozens of other characters, with the existing ones growing and changing (and in some cases, dying). Among other things, Robin has become Nightwing and Aqualad has become the second Aquaman. They're both in the new mid-season trailer for "Young Justice: Phantoms," which HBO Max debuted this week and which you can see below.
Young Justice: Phantoms Mid-Season Trailer
The trailer gives a glimpse of Doctor Fate, who is coming to the live-action "Black Adam" via Pierce Brosnan and motion-capture, as well as Darkseid and King Shark, both seen last year in "Zack Snyder's Justice League" and "The Suicide Squad," respectively. The New Gods Orion and Metron also make an appearance, with the latter echoing an old "Terminator" quote, saying "Come with me if you want [the entire galaxy to survive]."
There are so many DC movies and TV shows out there now, from the DC Extended Universe to The CW's Arrowverse to other HBO Max shows like "Doom Patrol," that it's easy for ones like "Young Justice" to get lost in the shuffle. During its third season, "Young Justice: Outsiders," the series aired on the short-lived streaming service, DC Universe, but that service has since migrated its programming to HBO Max and relaunched as the digital comics service, DC Universe Infinite.
Now, you can catch up with all 3.5 seasons of "Young Justice" on HBO Max. Our own Hoai-Tran Bui had some high praise for McCartney's voice work and the show in general.
Created by Brandon Vietti and Greg Weisman, the final 13 episodes of "Young Justice: Phantoms" are set to air weekly on HBO Max this spring.