The Daily Stream: Mythic Quest Is A Gaming Industry Comedy That Crackles With Creativity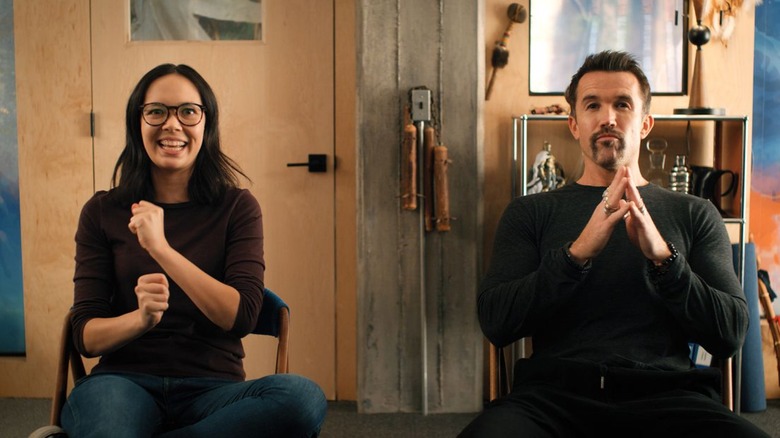 Apple TV+
The Series: "Mythic Quest"
Where You Can Stream It: Apple TV+
The Pitch: "Mythic Quest" is set at the headquarters for an extremely popular online role playing game — think "World of Warcraft" — where a team of programmers, testers, and execs navigate the cutthroat and often backwards world of the gaming industry. There are power grabs, sure, but there are also office romances, competitions, and wells of deep emotion driving each main character. The show has aired two seasons to date, plus a one-two punch of phenomenal quarantine-set special episodes.
Rob McElhenney co-created the series with "It's Always Sunny in Philadelphia" executive producers Charlie Day and Megan Ganz. He also stars as Ian Grimm, the cocky visionary behind the titular best-selling game whose off-putting personality is countered by his sexy CEO persona and cult-leader-esque charms. By his side is Poppy (Charlotte Nicdao), a brilliant and undervalued lead engineer. The rest of the office team is equally entertaining, from deceptively helpful assistant Jo (Jessie Ennis), to often-undermined producer David (David Hornsby), to soulless money guy Brad (Danny Pudi). Smitten game testers Rachel (Ashly Burch) and Dana (Imani Hakim) round out the group, along with old guard writer C.W. (F. Murray Abraham).
Why It's Essential Viewing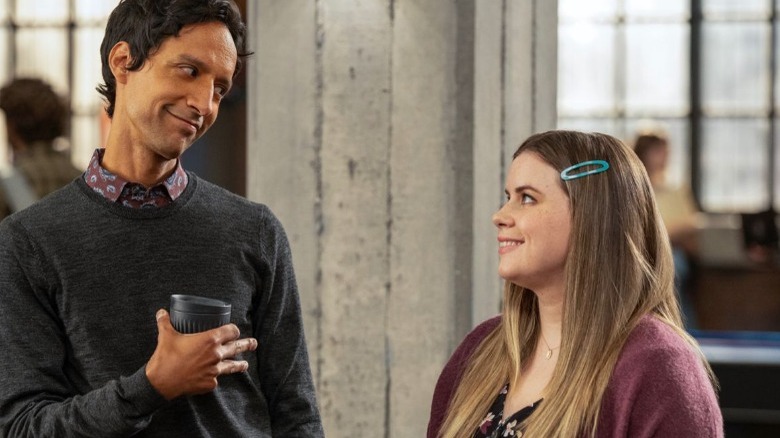 Apple TV+
"Mythic Quest" is like "Community" by way of "Silicon Valley," if "Silicon Valley" had ever figured out how to write women. It combines geeky, industry insider humor with a series of hilarious dysfunctional — and may I say, sexually charged — workplace relationships. Characters treat building extension demos and coming up with new in-game items like life-or-death scenarios, and "Mythic Quest" manages to make every new twist of fate in the fast-paced online gaming industry tremendously funny and compelling.
The central relationship, between headstrong Poppy and self-assured Ian, is even more compelling. These two are demented, combative geniuses who are at once a terrible pair and a match made in creative heaven. They would probably feel a lot less tense if they made out once in a while, but the series maintains its addictive and frantic comedic energy thanks to their complete inability to figure out their whole deal. The premise of "Mythic Quest" may make it seem inaccessible, but at its heart it's a workplace comedy, and the show lends Poppy and Ian's creative and professional partnership a level of thoughtful consideration that's rare for a sitcom.
In fact, the series' best episodes to date both orbit around the ideas of creative work as a form of companionship. "A Quiet Dark Death" is a half hour detail that gets so passionate and real about the evolution of the gaming industry that it feels like a deleted chapter of "Halt and Catch Fire." The story is a cautionary tale of sorts, about a couple — played by Jake Johnson and Cristin Miloti — who conceive of a unique video game and see it through to its inevitable fate. The episode is an absolute emotional powerhouse, rivaled only by the deeply cathartic and unvarnished Zoom special titled "Quarantine."
In just two seasons, "Mythic Quest" has reached higher creative highs than some shows do in their entire run. The series has been renewed for two more seasons, and I can't wait to see what it does next.