How Quentin Tarantino Broke The Mold For Anthology Movies With Pulp Fiction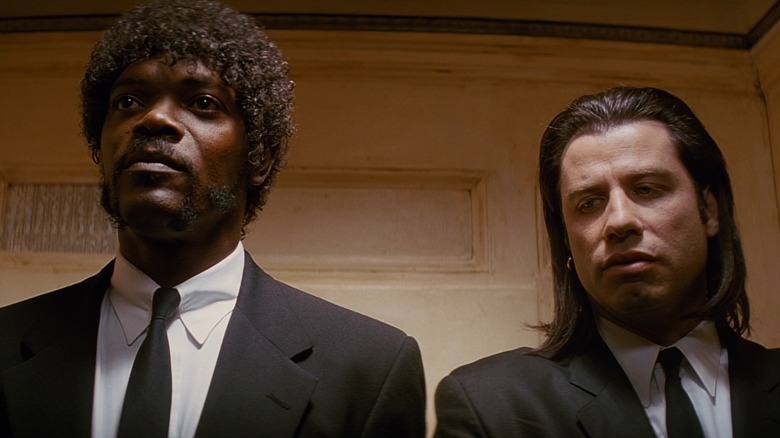 Miramax
The label "hyperlink cinema" has sometimes been applied to "Pulp Fiction," in which writer-director Quentin Tarantino and Roger Avary, who received a "story by" co-credit on the film, drew from the anthology structure of "Black Sabbath." Tarantino reportedly wanted to do with the crime film what director Mario Bava had done with the horror film in 1963. "Black Sabbath" also furnished Ozzy Osbourne's pioneering heavy metal band with its name, and it featured Boris Karloff — Frankenstein's Monster himself — introducing three tales of terror. The film's Italian title, I tre volti della paura, translates as, "The Three Faces of Fear."
"Pulp Fiction" contains a prologue, three chapters, and one epilogue. Tarantino originally planned to direct only one of the chapters himself, with Avary and another director handling the other two. However, it is Tarantino's oft-forgotten next film, the 1995 anthology feature, "Four Rooms," that more closely resembles this idea, with Allison Anders, Alexandre Rockwell, and Robert Rodriguez each directing their own separate chapter, or "room," alongside him.
As it is, holding sole directorial sway over "Pulp Fiction" enabled Tarantino to add a deeper layer of interconnectivity to his three main stories, which center on Vincent Vega and Mia Wallace (John Travolta and Uma Thurman), Butch Coolidge (Bruce Willis), and Jules Winnfield (Samuel L. Jackson).
Redefining Hyperlink Cinema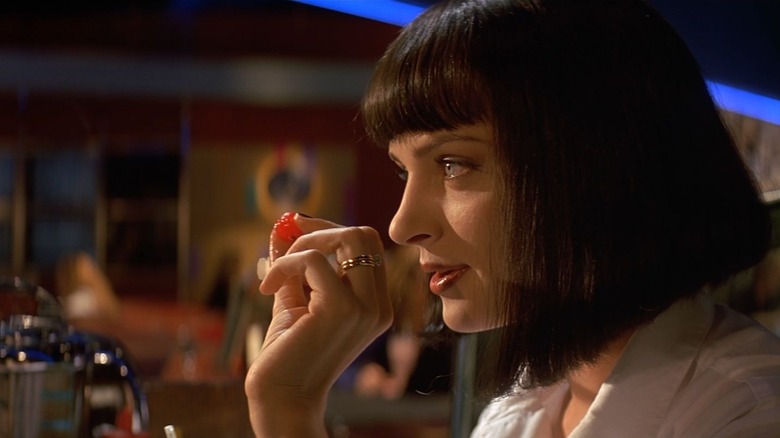 Miramax
As The Artifice notes, so-called "hyperlink" films "are often recognized by an overarching atmosphere or stimulus that actively encourages interconnection." They tell intertwining stories, which is what "Pulp Fiction" does, having the protagonist of one chapter, for instance, show up and die in another character's chapter, then appear alive again in the next chapter as it unfolds in a non-linear manner.
This was both a novel and novelistic approach that strayed from the norm in American cinema. Some years later, in an interview with Rodriguez for his El Rey network (via Showbiz Cheat Sheet), Tarantino confessed that he initially felt uncertain about the structure of "Pulp Fiction" before it became a smash hit and the classic that it is regarded as today. He said, "It didn't seem like a real movie. It seemed like a crazy Quentin movie."
"Hyperlink" can also mean an online link, redirecting you to another page once you click on it. In a way, "Pulp Fiction" does that mentally with all of its references to other movies, one obvious example being when Vincent and Mia are in the Jack Rabbit Slim's restaurant, surrounded by lookalikes, such as a Marilyn Monroe whose skirt blows up as it did in "The Seven Year Itch."
Each reference serves as a kind of door for the cinephile to another chapter of film history: not just Tarantino's filmography, but also the vast web of influences behind it. As we put it in our own 25th-anniversary analysis of "Pulp Fiction," "Tarantino mind-mapped the twentieth century on film."