All The People Who Almost Starred In Mad Max: Fury Road, Ranked From Weirdest To Potentially Awesome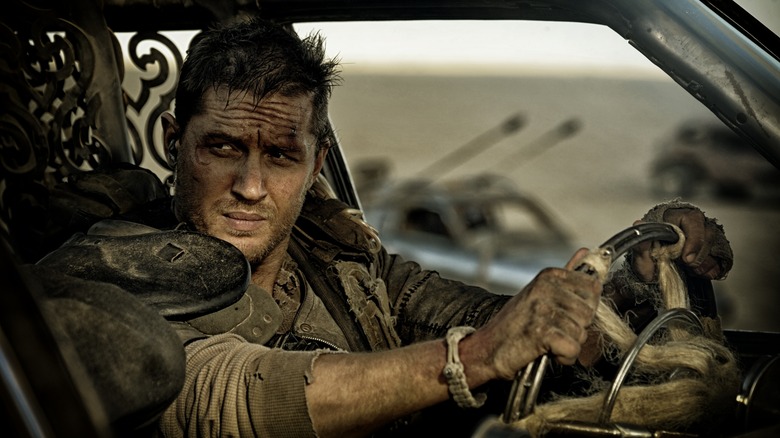 Warner Bros.
"Mad Max: Fury Road" is one of the most heart-pounding, high-adrenaline movies ever made, and its performers have to do a lot of communicating with very little dialogue. That requires a special kind of talent, and someone who's willing to get down and dirty in the desert in order to bring this post-apocalyptic masterpiece to life.
The casting process for writer/director George Miller's film was long and arduous, and eventually audiences saw Tom Hardy as Max and Charlize Theron as Furiosa, but there were some major names in contention before cameras ever rolled. Among them are Michael Fassbender, Gal Gadot, Joel Kinnaman, and even Eminem. In an oral history on the casting process for "Mad Max: Fury Road" that's an excerpt from Kyle Buchanan's book "Blood, Sweat & Chrome: The Wild and True Story of Mad Max: Fury Road," Vulture dug deep into all of the potential road warriors and imperators that could have been. Let's take a look at the wide range of who was almost cast, from the most bizarre to the positively awesome. 
The Weirdest: Eminem as Max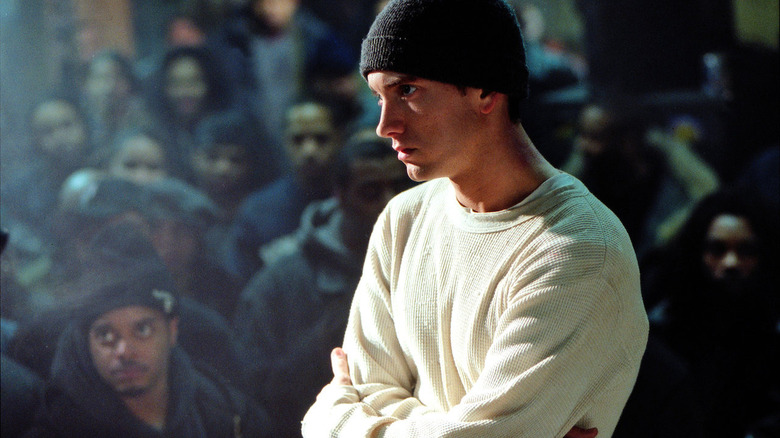 Universal Pictures
You read that right — at one point, Marshall Mathers, AKA Eminem, was among the names thrown around for the role of Max. The lead storyboard artist for "Fury Road" brought it up, and both Miller and production and development executive Petrina Hull confirmed the story. Miller explained:
"He'd done '8 Mile,' and I found that really interesting — I thought, He's got that quality. We'd done the first 'Happy Feet' with the late Brittany Murphy, and she had done '8 Mile,' so I asked her what he was like and would this be something really interesting for him? She had no reservations about saying what a wonderful talent he is."
While they got in touch with Eminem, discussions didn't go very far because of his unwillingness to leave the comforts of home. He was willing to shoot somewhere more local, but at the time "Fury Road" was planned to film in Australia. Later, the shooting location was moved for Namibia, another location a bit too different from Detroit for Eminem to be comfortable. Sexton shared his sentiments about the avoided casting, which weren't particularly kind towards Eminem: 
"I'm kind of glad it didn't happen. Eminem, really? Whole different bent there. And the feminist story behind 'Mad Max: Fury Road' might have taken a bit of a hammering if he'd played the role."
Eminem has come under fire over the years for misogynistic lyrics and attitudes, so Sexton has a point. I also think that while Eminem did a fantastic job basically playing himself in "8 Mile," it would be a bit of a stretch for him to take on the silent cool of someone like Max. 
Weird: Armie Hammer as Max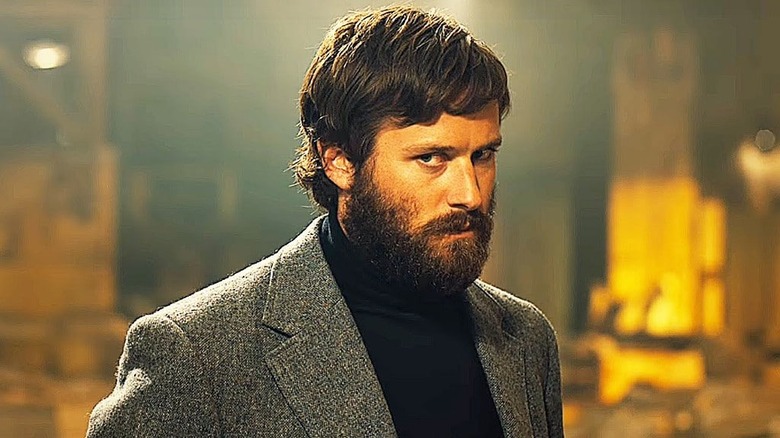 StudioCanal UK
The front-runners who were narrowed down at the end of the long casting process were Hardy, Jeremy Renner, and Armie Hammer. Hammer was starting to become a household name because of roles like "The Social Network" and "The Lone Ranger." Hardy and Hammer apparently read together as part of their audition, and when Hardy "gnashed his teeth and spat at his scene partner, Hammer told Miller that Hardy needed to be Max more than he did."
While Hammer seems like a decent enough choice for Max and has shown that he's capable of playing antihero characters with some panache, he is also an alleged serial abuser. It's impossible to think about his potential casting as a man who saves a crew of abused women from their tyrannical husband with that context, and if he had been cast the movie would now be unwatchable. Like Eminem, this is one avoided casting to be very thankful for. 
Weird: Michael Fassbender as Max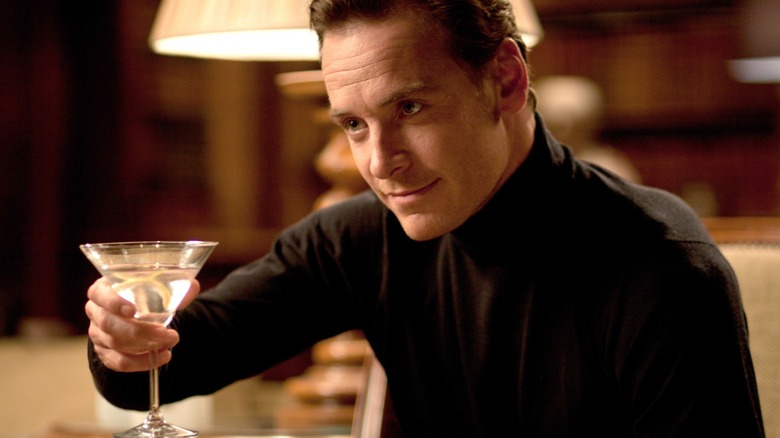 20th Century Studios
Among the early contenders for the role of Max was Michael Fassbender, an Irish actor perhaps best known for his portrayal of young Magneto in the "X-Men" franchise. When "Fury Road" was casting, circa 2009 or so, Fassbender was a hot ticket. He hadn't been nominated for an Oscar for his performance in "12 Years a Slave" just yet, but he was well on his way to being one of the world's biggest stars. While I absolutely love Fassbender as an actor, I don't know if he would have worked as Max. With the exception of his role as a prison rights protester in "Hunger," there's almost always a polished sheen to Fassbender in every role he plays. The idea of him as Max Rockastansky is a fun one, but he just has a completely different vibe than the original Mad Max, Mel Gibson. 
Fassbender is also pretty lanky, and even when he bulks up for more action-heavy roles, he still looks like a string bean. I just can't picture him in any of the various vehicles in "Fury Road" without his elbows and knees all askew. Then again, maybe it would have changed his career trajectory and we wouldn't have had to see him in "The Snowman." 
Weird: Gal Gadot as Furiosa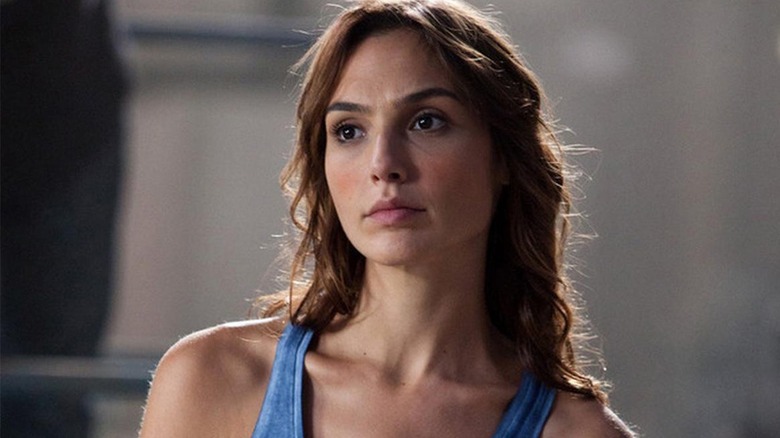 Universal Pictures
Among the finalists for the role of Imperator Furiosa was Gal Gadot, who had not yet been in "Wonder Woman" or "Fast & Furious." She read for the part, as well as for one of the parts of Immortan Joe's five wives, but in the end she didn't feel mature enough to be Furiosa or youthful enough to be one of the wives, according to Miller:
"She tested, and she did incredibly good work — already, you could see that she was very fine. But here's the thing about Gal: We were testing her not just for Furiosa but also for the Wives, and in terms of age, she fell in between."
While Gadot would have no problem with the action-heavy elements of the role, picturing her as a bitter and gruff Imperator is a little odd. One of the things that makes her so great as Wonder Woman is her warm, bubbly demeanor, and trying to reconcile that against Theron's Furiosa performance. Besides, if Gadot had done "Fury Road," the stars might not have aligned for her to take on the role of Wonder Woman, and that would be a genuine shame. 
Weird: Jessica Chastain as Furiosa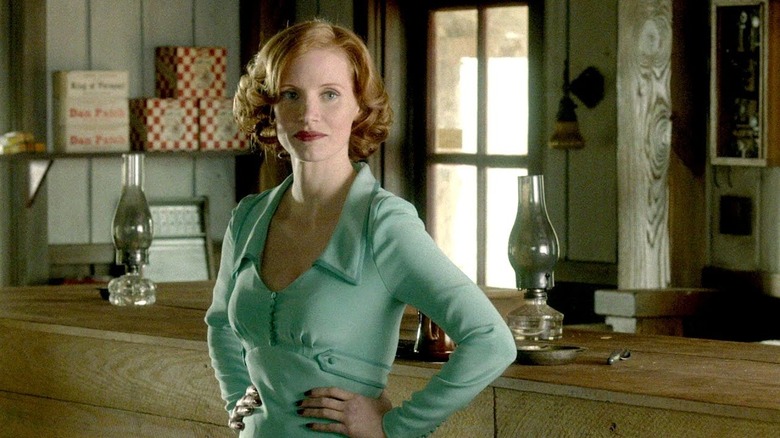 The Weinstein Company
Another potential Furiosa that is just as weird but for different reasons is Jessica Chastain. While the actress absolutely has the chops to take on the high-octane insanity of "Mad Max: Fury Road," she just doesn't look the part of a sun-toasted, oiled-up Imperator. Chastain was likely taken into consideration because of her incredible performances in "Lawless" and "Zero Dark Thirty," though she still maintains a semblance of polish in both that's impossible to deny. Chastain doesn't know how to not look classy, even in war zones and Prohibition-era Virginia. Furiosa was cast after Hardy was cemented as Max, so maybe the casting team were looking to draw on Hardy and Chastain's chemistry from "Lawless."
Either way, Chastain ended up being in Guillermo Del Toro's beautiful Victorian gothic romance "Crimson Peak" in 2015 instead of "Fury Road," and that role suits her perfectly. 
Weird: Jeremy Renner as Max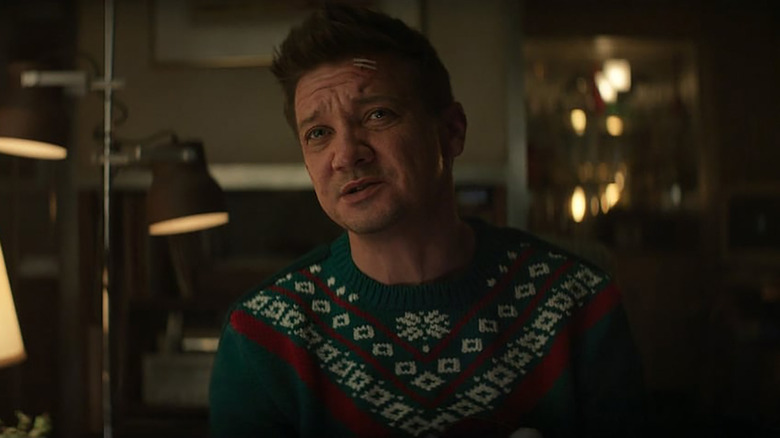 Marvel
Potentially Awesome: Ruth Negga as Furiosa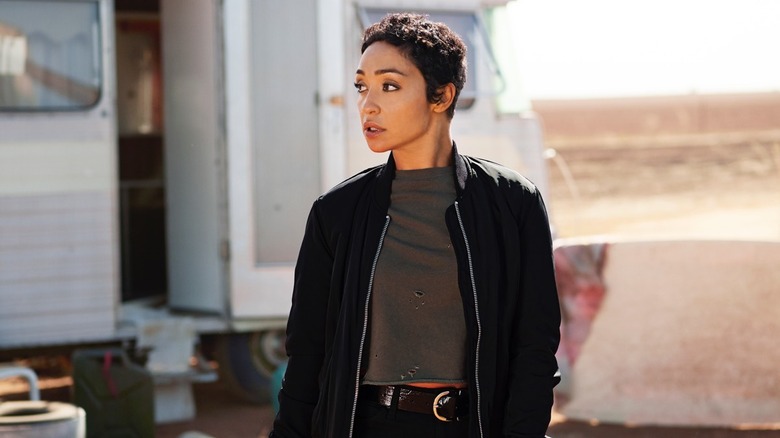 AMC
Imperator Furiosa drives the massive water rig for Immortan Joe, the tyrannical leader of the Citadel, a colony in the post-apocalyptic desert. She's as tough as nails and willing to make the tough choices in order to survive. Ethiopian-Irish actress Ruth Negga played one of my favorite femme badasses ever as Tulip on the AMC series "Preacher," so I know she has both the range and physical capability to take on a role like Furiosa. She was nominated for an Academy Award in 2016 for her role in "Loving," and should have been nominated this year for her performance in "Passing." While I love Theron as Furiosa, Negga is one of the few performers out there who I think could possibly do just as well. Oh well. At least we'll get to see her play historical heroine Josephine Baker in the ABC signature limited series "Josephine."
Potentially Awesome: Gugu Mbatha-Raw as Furiosa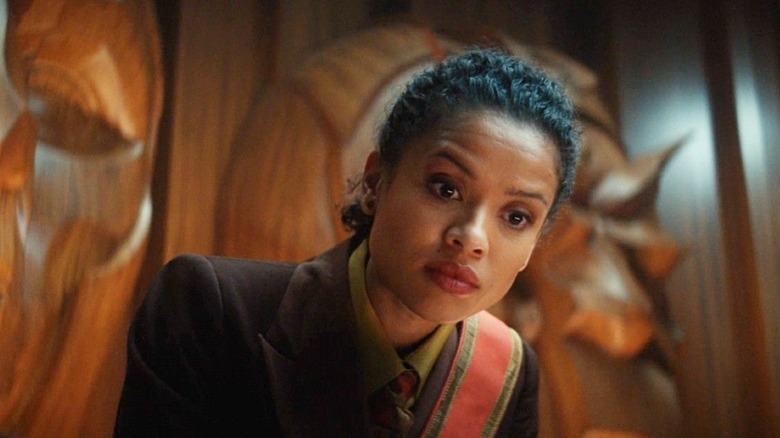 Marvel
Gugu Mbatha-Raw is no stranger to out-of-this-world concepts or characters, and could potentially have been a lot of fun in the role of Imperator Furiosa. The British actress has starred in an episode of "Black Mirror," the 2018 superhero film "Fast Color," "Doctor Who," and even "Star Wars: The Last Jedi" and "Star Wars: The Rise of Skywalker." She's a talented performer who has taken on some seriously strange roles, so playing a post-apocalyptic warrior woman wouldn't be too far out of the question. Mbatha-Raw will appear next in the psychological thriller "The Girl Before," which looks absolutely hair-raising. She will also be back for the second season of the Disney+ series "Loki," so there'll be plenty of her performances to look forward to. 
Potentially Awesome: Joel Kinnaman as Max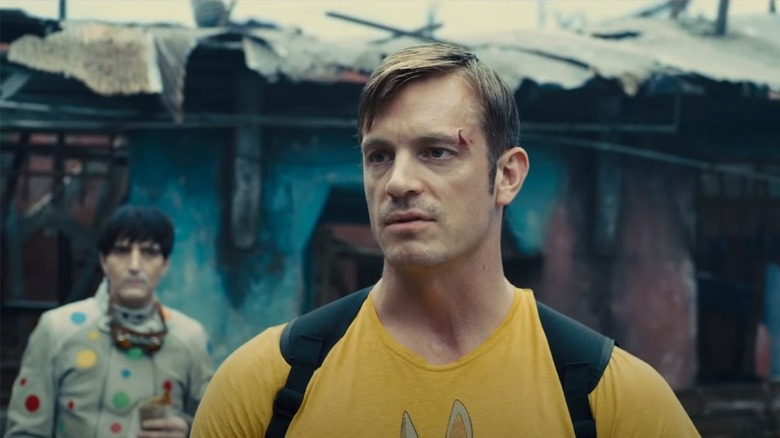 Warner Bros.
While Kinnaman doesn't have quite the ability to communicate via grunts that Hardy has displayed over the years, he's still great at playing a gruff tough guy. Circa 2014 he starred in the "RoboCop" reboot, showing that he could do a fairly stoic performance well even in a less-than-stellar film. He's one of the few likable characters in the 2016 "Suicide Squad" and brings a huge amount of heart to Colonel Rick Flag in the 2021 "The Suicide Squad." The Swedish actor has the look, physique, and grumpy demeanor down pat, so he'd be a decent choice for Max. At the time, Miller wanted to cast someone relatively unknown like he did with Gibson back in 1979, and Kinnaman would have fit that bill in the mid-2010s. If he had taken the role, we might not have gotten his version of Rick Flag, so this one's a little bittersweet either way.
Guaranteed Awesome: Rihanna as One of Immortan Joe's Wives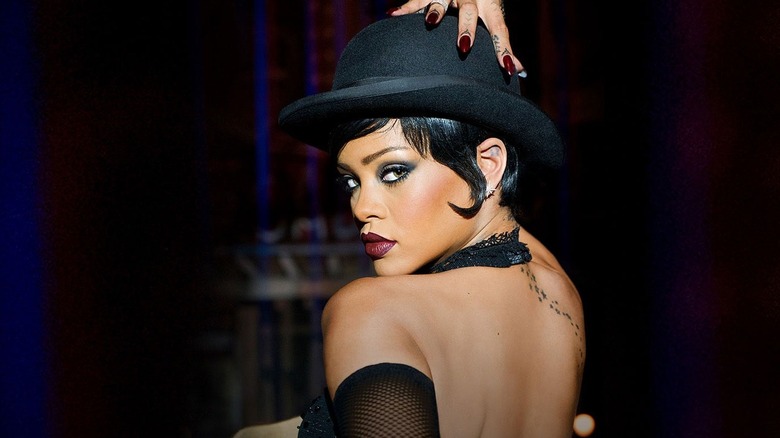 EuropaCorp Distribution
In "Mad Max: Fury Road," Furiosa and Max escape across the desert with five of Immortan Joe's wives. Miller and casting director Ronna Kress began casting for Furiosa, they saw hundreds of potential performers. Among them were future blockbuster superstars like Jennifer Lawrence and Margot Robbie, but one surprising stand-out was Rihanna, already a pop music superstar in her own right at the time. While many actors try to show up in an outfit that will let the director imagine them in the role, Rihanna showed up with all of the glitz and glam she's become known for. Miller explained:
"Usually, actors turn up dressed very casually, but boy, Rihanna looked spectacular when she walked in. I'm not sure she was even aware of the content of the movie, so she dressed up as Rihanna, which was the right thing to do.
Rihanna has done a few movie roles, notably in "Valerian and the City of a Thousand Planets" and "Ocean's 8," and she stole the screen in every scene she was in. (While that's understandable for the epic slog of "Valerian," it's impressive in the absolutely stacked "Ocean's 8.") Rihanna makes everything better, including a Mad Max movie. 
Guaranteed Awesome: Heath Ledger as Max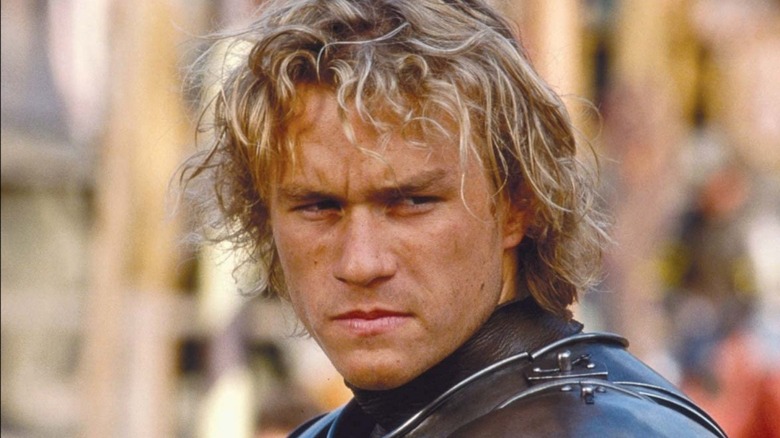 Columbia Pictures
This one hurts. 
The person that Miller had in mind for Max from the beginning was fellow Australian Heath Ledger, who had starred in films like "A Knight's Tale" and "10 Things I Hate About You" before shocking everyone with his performance as the Joker in Christopher Nolan's "The Dark Knight." The Mad Max movies have always been distinctly Aussie, and casting an Australian as the new Max made all of the sense in the world. What's more, he had proved that he could take on just about any role, and with dark hair, would have looked perfect in the part. At that point he had even been nominated for an Oscar for his role as a gay cowboy in the 2006 Ang Lee film "Brokeback Mountain" Tragically, Ledger died in 2008, cutting his already incredible career short. 
Miller shared his sentiments about Ledger, who sounds as if he would have been on board for a Mad Max movie:
"The person who was foremost in my mind was Heath. Every time he'd come through Sydney, he'd pop in and we'd talk generally about things and then we started to talk about Mad Max. We lost him, which was such a pity — not for Mad Max but because he was an exceptional person. He had a very powerful sense of inquiry and was amazingly humble."
Ledger is still deeply missed, and it's a real shame that we never got to see him in this absolutely perfect role.