Horror Legends Whose Deaths Deserved More Attention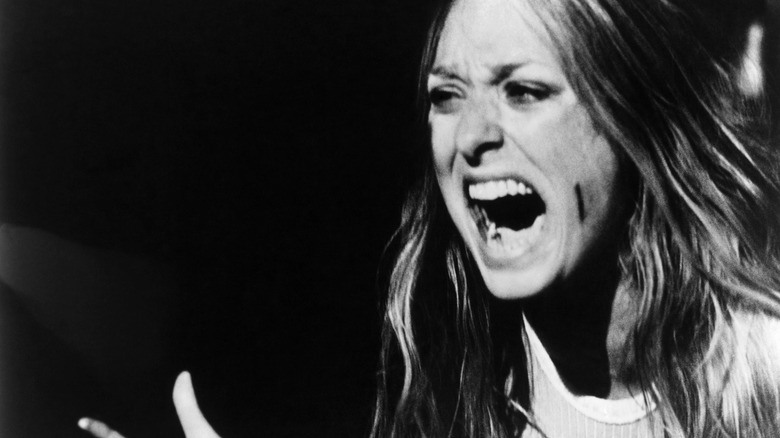 Vortex
Horror fans and the world at large recently mourned the loss of gothic fiction author Anne Rice, dubbed "The Modern-Day Queen of Vampires" here at /Film. Odes to her influence on pop culture speak to the novelist's incredible impact. Filmmaker and Godfather of the Zombie Film George A. Romero received full cinephile honors upon his passing in 2017, where fans eulogized his contributions to the horror genre via his "Dead" movies and more. But anyone who watches the annual entertainment awards shows knows that not everyone gets their due flowers or even an appropriate farewell from the industry they helped grow. 
Some genre legends don't make the In Memoriam reels, though their names should be on every movie lover's radar. The deaths of notable genre actors like frequent Rob Zombie collaborator Sid Haig (who also stars in the Maddest Story Ever Told, Jack Hill's "Spider Baby"), veteran character actor and "Black Christmas" alum John Saxon, and Leatherface himself, Gunnar Hansen (of "The Texas Chain Saw Massacre") made headlines over the past decade, as well, with many rightfully pointing out their contributions to the genre. Their incredible work deserves more widespread recognition, and we're here today to highlight the careers of other lost — but nonetheless unforgettable — horror luminaries.
Chuck Fries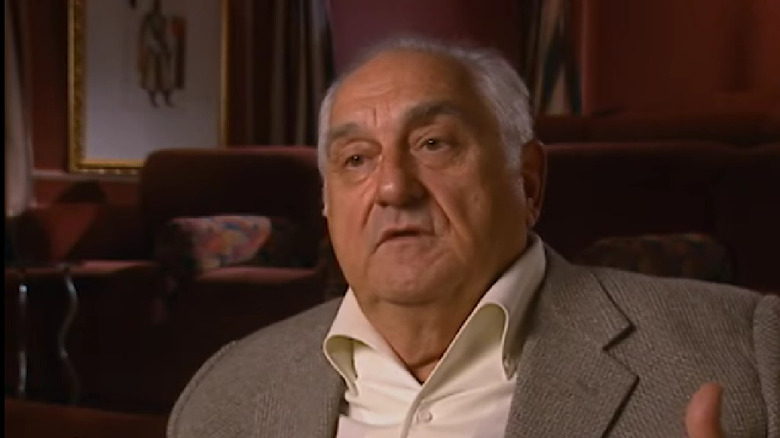 Archive of American Television
Prolific producer Charles W. Fries was responsible for many horror gems from the '70s and '80s that are finally getting a new audience thanks to streaming. Born to a grocer in Cincinnati on Sept. 30, 1928, Charles William Fries later graduated from Ohio State University before landing his first LA gig in 1952 as an accountant at Ziv Television, where he made $100 a week. After stints at Screen Gems and Metromedia Producers Corp., he launched his own production company in 1974, and the rest was history. 
During a 25-year span through the latter half of the 20th century, Fries, who was also known as the "Godfather of the TV Movie," was constantly churning out quick-fire films and juicy afterschool specials for the small screen. He shaped productions that would become cult television hits including a pre-"Euphoria" 1973 teen drama adaptation of "Go Ask Alice," and hazing horror "The Initiation of Sarah," which hits like "Carrie" with its telekinetic teen outcast. The films were usually produced through his Charles Fries Productions label, which THR produced or supervised over 275 hours of telefilms, miniseries and series before his death in April of 2021, at the age of 92. 
On the big screen, Fries was behind everything from Paul Schrader's 1982 gem "Cat People" to Christian Duguay's 1995 sci-fi horror "Screamers." Those looking for an introduction need look no further than the pre-"Creepshow" 1970s Amicus anthologies "Tales From the Crypt" and "The Vault of Horror." Picture a killer Santa dishing out comeuppance to a gold-digging housewife, or a magic rope getting revenge on behalf of its owner, and that's what kind of ride you're in for with just one of Fries' enchanting contributions to the genre.
Cleve Hall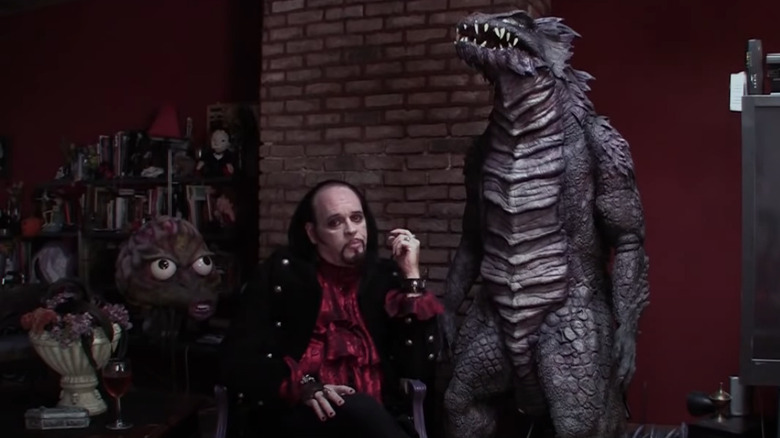 Cleve Hall/YouTube
Special effects makeup artist Cleve "Monster Man" Hall was both a staple in FX and a northern star in goth subculture. On a given day in LA, you might catch him cruising around in his cherished 1961 Cadillac S&S Victoria Hearse, inspired by his lifelong love of Hal Ashby's 1971 cult classic (and treasured goth artifact) "Harold and Maude." Born on June 22, 1959, Hall developed an intense interest in the horror genre, leading to an extensive career in practical effects work. He worked on way too many movies to list here, but the grim highlights include operating the titular sewage creatures in 1985's "Ghoulies," sometimes considered the nose-picking cousin of "Gremlins." He followed that up with a hat trick of low-budget, high-entertainment horror and sci-fi hits "Re-Animator," "Troll," and "TerrorVision" in 1986. For the brave and the bold, the nastiest gem of Hall's career would be the 1981 slash fest "Nightmares in a Damaged Brain." The movie contained so much blood and dismemberment that it was dubbed a "Video Nasty" in the U.K., and thus pulled from video store shelves. Truly, a fine achievement for any FX master. 
In 2012, Hall got his own reality show on the SYFY Channel called "Monster Man," which followed Hall and his family as he worked on projects like "2-Headed Shark Attack" and "Big Ass Spider!." Beyond the movies, he made an impact behind the scenes of rock 'n roll royalty, crafting props for horror-inspired musical acts like KISS, including Gene Simmons' demonic-looking chest pieces. You could even say that Hall's work for the band inspired the rumor that KISS stands for "Knights in Satan's Service." 
Hall worked outside of the genre a fair bit, earning a Daytime Emmy nomination in 2008 for his costume design on the beloved children's musical series "Yo Gabba Gabba!." He even played a kaiju, donning the goofy Godzilla suit in "Pee-wee's Big Adventure," arguably the best place for horrorphobes to see his work. Monster Man died in April 0f 2021, at the age of 61.
Marilyn Burns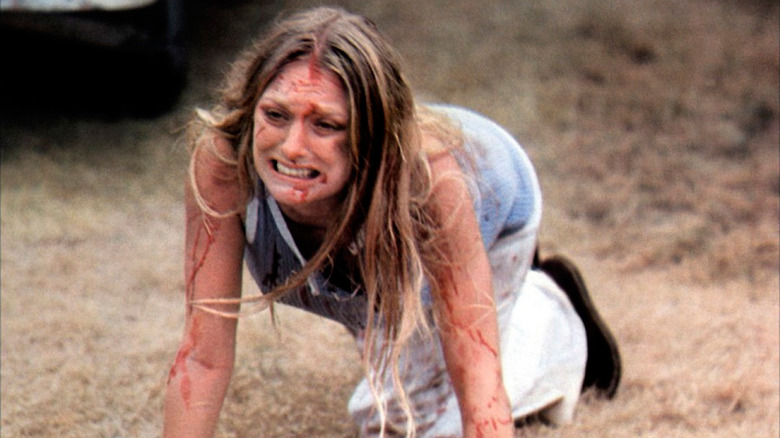 Vortex
Those watching the new "Texas Chainsaw Massacre" on Netflix will see the return of legacy character Sally Hardesty, who was originally played by Marilyn Burns in Tobe Hooper's 1974 game changer "The Texas Chain Saw Massacre." In her first leading role, Burns crossed paths with the iconic slasher, Leatherface, and lived to tell the tale — although her character was mad as a hatter by the time the credits rolled. 
She went through hell and put herself through the wringer for that performance. In the documentary "The Texas Chain Saw Massacre: A Family Portrait," she reportedly requested to really be hit during her torture sequences, and even cut her hand on a prop knife. That's right, Burns bled for the movie. Marilyn Burns' Sally Hardesty joins Jamie Lee Curtis' Laurie Strode from the "Halloween" movies and Olivia Hussey's Jess Bradford from "Black Christmas" as one of the original Final Girls, and will always have a high place in the slasher pantheon. 
Marilyn Burns' death in 2014 prevented her from reprising the role of Sally in David Blue Garcia's new "Chainsaw" movie, and so Olwen Fouéré was cast in her stead. While it will be wonderful to see Mother Marlene from "Mandy" go blow-for-blow with the Sawyer Family, it's fair to note that Burns brought a doe-eyed energy to her performance that takes the movie up to 11. 
For an underseen Burns performance, check out Tobe Hooper's 1977 low-budget gem "Eaten Alive," which was loosely based on serial killer Joe Ball. Burns plays a bright mom with a bad wig named Faye whose family falls victim to another backwoods butcher played by a different genre giant, Neville Brand. In both, Burns' feverish screams add a layer of delirium to their respective showdowns, really bringing home the fact that modern queens Sidney Prescott (of the "Scream" movies) and Maya from the Indonesian horror jam "Impetigore" owe a tip of the hat to their sister-in-survival.
Giannetto De Rossi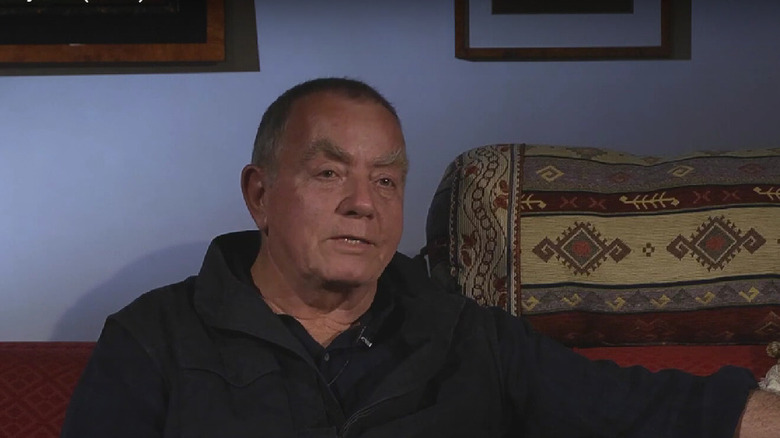 Aquarius Releasing
If you've ever been thoroughly grossed out by an Italian Video Nasty, chances are you have Giannetto De Rossi to thank for the nightmare fuel. Prior to his death in 2021 at the age of 79, De Rossi earned his legendary status in horror makeup and special effects by working with a murderers' row of acclaimed directors including Sergio Leone and Federico Fellini. 
On the horror side, the Roman artist first began with director Lucio Fulci, who was impressed with De Rossi's work on Joe D'Amato's erotic film "Emanuelle in America," which dove into the world of snuff films. De Rossi's next project was Fulci's gruesome ode to the undead, "Zombi 2," featuring incredible practical effects like eye-gouging, throat chomping, and an epic underwater fight between a zombie and a shark. 
De Rossi later worked on two films in Fulci's Gates of Hell trilogy. The first was "The Beyond," featuring a zombie child's head being blown off, which naturally put another feather in Fulci's piss-off-the-censors hat. Next was the jugular-stabbing, eye-piercing gore-fest, "The House by the Cemetery." Later projects include David Lynch's "Dune" in '84, Peter MacDonald's "Rambo III," and he even designed the Dagoth monster getup for Andre the Giant in "Conan the Destroyer." A great entry point for new fans would be Alexandre Aja's 2003 New French Extremity picture, "High Tension," in which De Rossi created some of the best SFX of his career. Anyone who has seen that gnarly head-lopping sequence or the spurting throat garroting in Aja's film should raise a bloodstained glass for the late maestro.