'Night Of The Living Dead' Director And Horror Legend George Romero Dead At 77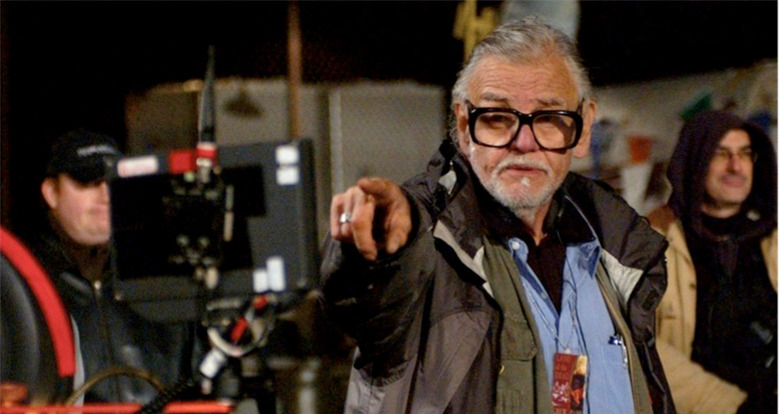 George A. Romero, the director of Night of the Living Dead, Dawn of the Dead, and Day of the Dead, has passed away at the age of 77. The creator of the modern zombie movie, the often imitated but never matched filmmaker still looms large as one of the most important horror filmmakers of all time.
According to a statement released by his longtime producing partner, Peter Grunwald, Romero died in his sleep following a "brief but aggressive battle with lung cancer." He was listening to the score for his favorite movie, John Ford's The Quiet Man, and was with his wife, Suzanne Desrocher Romero, and his daughter, Tina Romero, at the time of his passing.
Born on February 4, 1940 in New York City, Romero's first film as a director sent shockwaves through the genre movie world that are still being felt to this day. Shot in black and what and on a small budget, 1968's Night of the Living Dead helped set the template for the modern independent horror movie – a young and hungry filmmaker pulls himself up his bootstraps and makes a scary, smart, and relevant experience. The film created an entire new subgenre of horror, inspiring blatant imitations and respectful odes to this day. The success of The Walking Dead on AMC began with Romero's contributions to the mere concept of the cinematic zombie.
Romero remained outspoken about the horror staple he helped create, later saying of The Walking Dead: "Basically it's just a soap opera with a zombie occasionally. I always used the zombie as a character for satire or a political criticism, and I find that missing in what's happening now."
Night of the Living Dead used a zombie apocalypse as a background for simmering chamber piece about racial tension and features one of the horror genre's first great, black heroes, played by the fierce Duane Jones. His politically tinged zombie tales continued with 1978's Dawn of the Dead, which took on America's commercialism with the force of a crowbar to an undead skull, and 1985's Day of the Dead, which drips with despair and paranoia as it explores the apocalypse from a military bunker.
Romero found it difficult to separate himself from the genre he popularized and his later zombie movies find him attempting to find something new to say while treading turf that even he admitted was familiar. 2005's Land of the Dead, 2007's Diary of the Dead, and 2009's Survival of the Dead are more interesting than most zombie movies, sometimes feeling more like bold (and sometimes not successful) experiments.
Even when he wasn't tackling the undead, Romero continued to build his career on horror. 1973's The Crazies is a another politically charged horror tale and 1982's Creepshow (the first and not the last time he would work in the world of author Stephen King) remain well-regarded One of his few non-horror films has earned a devoted cult following – 1981's Knightriders, about a medieval reenactment troupe, has received acclaim in the decades since it came and went in theaters.
Even if George Romero just made the first modern zombie movies and created a formula that would be repeatedly borrowed and reinvented for 50 years, he'd be remembered as a horror icon. But George Romero did all of that while making thoughtful, funny, scary, and relevant movies that wielded shock factor like a fine blade. His work was pointed and political, even as it was inspiring generations of moviemakers, make-up artists, and monster fans. His thumbprint lurks on film and television, clear as day to anyone with access to a movie theater or a television. He will be missed.