Clips Round-Up: Luke Wilson Visits Gasoline Alley, Matthew Gray Gubler Is King Knight & More! [Exclusive]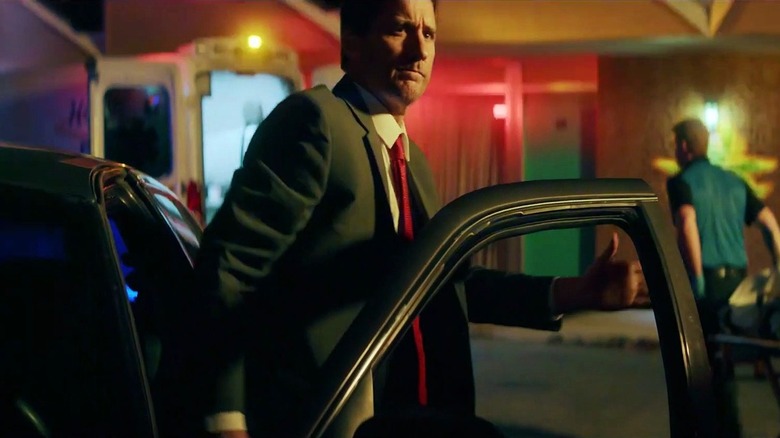 Saban Films
(Welcome to SlashClips, a series where we bring you exclusive clips from hot new Digital, Blu-ray and theatrical releases you won't see anywhere else!)
In this edition:
Gasoline Alley
King Knight
Run & Gun
Gridlocked
Gasoline Alley
First up is an exclusive clip from the action thriller "Gasoline Alley." The film stars Devon Sawa, Bruce Wilson and Luke Wilson, and will be released in theaters and on demand on February 25, 2022. The clip features a tense conversation between Wilson and Sawa.
Here is the official synopsis:
Bruce Willis, Luke Wilson and Devon Sawa star in the chilling story of a savage Hollywood murder set in present day Los Angeles. Jimmy Jayne (Sawa), a reformed ex-con, is the prime suspect who will stop at nothing to prove his innocence. Homicide detectives Freeman (Willis) and Vargas (Wilson) are close on his tail as Jimmy takes on his own investigation, risking his life in the dark underbelly of L.A.
King Knight
Next up is the comedy horror film "King Knight," which stars Matthew Gray Gubler, Angela Sarafyan, Andy Milonakis, and Kate Comer. It will hit select theaters, digital, and on demand February 17, 2022.
Here is the official synopsis:
Thorn (Criminal Minds' Matthew Gray Gubler) and Willow appear to have it all as the revered high priest and priestess of a coven of new age witches. But a secret from Thorn's past throws their lives into turmoil and sends them on a trippy, hilarious journey.
Run & Gun
The action thriller "Run & Gun" stars Ben Milliken, Brad William Henke, Janel Parrish, Mark Dacascos, and Richard Kind. It arrives on digital February 15, 2022, then on DVD and on demand March 1, 2022.
Here is the official synopsis:
After leaving a life of crime and violence, Ray is a reformed good guy, enjoying a quiet family life in the 'burbs. But when his past is discovered, Ray is blackmailed into one last job to collect a mysterious package. After a deadly double-cross, he finds himself wounded and on the run from ruthless assassins who will stop at nothing to get what he has. Now, with the lives of his loved ones hanging in the balance and danger at every turn, Ray's only hope is to draw upon his violent past to survive.
Gridlocked: On Tour With The Briggs'
Finally here's a clip from "Gridlocked: On Tour With The Briggs," a punk rockumentary that releases on demand February 15, 2022 from Gravitas Ventures.
Here is the official synopsis:
From writer-director Kevin James Barry ("Among Them", "Serena and the RATTS"), the pic "GRIDLOCKED" follows the Los Angeles-based punk rock band through their ten day tour of the west coast with personal interviews with the band's frontman, Joey LaRocca. From Joey's engaging perspective, the film explores the sometimes harsh and other-times intensely rewarding lifestyle of musical artists. Joey must navigate a musical career that fell short of his youthful expectations as it collided with the realities of maturing and gaining family responsibilities. The story culminates, in what may be the final tour with the band that he loves, with the realization and acceptance that life doesn't always play out as planned.