Billy The Kid Trailer: The Short Life Of An Outlaw Comes To Epix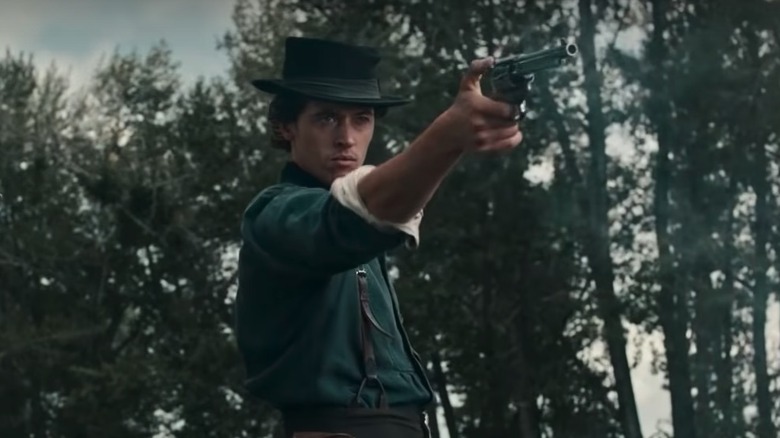 Epix
A new retelling of the life of Billy the Kid is coming to Epix. The story of the famous wild west outlaw will hit the channel on April 24, 2022. The show is coming to us from someone who has a history with, well, history. "Billy the Kid" was written by Michael Hirst who created "Vikings" and "The Tudors." As a fan of "The Tudors" who really enjoyed (and this is not at all sarcastic) yelling at the screen because of historical inaccuracies, it's likely going to focus more on story than facts. Just speculation, of course, but I'm okay with it.
The series stars British actor Tom Blyth ("The Gilded Age," "Benediction") and Daniel Webber ("The Dirt," "Escape from Pretoria"). It's not likely to be a long series, as the real life gunslinger Billy the Kid only made it to the age of 21. He lived from either September 17 or November 23, 1859 until July 14, 1881. The real Billy had quite a run in his short life, killing eight, or maybe 11 people, depending on the reports.
Billy's life has been depicted in a whole lot of films including "Pat Garrett and Billy the Kid," where he was played by Kris Kristofferson, "Young Guns," where he was played by Emilio Estevez, and my personal favorite, "Bill & Ted's Excellent Adventure," where he was played by Dan Shur.
Billy the Kid Trailer
The trailer shows us that we're getting the whole story, with the first chunk of it (almost a full minute) dedicated to Billy's tragic childhood, moving West with his family, and losing important people in his life. 
Here is the official synopsis for "Billy the Kid:"
The eight-episode season comprised of hour-long episodes is an epic romantic adventure based on the life of famous American outlaw Billy the Kid (Blyth), also known as William H. Bonney – from his humble Irish roots, to his early days as a cowboy and gunslinger in the American frontier, to his pivotal role in the Lincoln County War and beyond. Webber will play Jesse Evans, another famous outlaw and leader of the Seven Rivers Gang. When they meet, Jesse has already embraced a life of crime: robbing stores and cattle rustling. Billy is attracted to his wild and reckless character and becomes Billy's doppelganger of sorts – his shadow self, forever inviting him over to the dark side of life.
"Billy the Kid" is executive produced by Hirst, Donald De Line for De Line Pictures, Darryl Frank and Just in Falvey for Amblin Television, Otto Bathurst, and Toby Leslie for One Big Picture.