The Best Films To Stream During Black History Month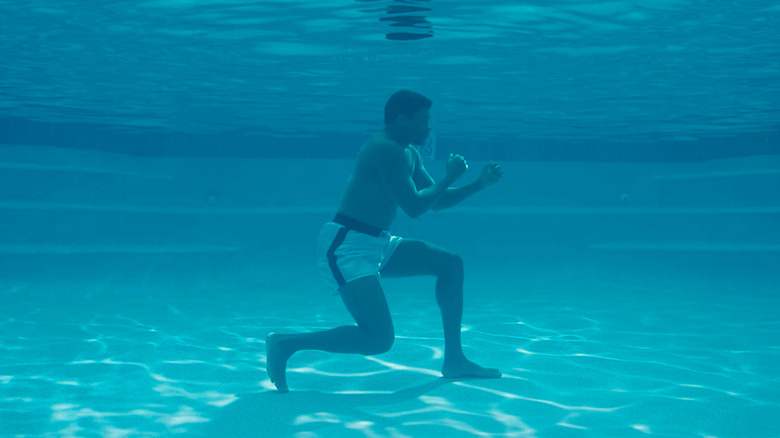 Amazon Studios
Make no mistake: Black filmmakers deserve to be celebrated all year-'round. That said, it can still be fun to focus on Black-led films in the month of February. Black History Month gives us all the chance to discover artists that normally wouldn't be as accessible as others in the "mainstream" — and it provides this writer with the perfect excuse to push her "Black Films Deserve Better" agenda.
While you may feel prompted to revisit the more textbook examples of Black Life on Film, there's so much more to experience (and enjoy) in other lesser-known movies, and they're not as difficult to find as you may think. To make things a bit simpler, let's take a look at some of the best (or at least my personal favorite) films about Black life that you'll find streaming on a number of sites this month.
I Am Not Your Negro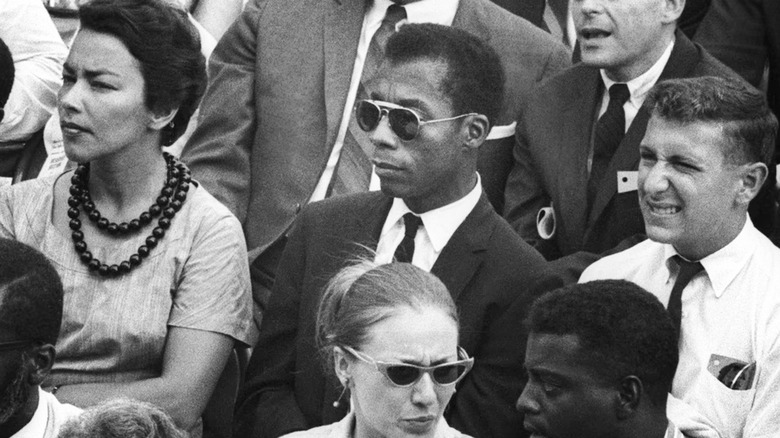 Amazon Studios
It doesn't get much better James Baldwin. He understood the role of the Black man in America better than anyone — but that doesn't mean he outright accepted it, either. "I Am Not Your Negro" is a culmination of Baldwin's shrewdest observations about "the Negro problem." It covers a surprising amount of ground, focusing at times on Baldwin's relationship to Medgar Evers, Malcolm X, and Martin Luther King, Jr. — three civil rights leaders who were all assassinated, one after the other, over a period of five years. It also provides a pretty comprehensive timeline of the image of the Black man in film, and it's here that "I Am Not Your Negro" really works best. It's an excellent springboard into the films (and filmmakers) that helped change public perception during the civil rights era, and a solid way to acquaint yourself with one of the greatest writers of his generation.
Where to Stream: Hulu, Netflix, Amazon Prime
Brown Sugar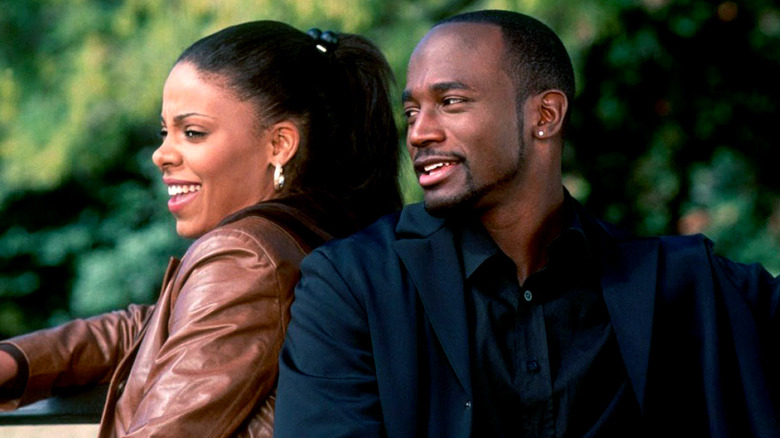 Searchlight Pictures
A quintessential feel-good Black film usually boasts at least one of the following: a killer soundtrack, effortless story, or (hopefully) Queen Latifah. Lucky for us, Rick Famuyiwa's hidden gem "Brown Sugar" was blessed with all three. Black films are often plagued by comparisons to films of a less-diverse persuasion. But Famuyiwa, known as much for his genre-bending coming-of-age flick "Dope" as his work on "The Mandalorian," injects this 2000s rom-com with enough personality to beat the "When Harry Met Sally" allegations.
Sanaa Lathan and Taye Diggs put their time-tested chemistry to work as two hip-hop-ardent professionals (and best friends) living in New York and trying their darnedest not to fall in love with each other. Spoiler: their efforts, while hilarious, will be fruitless — but it's major fun to watch their tug of war between each other and the supporting cast, rounded out by Latifah, Mos Def, Nicole Ari Parker, and Boris Kodjoe.
Where to Stream: HBO Max
No Way Out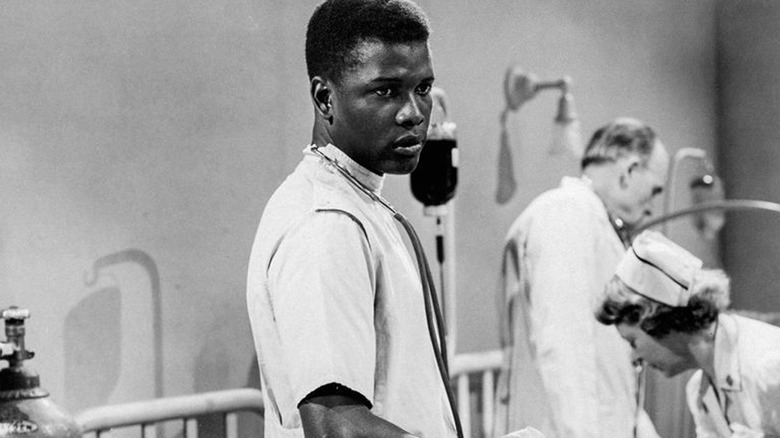 Twentieth Century Fox
The late (and unquestionably great) Sidney Poitier was an actor who became synonymous with unwavering dignity, so it should come as no surprise that he embodied that virtue as far back as his debut in Joseph Mankiewicz's "No Way Out" from 1950. The film is obviously written and directed by a white man and produced by white men, too — which is what makes its clear-eyed rebuke against racism such a refreshing shock for the time period.
"No Way Out" follows Poitier as Luther Brooks, the only Black doctor working in the prison wing of a hospital. Brooks is treating two brothers — one on death's door, the other unabashedly racist — who've both been shot after a failed heist across town. When the former dies mid-treatment, the latter immediately accuses Brooks, who has to fight tooth and nail to prove his innocence.
Where to Stream: The Criterion Channel, Pluto TV, Tubi
The Watermelon Woman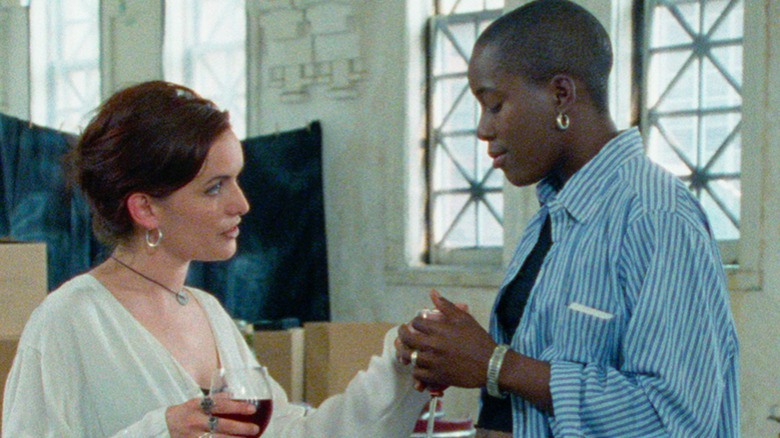 First Run Features
The grungy, lived-in style of the MTV era is on full display in "The Watermelon Woman." Filmmaker Cheryl Dunye plays a fictionalized version of herself as she attempts to track down her latest fixation: a Black actress from the 1930s who may or may not have been a lesbian like herself. Between enlightening research expeditions and hangouts with her friends, Cheryl moonlights at a video rental store. It's there that she meets Diana and incidentally sparks a romance, not unlike the one that The Watermelon Woman, Fae Richards, shared with a female filmmaker in the '30s. 
"The Watermelon Woman" blurs the lines between what you hope is real and what has been created for the narrative. The result is a wistful, grounded tale about erasure and intersectionality. It was also the first narrative feature directed by a Black lesbian.
Where to Stream: Showtime
Miss Juneteenth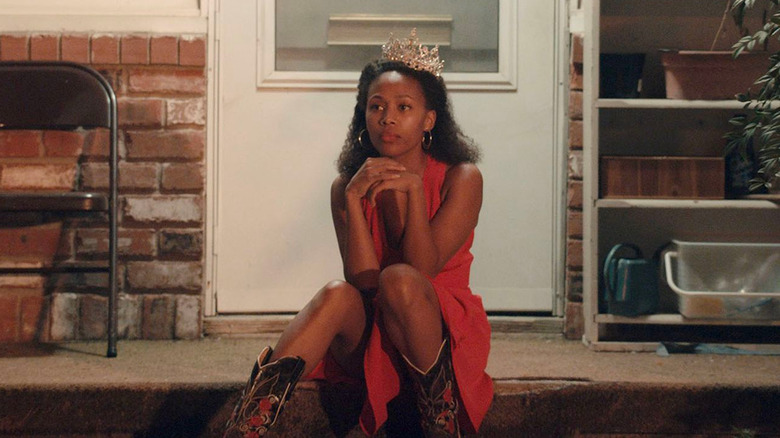 Vertical Entertainment
For Black women (and often the Black community in general) a victory of any capacity doesn't belong solely to the recipient. It's often shared with those who came before: mothers and grandmothers and great-grandmothers who sacrificed to make life better for the next generation. It's this, and so much more, that Channing Godfrey Peoples' debut addresses perfectly. "Miss Juneteenth" follows Turquoise Jones (the always-stellar Nicole Beharie), a former pageant queen and single mother, and her daughter (Alexis Chikaeze), who Turquoise hopes will claim the Miss Juneteenth crown just as she once did.
The Miss Juneteenth pageant is actually a real event, one created (in conjunction with the Juneteenth holiday) to celebrate Black women apart from a eurocentric gaze. While it's the focal point of the film, the heart of it lies in its tender mother-daughter bond and the abandoned dreams that parents project onto their children.
Where to Stream: Roku, BET+
One Night in Miami...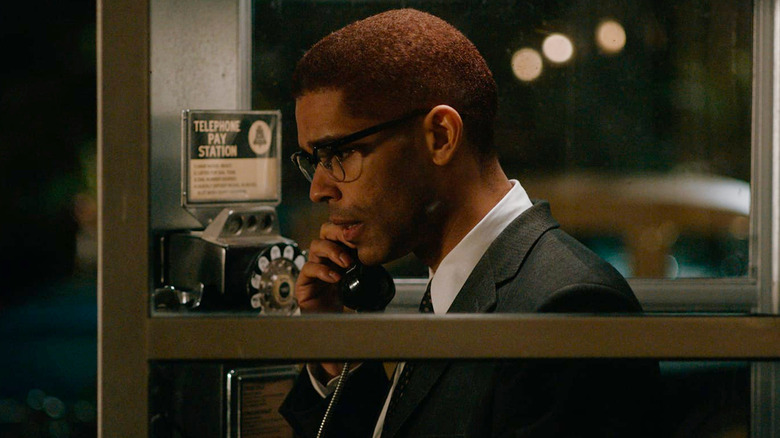 Amazon Studios
"Malcolm X, Muhammad Ali, Sam Cooke, and Jim Brown check into a hotel room" honestly sounds more like the setup of an outdated joke than the premise of a film. But Regina King's directorial debut, based on the play of the same name by Kemp Powers, casts a beautifully rendered "what if" on a scenario that truly happened in real life. Some may find its clear "this was a play" structure a bit too pedestrian for the big screen, but "One Night In Miami" still stands out as a perfect commentary on Black life in the public eye, and the responsibility that Black men — not just celebrities — still carry to this day.
Where to Stream: Amazon Prime
Lover's Rock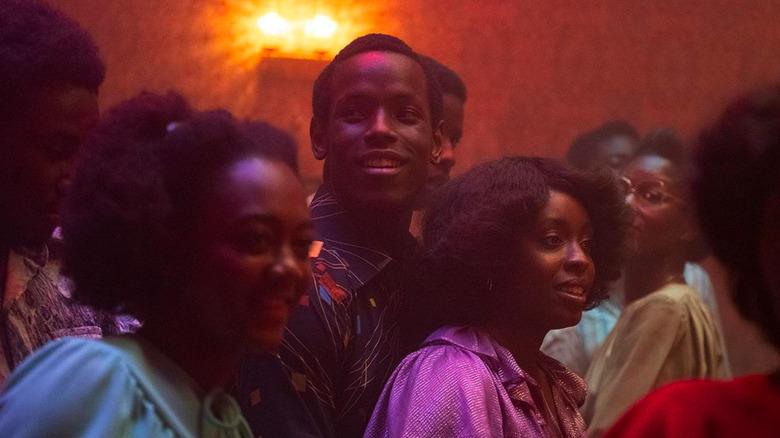 Amazon Studios
Steve McQueen's "Small Aze" series — a five-part film anthology that follows the West Indian diaspora in post-Windrush London — inherently tackles some heavy subject matter. This is, after all, the passion project of the filmmaker responsible for "12 Years A Slave." But "Lovers Rock," the second installment of the series, is a love story at its core, one nestled within the familiar (to some) embrace of a late-night blues party. With its perfect needle drops (I, too, scream at the top of my lungs whenever I hear Carl Douglas's "Kung Fu Fighting") and flawless balance between intimate slow dances and reggae-fueled mosh pits, "Lovers Rocks" feels like as much of an escape for us as it must for its subjects.
Where to Stream: Amazon Prime
Attack the Block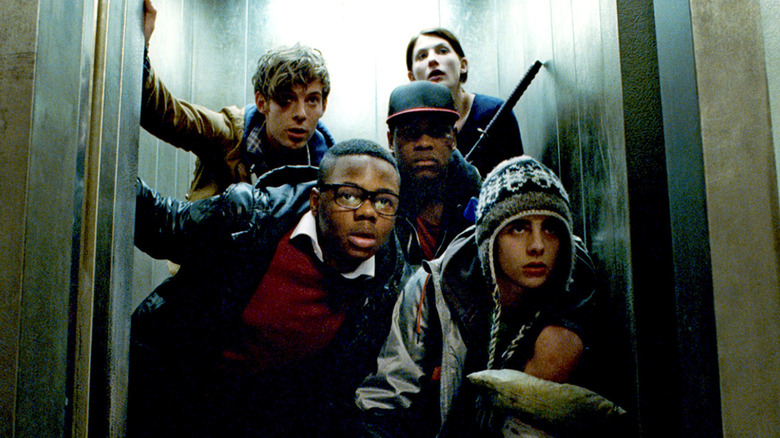 Film4
A young woman walks home alone down a dimly-lit street. She's walking fast, on the phone with her mother — she's pretty much doing everything she can to prevent a threatening altercation. But it's almost inevitable; she becomes the target of a mugging anyway. A group of thugs pilfer her goods, but she manages to get away. It's a strong opening for a film, but it's made stronger when you realize that the thugs in question are not only kids — their leader is just shy of 16 — they're actually the heroes of this story.
"Attack the Block" follows Moses (John Boyega in his breakout role) and his gang as they attempt to fight off an alien invasion going down in the heart of their South London estate. Their bloody adventure is reminiscent of films like "The Goonies," "Boyz n the Hood," even "Shaun of the Dead." But its inventive sci-fi-horror world, and the fully-fleshed characters that occupy it, make this film a standout in any of the genres it borrows from.
Where to Stream: Starz, Roku
School Daze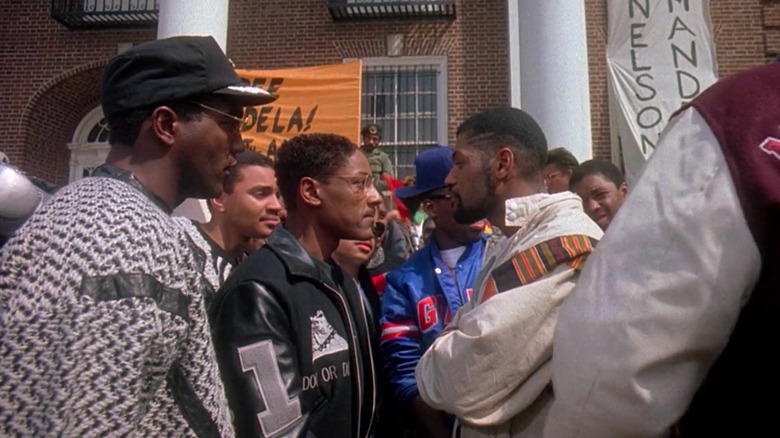 Columbia Pictures
In his second-ever feature, you can really see the seeds of Spike Lee's signature style begin to take root. There's that honest (and yes, confrontational) social commentary, a fair amount of visual flourishes ... even a musical number or two. Lee's technical skill is on display in fits and starts here, which makes "School Daze" feel ahead of its time in more ways than one. It's a film that has a lot to say about how colorism and college life (especially that of the Greek variety) affects the Black community. If Lee had helmed this film later in his career, there's no doubt it'd be one of the gems of his oeuvre. As a cohesive narrative, it's not all the way there, but I love the director's take on the irreverent college romp and all the wacky characters on campus. I'm especially obsessed with the football coach who clearly missed his calling as a preacher and, as a result, delivers pregame pep talks that savor strongly of Sunday morning sermons.
Where to Stream: Tubi
Little Woods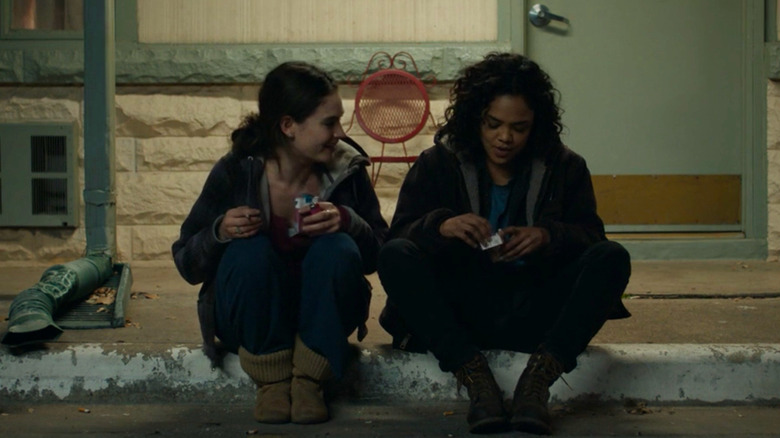 Neon
I'm not a massive fan of the Western. In fact, I'll typically avoid films in that genre if I can. But more and more I've found myself drawn to its more-accessible successor, the neo-Western, and its growing focus on the stories of women of color. "Little Woods" was one of the first within the subgenre that really appealed to me. The film follows Ollie (Tessa Thompson), who used to be the pharmaceutical-smuggling savior of her North Dakota town. She was caught hopping the border between the U.S. and Canada, and since then has been living out her days on probation, trying to turn her life around. When her estranged sister (Lily James!) asks for help with an unplanned pregnancy, Ollie is tempted to pick up her old side hustle, but it puts her new opportunities at considerable risk.
In anyone else's hands, "Little Woods" could have steered closer to a cautionary tale against the trappings of greed or drug trafficking, one that denies a happy ending (or even a fresh start) for its protagonists. But Nia DaCosta ensures that we remain, always, on the side of the women telling the story.
Where to Stream: Hulu