Tokyo Vice Trailer: Michael Mann Directs The Pilot For New HBO Max Series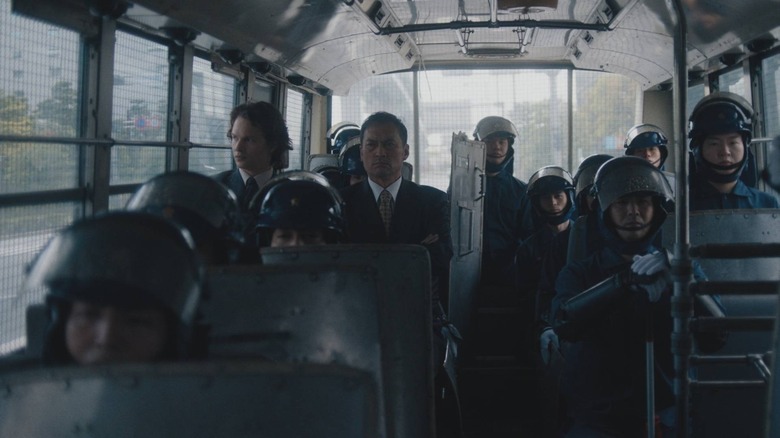 HBO Max
Michael Mann is coming back to television to reclaim his badge and gun, and it's as if he never left the vice squad. HBO Max just dropped the first trailer for its upcoming streaming series, "Tokyo Vice," which has a pilot directed by Mann and several other episodes helmed by Destin Daniel Cretton ("Short Term 12," "Just Mercy," "Shang-Chi and the Legend of the Ten Rings").
Created and written by J.T. Rogers, "Tokyo Vice" stars Ansel Elgort and Ken Watanabe and is an adaptation of the 2009 Jake Adelstein memoir, "Tokyo Vice: An American Reporter on the Police Beat in Japan." Adelstein, who now writes for The Daily Beast, reportedly penned both an English and Japanese version of the book himself, based on his experiences working for the Yomiuri Shimbun, one of Japan's biggest newspapers. He was the first non-Japanese reporter to be employed at the paper, but initially, he could not get the book published in Japan because it ruffled too many local feathers. As the story goes, Adelstein fled the country when an article for The Washington Post got him in trouble with the yakuza mob.
After Mann made his feature-film directorial debut with "Thief" in 1981, he went on to executive produce the "Miami Vice" TV series, starring Don Johnson and Philip Michael Thomas. Even after his breakout '90s success with the films, "The Last of the Mohicans," "Heat," and "The Insider," Mann would loop back around to vice-related things with his 2006 film adaptation of "Miami Vice," starring Colin Farrell and Jamie Foxx. Now, he's undergoing a departmental transfer, so to speak, to "Tokyo Vice."
Check out the trailer for "Tokyo Vice" below.
Tokyo Vice trailer
As "an American reporter on the [American pop culture] beat in Japan," I'm definitely curious to see what Mann, Cretton, and company do with "Tokyo Vice." However, having Elgort as the star and casting Watanabe — Hollywood's favorite Japanese actor — across from him does bring to mind "The Last Samurai" and other Eurocentric visions of Japan that we've seen on celluloid.
Since "Tokyo Vice" involves Watanabe's detective serving as a local guide to Elgort's dramatized version of Adelstein, it also somewhat recalls "Black Rain," Ridley Scott's 1989 Osaka-set thriller starring Michael Douglas and the late Ken Takakura. Given that these fish-out-of-water stories resemble my own lived experience as an American ex-pat in Tokyo — and this was Adelstein's experience, too — I'm willing to give this series the benefit of the doubt, particularly as it has Mann and Cretton involved.
In some cases, like with Netflix's "Earthquake Bird," where you have Alicia Vikander giving monologues in Japanese, I do think it's possible to deliver a respectful iteration of a story like this, showing a Western perspective on Japan without tipping over into cultural appropriation. I'm also a sucker for any Hollywood production filmed on location in the real Tokyo.
In addition to Rachel Kellar and Ella Rumpf, "Tokyo Vice" stars Rinko Kikuchi and features several other Japanese actors in main or recurring roles, including Ito Hideaki, Kasamatsu Sho, and Yamashita Tomohisa. The series is a co-production of Endeavor Content and the Japanese premium channel, WOWOW, and it will broadcast simultaneously in Japan. 
Here's the official synopsis for "Tokyo Vice:"
Loosely inspired by American journalist Jake Adelstein's non-fiction first-hand account of the Tokyo Metropolitan Police beat, the crime drama series, filmed on location in Tokyo, captures Adelstein's (played by Ansel Elgort) daily descent into the neon-soaked underbelly of Tokyo in the late '90s, where nothing and no one is truly what or who they seem.
The first three episodes of "Tokyo Vice" premiere on HBO Max on April 7, 2022, followed by two more episodes every Thursday, leading up to the finale on April 28, 2022.