The Marvelous Mrs. Maisel Season 4 Trailer: Midge Gets The Last Laugh With Her Brutal New Act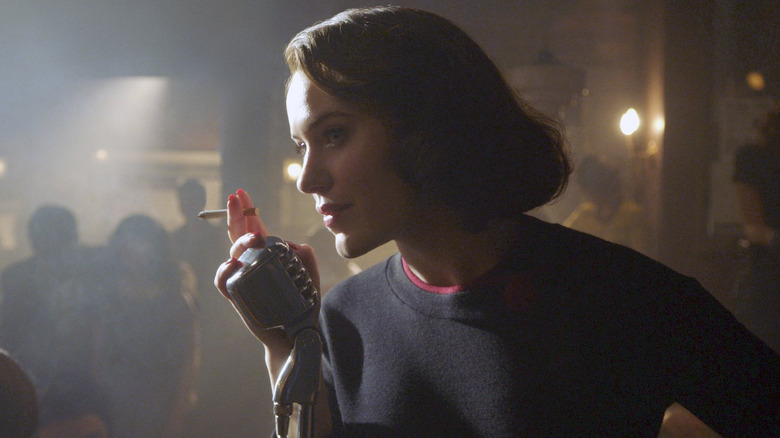 Prime Video
Midge Maisel is back and angrier than ever! In "The Marvelous Mrs. Maisel" season 4, the housewife turned comic is making the best of her unfortunately unemployed circumstances after upsetting the once-friendly Shy Baldwin (Leroy McClain) with jokes that came a little too close to the truth. But who needs a steady paycheck or an international tour? Midge (Rachel Brosnahan) has all her regular joints lined up and waiting to welcome her back on stage ... ya know, when they aren't dragging her off for foul language.
The upcoming fourth season of the Amy Sherman-Palladino and Daniel Palladino-created show will be the first we've seen of Midge's special brand of comedy since 2019. The COVID-19 pandemic led to filming delays all around and interrupted the otherwise very consistent release schedule of "The Marvelous Mrs. Maisel." Up until this point, Amazon spoiled us with a new season every year since the initial 2017 series premiere. 
But at long last, the comedy-sized hole in our hearts will be filled again. The latest trailer for "The Marvelous Mrs. Maisel" season 4 shows off some fan favorite characters, promises lots of destructive chaos to come, and even includes some classic Midge Maisel costume changes — most of which happen against poor Susie's (Alex Borstein) will.
Marvelous Mrs. Maisel Season 4 Trailer
"Every single show, I'm going to say exactly what's on my mind," Midge informs an aptly horrified Susie. The last thing any manager wants is a furious client hellbent on burning bridges, but after being kicked off of Shy Baldwin's tour, Midge is embracing her inner Lenny Bruce. She's tired of being the "bigger man" — or, to quote the enraged comic herself, "I'm a woman, so f*** that."
Speaking of Lenny, we get a few glimpses of Luke Kirby as the famous comic, cheering Midge on and enjoying her act from the audience. But while he might enjoy an unfiltered version of Midge, I'm guessing not everyone else in her life will feel the same. Saying exactly what's on her mind has hurt people in the past. As much as he admired Midge's act, her brutal onstage honesty was too much for her ex-husband Joel (Michael Zegen) to handle. They've managed to repair their relationship into a sort of oddly flirty friendship, but if Midge no longer pulls her punches when telling jokes about her friends and family, the punchline might not land the way she thinks. The official season 4 synopsis spells lots of trouble for her budding act:
​​"It's 1960 and change is in the air. Looking to hone her act, Midge finds a gig with total creative freedom. But her commitment to her craft — and the places it takes her — creates a rift between her and the family and friends around her."
The upcoming season sees the return of Kirby as Lenny, Borstein as Susie, Zegen as Joel, Brosnahan as Midge, and Tony Shalhoub and Marin Hinkle as her parents, Abe and Rose. Also returning is Kevin Pollak as Moishe, Caroline Aaron as Shirley, and Jane Lynch as Sophie Lennon. Guest stars this season include Kelly Bishop, Milo Ventimiglia, John Waters, and Jason Alexander.
"The Marvelous Mrs. Maisel" season 4 premieres February 18, 2022 on Prime Video.