The John Wayne Classic Mia Farrow Thinks Is Her Biggest Career Mistake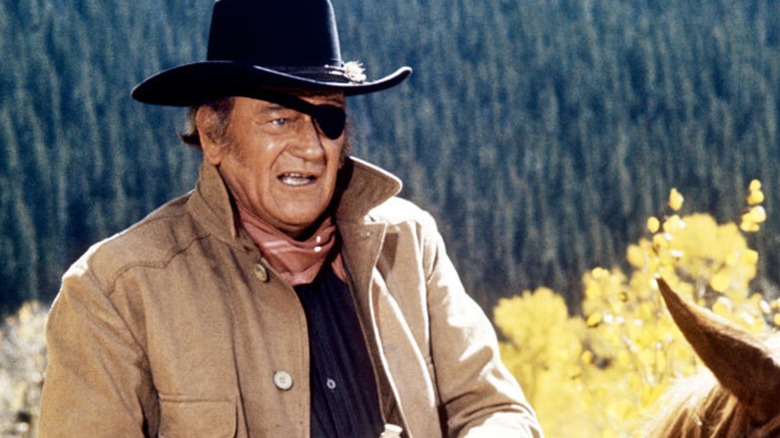 Paramount
Long before the Coen Brothers brought Charles Portis' novel "True Grit" to the screen in 2010, its first film adaptation came in 1969, with Hal B. Wallis producing and Henry Hathaway directing. Recognizing that the book had strong cinematic potential, actor John Wayne encouraged the involvement of both men. To round out the decades-old talent behind the screen, he was cast as the protagonist, U.S. Marshal Rooster Cogburn, hired by Mattie Ross (Kim Darby) to find the man who killed her father. 
At the time, Darby was best known for a couple of roles in television westerns like "Gunsmoke" and "Bonanza." Darby's performance in the film is strong, developing Mattie as a well-mannered girl who alternates between disgust and admiration for the drunken, eyepatched Rooster. Her chemistry with Wayne (as well as Glen Campbell's La Beouf) energizes what could have otherwise been a lazy oater. Yet Darby was a long way from Wallis' first choice for Mattie; the role was originally set to be played by Mia Farrow, who backed out of "True Grit" in a decision that she would later go on to describe to Wallis as the "biggest personal and professional mistake of my life."
Wayne, meanwhile, was proud of his performance as Rooster Cogburn. In a 1969 interview with Roger Ebert he said, "it's sure as hell my first decent role in 20 years ... and my first chance to play a character role instead of John Wayne." For this enthusiasm, he won an Oscar. 
Casting Around the Duke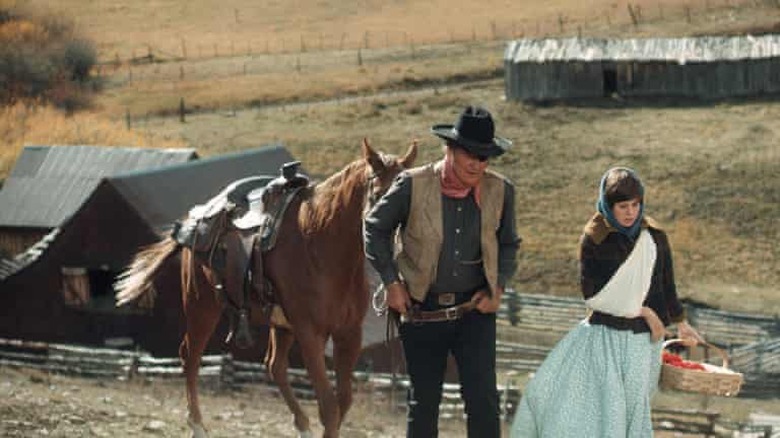 Paramount
In Portis' novel, the plot is the remembrance of a much older Mattie, recalling the Oklahoma adventure she undertook as a 14-year-old girl. While some of this perspective was restored for the Coens' film, the Hathaway version focuses squarely on the promise of seeing "fat and old" John Wayne rounding up outlaws and running into shootouts on horseback. And it delivers on that promise.
Because Rooster's character is old and legendary (and at this stage, somewhat washed up), Wayne's casting works, and the performance carries with it the pathos and weight of a man who's been doing the job for decades. Wayne's first screen appearances, in the background of John Ford silent films, happened over 40 years prior to the release of "True Grit." To underline his age and presence, the supporting cast was made up of a variety of younger actors, like Dennis Hopper, Robert Duvall — and Kim Darby.
Farrow Was Warned About Director Henry Hathaway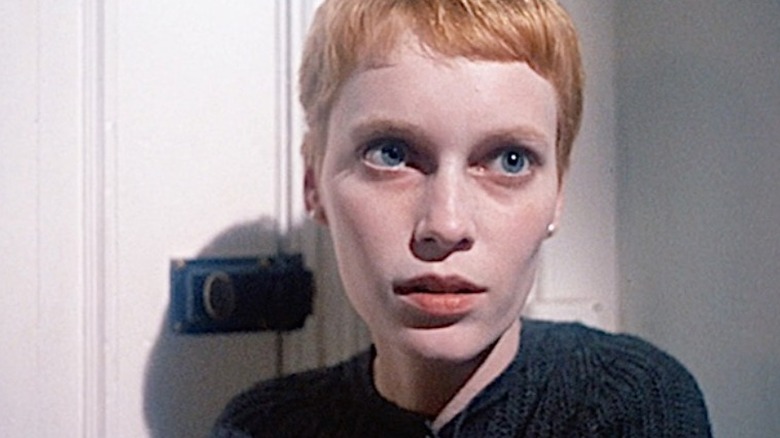 Paramount
By 1968, Mia Farrow had fully arrived in Hollywood, following years of work on the soap opera "Peyton Place" and even a brief marriage to Frank Sinatra. She became a star after being cast by director Roman Polanski in his 1968 cult horror hit "Rosemary's Baby." The dizzying heights of that performance, which put Farrow next to established greats like John Cassavetes and Ruth Gordon, gave her free reign on her follow-up. And, just before she was set to film the British drama "Secret Ceremony," her eyes were on "True Grit."
Farrow agreed to play the part of Mattie, but it didn't take long for doubts to emerge. Over Henry Hathaway's years in the business, he had developed a reputation as a dictator on set. 10 years prior to "True Grit", he and Dennis Hopper fought while making "From Hell to Texas." Farrow's "Secret Ceremony" costar Robert Mitchum was upfront with her about Hathaway's tenacity.
She made an effort to get Hathaway replaced with Polanski, but Wallis declined. The Polish filmmaker had only just made his American debut, and Hathaway had been making Westerns since 1932. Besides, Wayne had loathed "Rosemary's Baby." The man who made an obsessive point of holding onto "good Christian American values" in public life, to the point of heading anti-Communist hunts in the '50s and espousing racist views in Playboy, was never going to go for the director of a movie about Satanists.
Rather than work with Hathaway, Mia Farrow backed out.
The Final Casting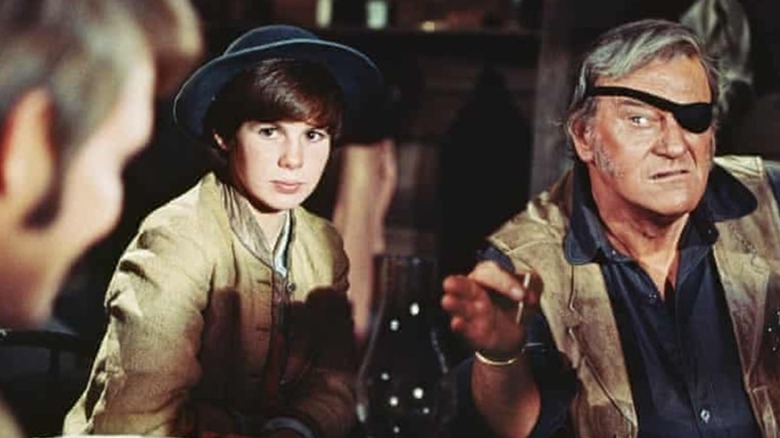 Paramount
This left Wallis and Hathaway in a bind, as they had fewer than two months before production kicked off. Multiple actresses were up for consideration, like Sally Field, Karen Carpenter, and even John Wayne's daughter Aissa, according to Ronald L. Davis' book, "Duke: The Life and Image of John Wayne."
Wallis spotted Kim Darby on one of the television roles for which she had been known one night, and he reached out to her immediately. She agreed due to the large paycheck, even though she was ready to retire and let her actor husband James Stacy make money for the both of them. True to form, Hathaway yelled at her on her first day on set, as she told the LA Times:
"He was an old prop man and he usually focused on the prop man and he would just yell at him no matter what he did," Darby said. Although they had gotten along well when she first met him at the studio, Hathaway yelled at her on the first day of shooting. "It got me so off guard," she said. "I just got up and went back to my dressing room."

Eventually, the two had a heart-to-heart talk in the dressing room. "I said, 'Henry, I'll do anything you want, just don't yell at me again.' After that day, we went along swimmingly."
Though she was spared from being similarly yelled at, Farrow came to regret her decision. Indeed, it took a while for her to fully capitalize on her initial fame — instead of "True Grit" she made the mildly-received New Hollywood lovers' drama "John and Mary," and spent most of the '70s touring with the Royal Shakespeare Company onstage.
The movie that Hathaway and Wallis made ended up being a classic, and it wouldn't have been the same without Darby. Still, it's tempting to imagine what could have been.