The Meg 2 Gets A New Title, Dives Into Production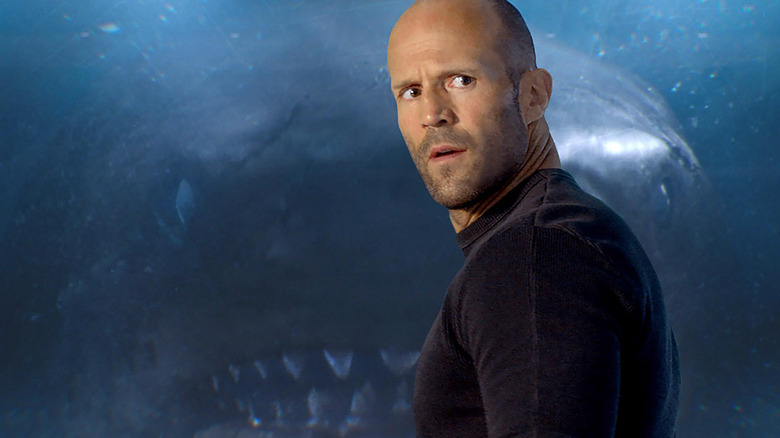 Warner Bros.
We may receive a commission on purchases made from links.
Members of "'The Meg' Was Good, Actually" club, I come bearing exciting news. The sequel to the 2018 giant prehistoric shark action-thriller has not only gotten a fresh title, it's also kicked off production, with Ben Wheatley (yes, that Ben Wheatley) directing.
Variety reports that "Meg 2: The Trench" (*cue the obligatory "Drop the 'The.' Just 'Meg.' It's cleaner" joke*), as it's now known, has started filming in the U.K., with Jason Statham and Bingbing Li expected to reprise their roles from the first "Meg" movie. However, before you assume it ripped off the title of James Wan's canceled "Aquaman" spinoff film "The Trench" — which, as has since come to light, was actually a secret Black Manta movie — it ought to be noted that "The Trench" is also the title of the 1999 sequel novel by "Meg" author Steve Alten. Another fun fact: Alten is still writing "Meg" books to this day, with the latest one, "Meg: Purgatory," due out in hardcover on June 14, 2022 (via Amazon).
Time for The Stath to Fight Another Giant Shark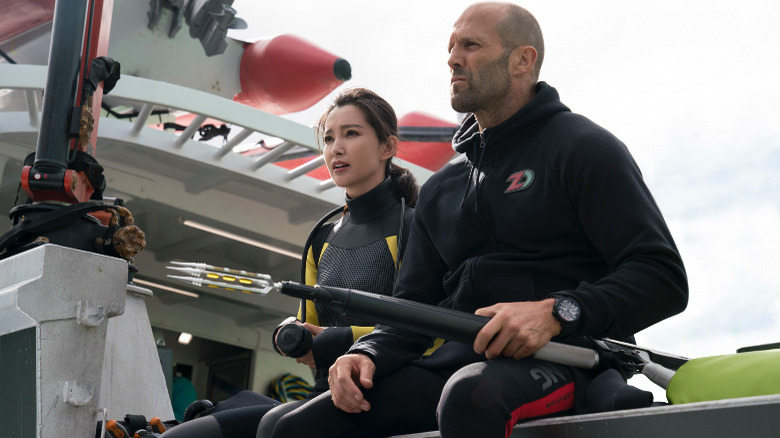 Warner Bros.
Statham, AKA "The Stath," starred in "The Meg" as Jonas Taylor, a semi-retired rescue diver who's called back into action after a group of scientists (including Li's oceanographer Suyin) encounter a 75-foot-long Megalodon shark while venturing into a previously-unexplored region of the Mariana Trench. "The Meg" scribes Dean Georgaris, Erich Hoeber, and Jon Hoeber also penned "Meg 2: The Trench," with Wheatley taking over as director from "The Meg" helmer Jon Turteltaub.
Wheatley touched on his planned approach to the "Meg" sequel back in April 2021, explaining:
"A lot of it is respecting 'The Meg,' and trying to make sure it's a great 'Meg' film. And as you can see from the movies I've made, they're not necessarily, it's not ... when you go and do 'Doctor Who,' I don't completely change it because I wanted to do it. I didn't want to necessarily make it something completely different that nobody recognized, you know? So there's that element of back and forth."
Honestly, as someone who enjoyed "The Meg" the first time I saw it (to be fair, it was in an IMAX theater, which definitely helped), I won't deny that it left plenty of room for improvement and was a bit of a tonal mess. The last time Wheatley tried his hand at a more mainstream film, the result was the slick-but-dull "Rebecca," a movie that was decidedly lacking when it came to the weirdness and mayhem that defined his cult favorites like "High-Rise" and "Free Fire." That is to say: As fun as it would be to watch him go wild with "Meg 2," it, unfortunately, sounds like Wheatley intends to reign himself in like he did on "Rebecca." (Either that or he knows he's only going to have so much creative freedom on a big-budget sequel like this.)
Still, so long as Wheatley and his writers bring back the best parts of "The Meg" — like having the Meg chow down on billionaires and Statham going mano a mano with the creature in-between his cute interactions with Suyin's daughter Meiying — while dropping the stuff that flat-out did not work, then "Meg 2" may yet prove to be a good time. Also, maybe find a way to work in the prologue to Alten's first "Meg" book, where the Megalodon eats a tyrannosaurs rex? I've no idea how it would fit into the sequel, I just want to watch a giant shark eat a T-Rex.
"Meg 2: The Trench" has yet to receive a release date.