Take Back The Night Trailer Tackles Assault Through A Monstrous Metaphor [Exclusive]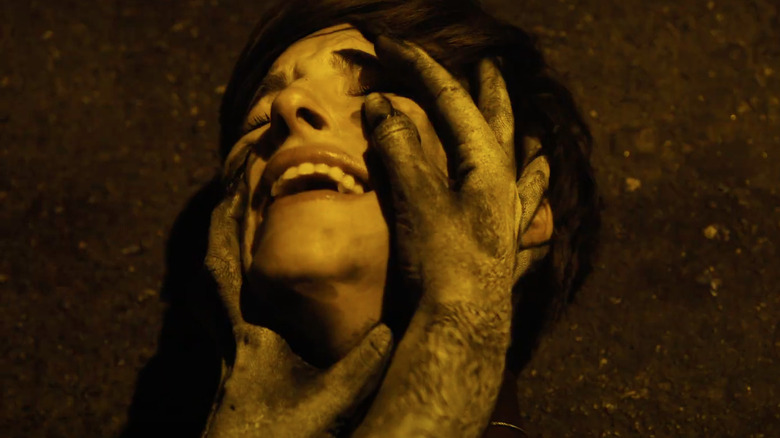 Dark Sky Films
Dark Sky Films has provided /Film with the opportunity to exclusively debut the trailer for upcoming hot button horror movie titled "Take Back the Night." The film seeks to provide a female perspective on assault through a fresh genre lens, turning one woman's torturous journey into a supernatural nightmare. With the screenplay written by Gia Elliot and Emma Fitzpatrick, the film is directed by Elliot ("How to Not") and stars Fitzpatrick ("The Collection," "The Social Network") as a woman trying to find justice against the entity that is stalking her.
With its title borrowed from the real non-profit anti-sexual violence organization, "Take Back the Night" looks like a harrowing story that might just have a cathartic outcome for its heroine as she discovers her own power to stop her attacker. The movie is set for a launch on Premium VOD on March 4, 2022.
(Check out the trailer below, but be advised that it does contain potentially disturbing imagery involving assault and the bodily harm visible in the aftermath.)
Exclusive Take Back The Night Trailer
The folks at Dark Sky Films have put out some landmark genre indies over the years, including Ti West's "The House of the Devil," Kevin Kölsch and Dennis Widmyer's "Starry Eyes," Ted Geoghegan's "We Are Still Here," and David Marmor's "1BR." Here's hoping that "Take Back the Night" will prove to be a directorial launching pad for first-time feature helmer Gia Elliot, who has clearly come up with a potent concept combining a very real social problem with an escapist horror element. 
The film was produced by Gia Elliot, Emma Fitzpatrick, Kwanza Gooden, and David Elliot. It co-stars Angela Gulner ("GLOW"), Jennifer Lafleur ("Big Little Lies"), and Sibongile Mlambo ("Lovecraft Country").
Here is the official synopsis:
Finding herself the victim of a violent monster attack, Jane launches a vigilante campaign to hunt the beast that tried to kill her. Jane's efforts intensify, but her troubling history of drug use and mental illness bubbles to the surface causing her family, community, and authorities to question the authenticity of her account. Suddenly alone in her fight, Jane starts to doubt her own memory of the attack...to doubt if Monster exists at all. Fueled by formidable female talent both in front of and behind the camera, Gia Elliot's "Take Back the Night" is a terrifying suspense thriller that's both an eye-opening exposé and a powerful rallying cry.