The Woman In The House Across The Street From The Girl In The Window Ending Explained: Wine Down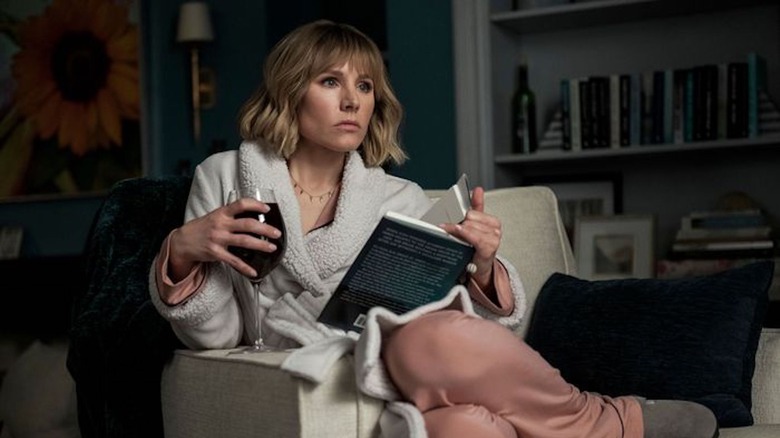 Netflix
If you're familiar with "Gone Girl," "The Woman in the Window," or any dramatic Lifetime movie surrounding bored housewives, murder and hefty amounts of booze, then you'll get the vibe of "The Woman in the House Across the Street from the Girl in the Window." Netflix's dark comedy series is a parody of all the mystery subgenre's familiar tropes about women essentially not being believed, trying to solve a murder on their own, and being gaslit by pretty much everyone in their inner circle. 
Created by Hugh Davidson, Larry Dorf, and Rachel Ramras, and directed by Michael Lehmann, the eight-episode show successfully pokes fun at familiar plot lines while also maintaining a comedic approach to grief. The show stars Kristen Bell as Anna, a lonely mother who's attempting to adjust to her new life after the death of her young daughter and a divorce from her therapist husband. She spends her mornings, afternoons, and evenings in the company of full glasses of red wine until she picks up a new hobby of spying on her hot new neighbor who moves in across the street. Sporting six-pack abs and an adorable daughter on his arm, Anna quickly tries to befriend them until she witnesses a murder in his home. However, thanks to her affinity for booze and the occasional pill popping, no one believes her claims. Therefore, she does what all women do when they aren't believed — she sets out to handle the situation herself. Along the way, she uncovers a labyrinthine background story that includes every possible outcome an audience can think of while still maintaining a sense of intrigue. 
The Kids Aren't Alright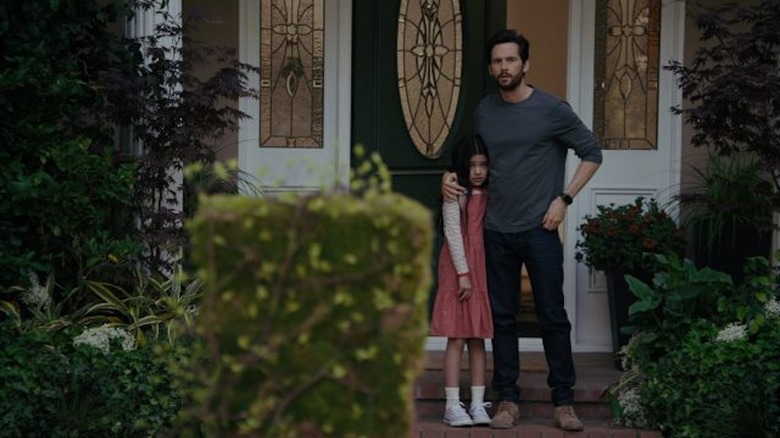 Netflix
Anna has been dealt some tough cards. After her daughter died while on a "take your kid to work day" with her husband, Anna never fully recovered. She is afraid of the rain, has a handy man who spends days trying to fix a mailbox, and still shows up to her daughter's school in her robe as though she's dropping her off for class. All the moms stare, judge, and even buy up all the boxes of almond cookies. They're part of a collective group of monsters that exist but Anna always shielded her daughter from. Not long after her neighbor Neil (Tom Riley) and his daughter Emma (Samsara Leela Yett) move in across the street, Anna witnesses Neil's girlfriend being murdered. With continuous judgment from police and the community, Anna digs into their history and finds out that not only did Neil's wife die but Emma's teacher died not long after. Another suspect on the list is her handyman, Buell (Cameron Britton), who was hired by her husband because he was a past mental patient of his. The fact that Buell murdered his entire family and started living in Anna's attic seemed like he could easily be the killer. Once the police find a painting utensil next to the severed body of Neil's girlfriend, Anna begins to question her own sanity. Could she be the killer? Is there a body upstairs in the attic? Is that red paint actually blood? 
Alas, the true killer ended up being the pint-size princess, Emma. Once Anna charged into Neil's house to confront him, she sees Buell dead at the foot of the stairs and Neil hunched over on the couch with his throat slit. Emma then reveals that she is the murder mastermind. She calculated her mother's death because she did not want to have a baby brother. She later killed her teacher while on a field trip and then took down her dad's girlfriend with the plan to frame Anna for the murder. After a rather impressive showdown, Anna stabs Emma with a porcelain shard and collapses in victory amongst the broken pieces of her casserole before being rescued. 
Wine Down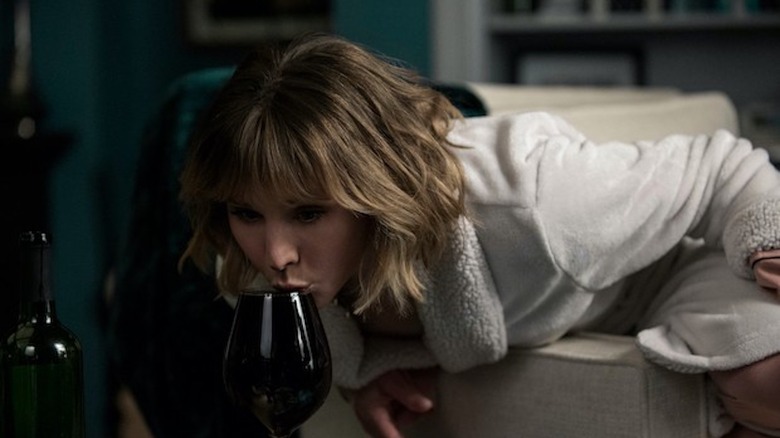 Netflix
Once the murder mystery is solved, Anna reconnects with her husband. Later, Anna is seen on a plane reading a book entitled "The Girl on the Cruise" as she heads to New York to visit friends. To further illustrate her growth, she turns down a glass of wine and opts for vodka instead. A glamorous woman (the queen of the genre, Glenn Close) takes her seat as there was an apparent ticket mix-up. Later, Anna heads to the restroom and is shocked to find the woman murdered. When she tries to tell the flight staff, they tell her that there never was a woman sitting in that particular seat. Familiar with this pattern, Anna sits down perplexed but later finds a gold compact that belonged to the mysterious woman. Validated with her experience, she is now clearly determined to prove there was in fact a murder and this woman does exist.
In a recent interview with Collider, the show's creators disclosed that they do have an idea for a season 2 but did not necessarily write the show with that in mind. Mixing a love story, murder mystery, comedy, and drama all together within a fairly short time frame actually worked really well for the show, and I wouldn't mind a season 2. However, I'm also completely fine with it ending the way that it did because that type of cliffhanger is yet another trope. I'd love to see more of Bell's quirky performance but I'm not sure how they will top Yett's performance especially in the final episode. The way that she quickly changed her demeanor to an evil character with flat affect was reminiscent of Macaulay Culkin in "The Good Son." I'd welcome more of that type of Jekyll and Hyde character play for a season 2.
Regardless, it's always enjoyable to see a genre parody. Sometimes it works and sometimes it doesn't, but "The Woman in the House Across the Street from the Girl in the Window" pretty much killed it.