The Best John Singleton Movies And Where To Watch Them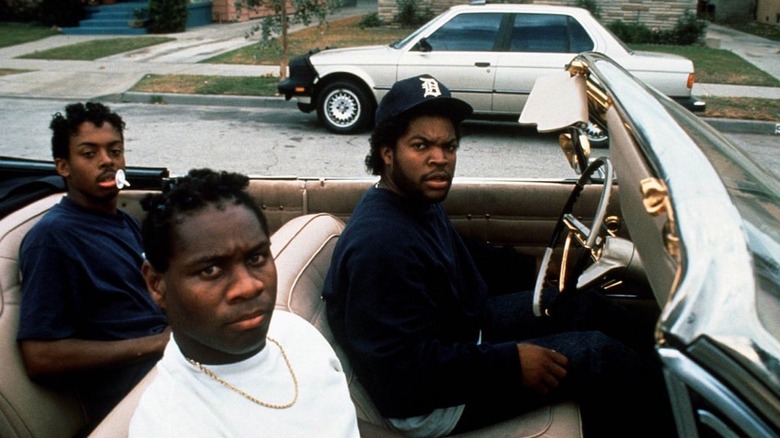 Columbia Pictures
"Coming from where I'm from, it was a challenge to be taken seriously enough to get a chance to make a film and — to do what I so ambitiously wanted to do — I had to write it myself."
Director John Singleton made that statement in an interview celebrating the 25th anniversary of his directorial debut, "Boyz n the Hood," the film that made him the first Black and youngest person to ever be nominated for the Best Director Academy Award. Singleton grew up in South Central Los Angeles, navigating the complex realities of the Black experience in his neighborhood and providing an unflinching look at the truths of existing in the inner-city, and what systemic failures led to this point. His films were ones that America desperately needed to see, regardless if they weren't ready for the information.
We unfortunately lost John Singleton in 2019, but the impact and legacy left behind with his films are immeasurable. He had an eye for talent, helping bring Ice Cube, Morris Chestnut, Regina King, Cuba Gooding Jr., and Nia Long to mainstream audiences. While not exclusively a film director (he directed episodes of "Snowfall," "Billions," "Empire," and "American Crime Story," to name a few) Singleton's filmography paints an untouchable picture of a brilliant creator lost too soon. Here are five of Singleton's very best films, and where you can watch them right now.
Poetic Justice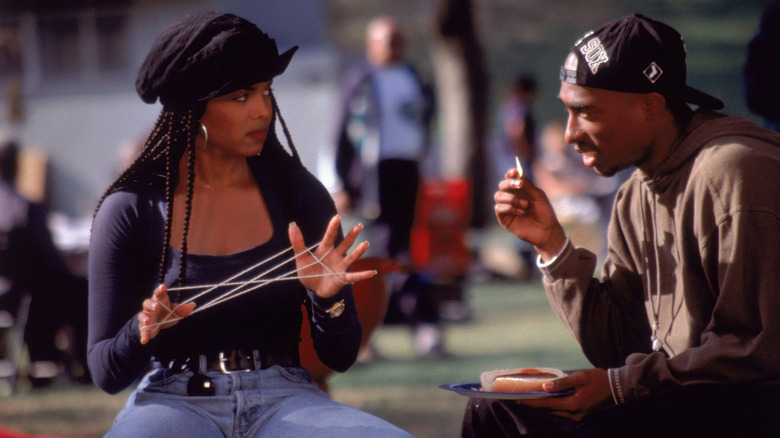 Columbia Pictures
Starring Janet Jackson, Regina King, Tupac Shakur, Joe Torry, and Maya Angelou, "Poetic Justice" is Singleton's romantic classic. Jackson stars as a poet and hairdresser named Justice who uses her poetry to help her grieve the loss of her boyfriend who was recently murdered. Justice, her friend Iesha (King), Iesha's postal worker boyfriend Chicago (Torry), and his co-worker Lucky (Skakur) travel together to a convention in Oakland, and this road movie soon becomes a romance. The film was Singleton's follow up to "Boyz n the Hood," and it's obvious he took the criticism of the film's portrayal of women to heart, and wrote a film attempting to do better. Critics at the time may not have fully understood the film, but "Poetic Justice" remains to be one of Singleton's most enduring films. Released in the wake of the Los Angeles riots, Singleton pivoted away from a story of Black pain, and instead looked to a narrative celebrating Black love, family, and friendship.
"Poetic Justice" is currently available to stream for free on TubiTV.
Baby Boy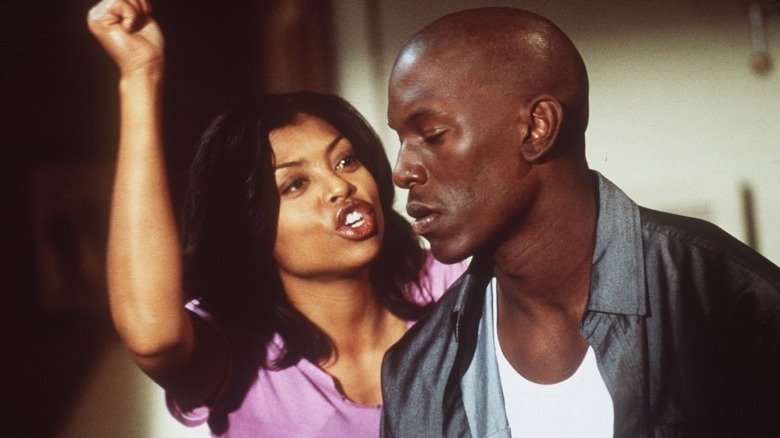 Sony Pictures Releasing
In 2001, Singleton delivered the powerful story of "Baby Boy," a melodramatic coming-of-age story of Jody (Tyrese Gibson) an unmarried man and father to multiple children struggling to face adulthood and the responsibilities it requires, while learning to navigate the street mentality he's always had. Also starring Omar Gooding, A.J. Johnson, Ving Rhames, and Snoop Dogg, "Baby Boy" is responsible for kick-starting the career of the untouchable Taraji P. Henson, as one of Jody's "babymamas," Yvette. Coming-of-age films are great ways of exploring the difficult transition between adolescence to adulthood, but "Baby Boy" is one of the best examples of showcasing that the coming-of-age experience is not universal, and taking an intersectional look at the ways lived experiences differ is absolutely necessary for empathy and understanding. Jody is trying to learn what it means to be a man, no longer a "baby boy," and doing so while also already having children of his own. "Baby Boy" got a lot of flack when it was first released by critics who clearly didn't understand the message, but in a 2022 world, "Baby Boy" remains relevant and impactful.
"Baby Boy" is available to rent on VOD through Vudu, Amazon Prime, Google Play, YouTube, and Apple TV+ for $3.99.
Higher Learning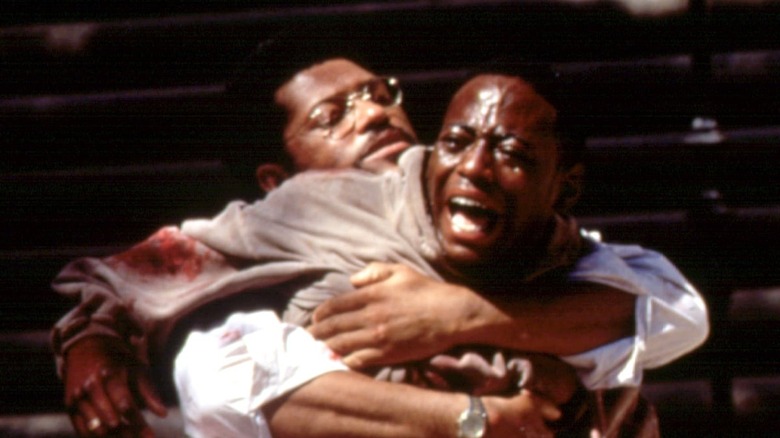 Sony Pictures Releasing
In a world full of "Freedom Writers," be a "Higher Learning." Starring Omar Epps, Michael Rapaport, Kristy Swanson, Ice Cube, Regina King, Jennifer Connelly, Tyra Banks, and Busta Rhymes, "Higher Learning" was Singleton's take down of predominately-white institutions (PWI). Using the setting of a college campus, Singleton used the higher education system to represent a microcosm of America at large, exploring themes of racism, systemic oppression, white supremacy, sexuality, accessibility of guns, and sexual assault. Much like "Baby Boy," "Higher Learning" was woefully misunderstood upon release, and while it's arguably one of the most emotionally painful films of Singleton's to watch, it is also scarily relevant over a quarter of a century later. Our society still has so, so much to unlearn, and "Higher Learning" was sparking the difficult conversation decades before a majority of America was willing to accept it.
You can rent "Higher Learning" on VOD through Vudu, Amazon Prime, Google Play, YouTube, and Apple TV+ for $3.99.
Rosewood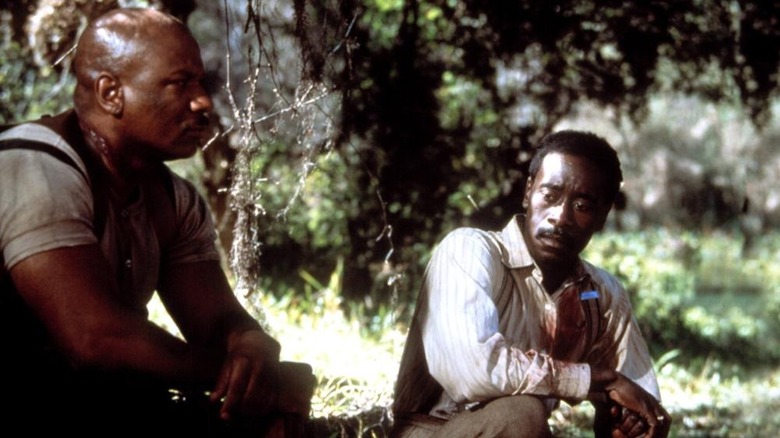 Warner Bros.
The town of Rosewood was a quiet, primarily Black town in rural Florida until a white mob of several hundred people set upon the town in a racist rage, lynching an unknown number of citizens, burning down almost every building, and completely destroying the town. This horrific incident is one of the worst incidents of targeted racial violence in America's history, and yet without Singleton's film, there's a high probability that a huge chunk of the population would have never known it happened. Starring Ving Rhames, Jon Voight, Don Cheadle, Bruce McGill, Loren Dean, Esther Rolle, and Elise Neal, "Rosewood" is Singleton's foray into historical fiction, and a painful reminder that so much Black history has been erased, sanitized, or completely ignored. The Rosewood Massacre should be mandatory education, and "Rosewood" is an absolute must see.
"Rosewood" is currently streaming for fuboTV, Sling, and Philo subscribers, but the film is also available to rent on VOD through Vudu, Amazon Prime, Google Play, YouTube, and Apple TV+ for $3.99.
Boyz n the Hood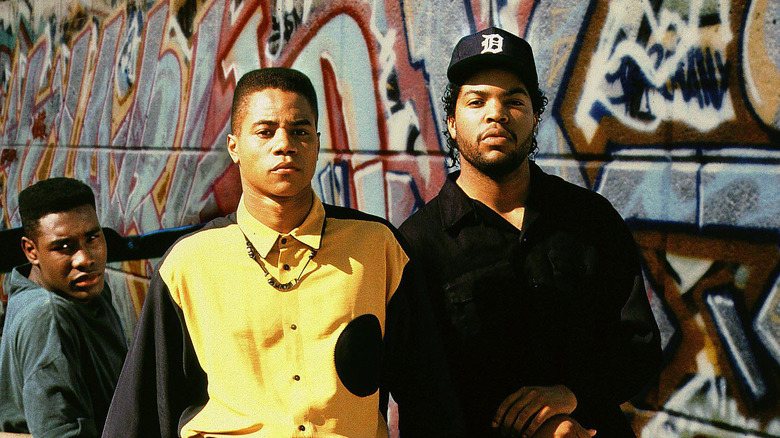 Columbia Pictures
It may have been his first, but "Boyz n the Hood" truly changed the world of film forever. Starring Angela Bassett, Cuba Gooding Jr., Laurence Fishburne, Morris Chestnut, Ice Cube, and Regina King, Singleton ushered in a new subgenre of "hood films," and paved the way for so many other Black directors to tell their own stories. The reality is that Hollywood still has a long way to go with their equitable treatment of Black creators and Black stories, but in 2002, the Library Of Congress announced that "Boyz n the Hood" was considered "culturally, historically, or aesthetically significant" and was chosen to be preserved in the National Film Registry. While determining Singleton's "best" film is a matter of subjective opinion, it is clear that "Boyz n the Hood" is unquestionably his most important and influential work.
Singleton's magnum opus is available to rent on VOD through Vudu, Amazon Prime, Google Play, YouTube, and Apple TV+ for $3.99.